Please note that as of June 2022 the CDC no longer requires travelers to present a negative COVID-19 test or documentation of recovery from COVID pre arrival to the US
American culture enjoys influences from a variety of places including European and Latin American countries. In fact, many of the traditional American foods that might spring to mind today actually came from somewhere else. Pizza is one example of an imported dish that came into its own in the United States. Italian immigrants brought their grandmother's recipes with them when they started to arrive over two hundred years ago. Now the thin crust Napoles style pizzas have been reinvented to become the more aptly named Chicago pizza pie. Layers of cheese, tomato sauce, and toppings are doubled or even tripled in this American version of the classic.
Stereotypes have been driven by experience, with one popular documentary charting the rising size of waist belts in relation to the supersizing of fast food portions. In response, leaders of a number of states including the city of New York have successfully campaigned against the sale of extra-large fizzy drinks and portions.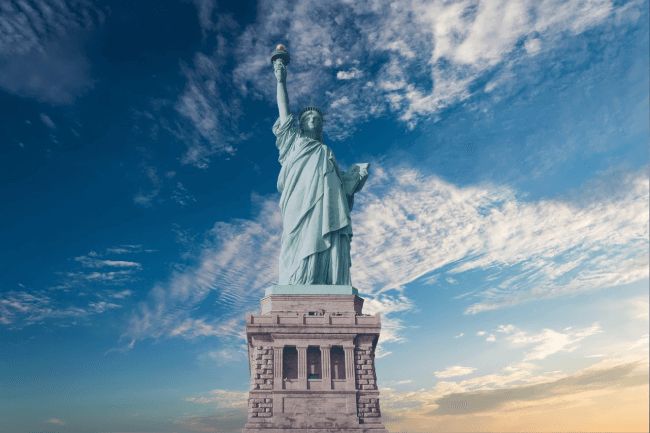 It's hard to deny that everything feels bigger in the United States of America- whether it's the theme parks, the distance between its shores, or its shopping malls. If you like to dream big, you may have already considered applying for the green card lottery. It's your chance to make the massive move to America, and for 55, 000 people their dream can become a reality in 2022.
Vital information to remember with regards to the green card lottery is when to apply. Continue reading this useful question and answer section to find out more about upcoming deadlines and how to make sure that your application is in with a fighting chance in the Diversity Visa lottery. We kept you in mind when we created our newest product, the green card lottery application, so make your way over to iVisa.com to get started today.
Frequently Asked Questions
Is there a deadline for green card lottery applications?
Every year the DV lottery opens for less than a month. At this time, anyone from an eligible country has the chance to apply. This year, the timeframe to apply runs from October 7 to November 10. If you apply before or after these dates your application will be automatically invalid.
Who is eligible to apply for the Green Card Lottery?
The aim of the green card lottery is to provide greater variety in the melting pot culture that has represented the USA since its inception. Nationals of Bangladesh, Brazil, Canada, China (mainland born), Colombia, Dominican Republic, El Salvador, Guatemala, Haiti, India, Jamaica, Mexico, Nigeria, Pakistan, Philippines, South Korea, United Kingdom (except Northern Ireland) and its dependent territories, and Vietnam are sadly not eligible to apply this year. Even if you're from one of these countries, you still have a chance to enter if your partner is from an eligible nation.
What's the latest I can apply for the Green Card Lottery?
The green card lottery isn't open all year round. Every year, there's a limited time frame within which you can submit your application. This year, the application process opened on October 7. The draw will close on November 10, so although you still have a couple of weeks left, we recommend that you don't delay as the rules are strict. Once your application has been submitted by the deadline, the next important date is on 8 May when the list of winner's numbers is published online.
Start your application today on the iVisa.com webpage and benefit from bespoke personal advice from our experienced team.
How many times can I enter the green card lottery?
Each eligible person can apply to enter the DV lottery once per year. We suggest that you keep your odds high by applying once only. Your chances will be significantly reduced if you apply more than once because the system automatically voids all applications that are found to be duplicated. If you want to increase your opportunities to win, you'll be pleased to know that every individual in a family can apply, so both you and your partner are in with a chance.
Chat to an iVisa.com representative if you're uncertain whether you are eligible to apply.
Is iVisa.com trustworthy when it comes to my green card lottery application?
iVisa.com has been processing visas and travel documents for customers for years. Our team of customer support executives understands the nitty-gritty of international travel requirements and can guide you through the most complex processes using straightforward language and real-life examples. If you're in any doubt about iVisa.com's reliability as a Diversity Visa lottery application source, feel free to check out our customer reviews for more insight into the high quality of service we provide to all users.
Where can I learn more about the green card lottery and when to apply each year?
The dates for this annual lottery change every year so count on iVisa.com to keep you well informed about any updates. As a travel document provider, we keep a close eye on developments relating to international travel, visa allocations, and application deadlines. Our vision is making travel safe and achievable for everyone, so you'll see that our website has lots of handy tools like the Visa Checker as well as a 24/7 manned chat page for any last-minute queries. Get started today!