Please note that as of June 2022 the CDC no longer requires travelers to present a negative COVID-19 test or documentation of recovery from COVID pre arrival to the US
The DV or Diversity Visa lottery is a great way to open more doors for you and your family. The green card lottery winners selected from the annual draw of the DV lottery are invited to move to the United States of America, where they will be provided with all the relevant paperwork to begin a new life as an American resident. Once you've resettled in the 'land of the free', you're bound to be eager to travel around your new home.
America offers a wide variety of activities and destinations for travelers with a range of interests. Kids will be relentless about a trip to one of the magical theme parks located in Florida. If you're not keen on rollercoasters, maybe you'll be more excited about holding a living, breathing crocodile in the marshes that surround Disneyland and Universal Studios. Hiking enthusiasts should plan an unforgettable hike around one of the many national parks, including the Grand Canyon, which is best seen in the warmer summer months, and Yosemite in California.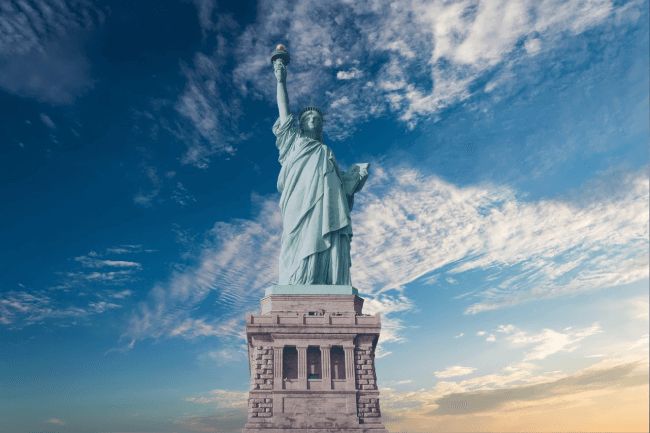 If the great outdoors doesn't float your boat as much as dinner and a show then Las Vegas is the perfect destination for you. This gleaming city, plonked down in the middle of the Mojave Desert, is a fantasy playground for the senses with performances by famous international singers, breathtaking shows by death-defying circus performers and to top it all off you can make a stop at the Heart Attack Grill for a greasy real American-style hamburger served by a 'nurse' waitress. You might find this all hard to believe, so to see it all with your own two eyes you need to start your application for the green card lottery by applying now using the convenient form on iVisa.com. You have to be in it to win it, so don't delay. To find out more about this priceless lottery, check out the frequently asked questions that we cover below. An expert team is waiting to answer any more queries you can think of.
Frequently Asked Questions
Who can win the green card lottery?
The green card lottery is open to millions of applicants. The Diversity Visa was created to give opportunities for a new life in the states to 55,000 people who may otherwise struggle to obtain the highly desired green card. Originally, this draw was open to everyone, but in recent years a surplus of new arrivals have meant that the lottery has been limited to residents of countries that are low in representation in the United States. Don't worry- plenty of countries remain on the 'wanted' list, and all those citizens are welcome to apply for the chance to be green card lottery winners. So, take a chance today, what do you have to lose?
How will I know if I'm a green card lottery winner?
If you apply for the Diversity Visa, it's essential to remember that the onus is on you as the applicant to check the green card lottery winner list and take the next steps necessary to continue with the process. The list of named winners is released on 8 May 2021. It's also very important that you fill out the form correctly, because every year thousands of applications are rejected due to missing, incorrect, or false information. That's why you should keep checking the list regularly, because many of the winning names will not be eligible to make the move to the United States, and so more green card lottery winner names are added frequently. That's why more than 55,000 winners names are selected for only 55,000 visas. It's also worth remembering that the visas are granted on a first-come, first-served basis once the names are published.
Do I have to submit a photograph for the application?
You have to submit a photograph of yourself, as well as one for each member of your family as part of the application. We recommend that you take this part of the application process very seriously, as a poorly taken photograph, or an application with a photograph missing, will almost certainly result in the application being automatically denied. The iVisa.com team can guide you through the essential details that you should bear in mind when choosing an image, and you can also check out the handy photo service at iVisa.com Passport Photos if you need more help taking the perfect snap.
Is iVisa.com a reliable way to apply for the Diversity Visa?
If you want to be a green card lottery winner, then the best way to improve your chances of winning is to submit a perfect application. Remember that one mistake could cost you a winning position. Filling in your application form using the iVisa.com website is a great way to improve your odds because the format of our platform makes completing forms feel like a walk in the park. The best part is the personal attention you will receive from our skilled and experienced team.
Start now and get your application entry submitted before the deadline on 10 November.
Where can I learn how to be one of the green card lottery winners?
The iVisa.com website should be your first port of call for everything you need to know about completing the DV lottery application. As a dedicated travel document company, iVisa.com's customers are always a step ahead. You don't need to worry about missing a question, forgetting a document, or arriving without the necessary paperwork. When you trust iVisa.com, you're increasing your chances of a successful application. Don't forget that you can reach out to the team through the chat page on the website for any more questions you might have.