NOTE - If you are a non U.S. citizen and have recently been in any of the following countries you are not allowed to visit the USA right now; South Africa, Botswana, Zimbabwe, Namibia, Lesotho, Eswatini, Mozambique and Malawi.
In late 2020, the state of Hawaii started reopening to international travelers. To enter, international travelers must meet strict requirements before departing and after arriving in Hawaii. The governor of Hawaii established a new set of restrictions that every visitor must obey during a visit to Hawaii. In October 2020, the most recent requirement to enter Hawaii appeared: The Hawaii Travel and Health Form. This new travel document is mandatory, and after following some simple steps, you can get yours.
Get started on your application
At iVisa.com, our expert team is ready to help you complete the requirements to get the approval to visit Hawaii. The way to do it is with the online application form. Through this online document, you will be able to finish your application in a few minutes with no worries.
This article contains all you need to know about The Hawaii Travel and Health Form. We invite you to dedicate a few minutes to read about the latest Hawaii state covid travel guidelines.
Access the online application form
Note: Since March 25th, 2022, the Hawaii Travel Health Form is no longer necessary to enter the country.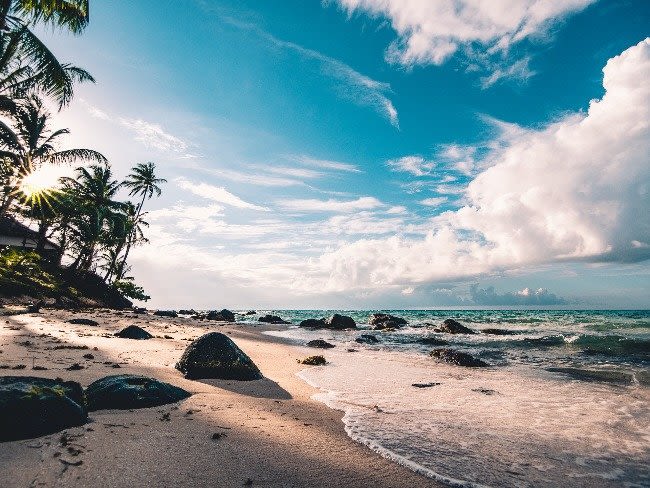 What is the process to apply with iVisa.com?
According to the Hawaii state covid travel guidelines, the process will be available only 24 hours before your departure. However, our expert team is ready to complete the process for you and put the travel permit right in your email inbox.
Get your valid passport.
Fill out the online form with your info and current health condition as requested.
Enter your trip details. Specify each leg of your travel. (You will receive a QR code for each stop on your way to Hawaii).
Upload your Negative Covid-19 test results. (Taken within 72 hours before departing from the last stop before arriving in Hawaii). Make sure that the name on your test certificate matches your government ID.
Upload a recent picture of yourself. Despite that high-resolution selfies with a light background are accepted, it is advisable to use a document-type photo. To avoid complications or delays in your process, and make your photos government compliant, take advantage of the online services of iVisa.com photo.
Check your email for the QR code.
Print a copy of each QR code you received and also keep a copy on your mobile phone.
Start filling out your application
Frequently Asked Questions
Who is allowed to enter Hawaii?
Until further notice, international travelers from Canada, Japan, and South Korea are the only ones allowed to bypass the mandatory Hawaii State's 10-day quarantine after taking the pre-travel testing program. Foreign nationals or those who have been in the following countries in the past 14 days won't be allowed to enter Hawaii:
Brazil, China, European Schengen zone, Irán, Republic of Ireland, South Africa, United Kingdom.
The rest of the nationalities will receive permission to leave their accommodation and move freely in Hawaii after completing the 10-day quarantine.
Find out more about Hawaii state covid travel guidelines in the following question.
Start filling out your application
What are the requirements to visit Hawaii?
Travelers who test negative for COVID-19 in the pre-travel test will not have to do the mandatory 10-day quarantine.
The Hawaii state authorities recommend international travelers entering Hawaii get a Nucleic Acid Amplification Test (NAAT).
Whatever the reason, if you did not participate in the pre-travel testing program, your quarantine period will start counting from the day you enter the state of Hawaii.
If you have a quarantine exemption, please present it to the officer at the airport checkpoint.
Make sure of having your cell phone at hand, fully charged for the verification at the checkpoint.
Present a hard copy of your test results to the authorities.
After the screening process at the airport, you will receive directions about how you must proceed. Travelers who can avoid the quarantine period will receive a Safe Travel Exemption certificate.
Once in Hawaii, if you are traveling to Maui or Kauai, you will be required to download the Safe Travels app on your mobile device.
What are the restrictions in Hawaii in 2021?
Since 2020 the state of Hawaii has started reopening to international travelers. There are some travel guidelines that all visitors to Hawaii will need to follow upon entering. One important travel guideline is the Hawaii Travel and Health Form. This travel document is mandatory for all visitors to Hawaii, and after following some simple steps, you can get yours.
Get started on your application
What is the cost of the Hawaii Travel and Health Form?
Based on necessities, iVisa.com gives you three options:
Standard Processing Option: Average processing time. Low fee.

USD 20.00

-

24 hours

.
Rush Processing Option: Faster response. Higher fee.

USD 35.00

-

8 hours

.
Super Rush Processing Option: Fastest processing service. High price.

USD 60.00

-

4 hours

.
If you have questions about the Hawaii state covid travel guidelines, contact our Customer service team anytime.
Is it safe to share my information with iVisa.com?
Your information is safe with us. The advanced security system is always running in the background to keep your data safe. Feel free anytime to explore the Customer comments section. Daily, our users post positive reviews about the quality of our services. Remember that all of your consultations regarding the Hawaii state covid travel guidelines can be answered live by our Customer service agents.
Can I ask for more information?
Of course, you can. Our Customer service team is available 24/7 to share with you the latest Hawaii state covid travel guidelines.
iVisa.com Recommends
Hawaii is one of those so-called "paradise on earth" places. Every person around the world has at least once considered visiting this island. It is the preferred place for surfers in the western hemisphere to find spectacular waves. The sandy beaches offer incredible resting spots with unparalleled views of the pacific. A must-do in Hawaii is a helicopter flight over the Kilauea volcano, in which eruptive activity is nearly continuous since 1983. However, without a doubt, the top activity in Hawaii is snorkeling. After booking a snorkel tour, you'll have access to diverse and exciting activities like seeing marine diverse fauna at coral bay. Enjoy magic sundown at the snorkeling site off the Kona coast before jumping into waters to snorkel over manta rays and create an unforgettable moment among these majestic sea creatures. From December to April, you can also take a whale-watching cruise to have a close encounter with humpback whales on their winter journey to Hawaii's warm waters.
Despite the ongoing regulations, at iVisa.com we encourage you to prepare for your trip and enjoy our amazing world. Let us help you with your travel documents, while you take charge of the fun!