Please note that as of June 2022 the CDC no longer requires travelers to present a negative COVID-19 test or documentation of recovery from COVID pre arrival to the US
Do you want to travel to the United States and you have a Chinese passport? If you are also still in China, then you have a very effective option. What you shouldn't forget is that for this, you require your Visitor Visa, as it is a mandatory document to visit the famous land of the Statue of Liberty and Disneyworld. In addition to the Visa, you need an EVUS, but the good thing is that it's possible to register for EVUS from China just by following a few steps online.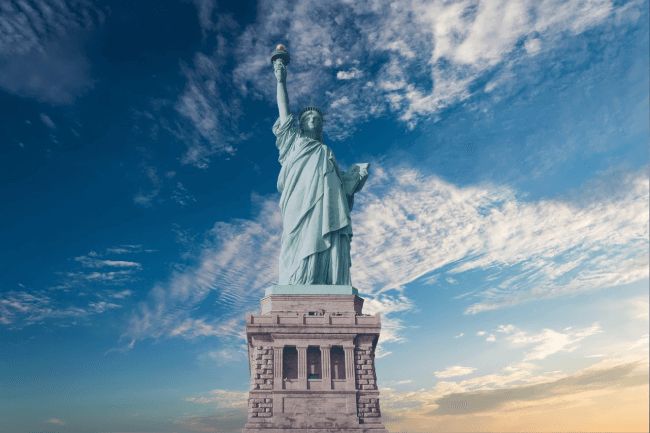 The steps to follow are very simple, especially if you apply online with iVisa.com. In the FAQs below, you'll find all the details to be able to carry out this process without worries. Prepare yourself a nice cup of coffee or tea and read the questions little by little.
Frequently Asked Questions (FAQs)
What is EVUS for Chinese nationals?
EVUS or Electronic Visa Update System is an official online process that allows you to enter the U.S. with your Visitor Visa. At the moment, this document is only necessary for Chinese citizens.
What is the difference between the U.S. Visa and the EVUS?
If you're Chinese, you need both documents, so keep in mind that these are completely different. They don't meet the same legal conditions. The only similarity is that both of them were launched by the U.S. Government.
If you have a Visitor visa and a Chinese passport, you still have to apply for the EVUS. The only exception is if you have another type of visa with 10-year validity, in that case, you can avoid the EVUS process.
Is it possible to apply online for the EVUS?
Yes, it is. The process is completely online regardless of your preference for doing it with the official website or with iVisa.com's website. You can register for EVUS from China.
What is the first thing I should do before applying?
Before you apply online for your EVUS, you need to check that you follow these conditions:
You are Chinese and you have a valid Chinese passport.
You're traveling to the U.S. only for business or entertainment (you don't need a study visa).
You're renewing your EVUS.
If you answer yes to all of these statements, then you can read the information below to apply for your EVUS.
What documents do I need to apply for EVUS online?
If you already verified that you met the initial requirements, then you're ready to collect the other documents needed to apply online. The good thing is that you might already have most of them, if not all. This is the checklist you should keep in mind:
A valid Chinese passport (PRC).
A scanned copy of your passport.
The U.S. B1, B2, or B1/B2 visa.
A valid email address.
A valid payment option, which can be a credit/debit card or Paypal.
Your valid contact information.
What prices and processing times are available to the EVUS?
It's normal to have in mind the budget for this document. Take note that if you apply with the official page, you don't have to pay anything, but you must be very patient while waiting to receive it in your email since it can take several weeks. Instead, with iVisa.com, you can have your EVUS in a few minutes, but it's necessary to pay a small fee while applying online. Don't worry, the prices are accessible to your pocket and vary depending on the urgency you have:
Standard Processing Time:

7 days

- with this option the price is

USD $26.49

.
Rush Processing Time:

5 days

- the EVUS costs

USD $46.49

with this option.
Super Rush Processing Time:

3 days

- since this is the fastest option, the price is the most expensive. It is

USD $74.99

.
How can I apply for the EVUS enrollment?
Although you already know that you can apply with the official EVUS website, it's important to remember that this process can take a little longer and it can be more confusing if you're not familiar with online forms. On the contrary, with iVisa.com, the process doesn't require much effort, you just have to follow these steps
The first step is to write all the information required in the first questionnaire. Next, select your procedure time to confirm everything.
The second step is to check carefully all the information you gave in step one. You also need your credit/debit card or Paypal account to pay iVisa.com's work.
The third and last step is to upload the documents required and then click on the submit button.
After you complete these steps, just wait for your EVUS. It'll arrive in your email inbox.
What kinds of questions can I find on the EVUS official form?
If you apply with the Official EVUS online form, you'll find certain questions like your name, birth date, passport information, employment information, and also contact information. You'll also have to answer other questions related to your travel eligibility. Keep in mind that you're responsible for the truthfulness of this information.
Will the EVUS enrollment be always required to enter the U.S.?
Yes, it's been required since 2016. The Governments of the United States and China accepted an arrangement on a reciprocal basis, to issue visitor visas with 10-year validity. This arrangement included the EVUS, which means that travelers would be required to complete an online form with their information once in a while.
How long will it take for my EVUS application form to be approved?
Most of the time it won't need more than a few minutes, but it can take up to 72 hours depending on other aspects. However, as you read before, iVisa.com will always inform you about any issue with the online process.
Where can I get more information?
We invite you to contact iVisa.com's support service if you still have doubts about this process. You can get more details by reading our website as well.
Start your online application today to get closer to your trip!