If you are an Indian citizen and wish to travel to America, you can apply for a US Tourist Visa online. iVisa helps you fill out the DS-160 form online and assist with the application process or renewal of your B1/B2 visa for the United States. Read on for more information.
Filling out the DS-160 form online correctly is the most important aspect of the process that will definitely increase your approval chances of getting your B1/B2 visa for the first time or renewing it successfully. Let iVisa guide you through the process to apply or renew your US visa.
Here is everything you need to know about how to apply for a US Tourist visa from India including the visa interview requirements.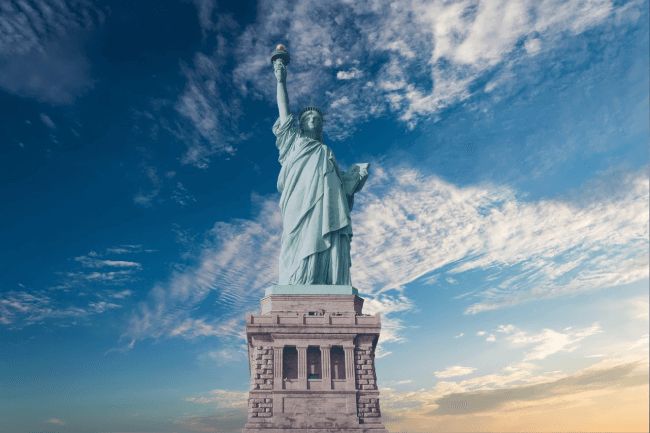 What is the B1/B2 visa?
The American B1/B2 visa is one of the most requested visas in the world and enables travelers to enter the United States of America.
The B1 Category is for travelers visiting the US for business or to participate in business meetings, events, congresses, fairs, or scientific, educational, or professional conventions. On the other hand, the B2 Category is for people traveling to the US for tourism, pleasure, or medical treatment.
What it takes to get a US Tourist Visa from India
A DS-160 non-immigrant form is used for temporary visits to the United States for foreign nationals, such as Indian citizens. It must be submitted electronically to the US Department of State website. The information of the visa applicant on the DS-160 form will be used to process the US visa application combined with a visa interview.
What are the requirements for an online DS-160 exam?
You don't have to meet many requirements for the DS-160 exam. All you need to provide is:
A valid passport: Anyone who wants to make the US visa application from India must have a valid passport valid for at least another six months after the date of intended arrival in the US.

An applicant photo: Along with the application form, you will need to upload a picture of yourself. You must upload a recent photo and meet the requirements, as well as print it to bring to the visa appointment.

A payment method: this can be a credit or debit card to pay the processing fee.
Application form for the US visitor visa from India
Next, you should check the program listing. We have simplified the US tourist visa from India application to just three simple steps:
First, you will have to provide some personal details and travel information. This will affect the visa fee of your US Tourist visa form.

You will be asked to make a payment and review your form to ensure it is error-free. You will need to make the application again if you make an error.

You will be required to upload supporting documents, such as a passport photo, when you move on to the next step. Besides, you will be notified if additional documents are required for the visa application.
Once you are done, you can submit the application for a US visitor visa from India. You will be directed to a confirmation page. We will send the confirmation letter email.
The process to renew your B1/B2 visa
To renew your B1/B2 visa with iVisa is pretty simple. Simply:
Fill out the simplified iVisa application form.

Receive support from your iVisa Expert from start to end.

Send the required documentation according to the instructions we give you or attend the interview if necessary.

Pick up your passport with your new visa and get ready to travel!
Processing time & cost of the B1/B2 visa application
When applying through iVisa, we charge a processing fee to process the application form on your behalf.
Standard processing takes

30 days

and costs

USD $38.49
Please note that the Indian government charges a fee of 160 USD, this is additional to our processing fee, which can be paid from a bank in India.
More information about the visa process for the US tourist visa from India
After completing the DS-160 non-immigrant visa form, it is important to follow the next steps of the application process. You will have to print the form and barcode page, and schedule a visa interview appointment at a visa application center if this is your first time applying for a B1/B2 visa. In addition, you must pay the visa application fee.
Requirements to renew your visa without an interview
If you want to apply to renew your B1/B2 visa, you can apply for a visa interview waiver if you meet one of the following requirements:
Your last US visa did not expire more than 24, 36, or 48 months ago (depending on your nationality), or it must still be valid.

Applicants under 14 or over 79 years of age can also apply for the visa renewal without having to attend an interview.
More questions about the DS-160 form?
If you have any questions about how to apply for a US Tourist visa from India, don't worry, our customer service experts are here to help 24/7 via chat or [email protected]. You can also read the complete guide to the US B1/B2 visa for more information.