Please note that as of June 2022 the CDC no longer requires travelers to present a negative COVID-19 test or documentation of recovery from COVID pre arrival to the US
The K-1 Visa | Fiance Visa | 90 Day Visa is a type of visa that allows an engaged partner of an American citizen to enter the U.S. to marry, but there are certain conditions to consider about this document. Get to know them in the information below.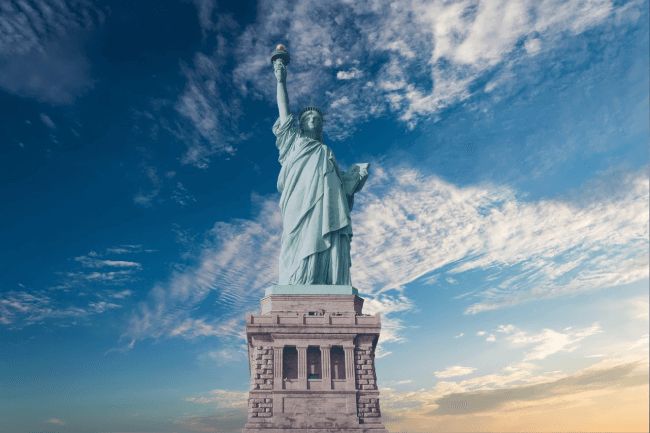 What is the K-1 Visa | Fiance Visa | 90 Day Visa?
The fiancé K-1 visa is a type of visa for a foreign-citizen fiancé(e) of an American (U.S.) citizen. This document allows the foreign fiancé to enter the United States to marry his or her U.S. citizen sponsor as long as the marriage occurs within 90 days of arrival. After that, the married spouse can apply for a green card based on marriage.
Since this permit allows the holder to travel to the U.S. and marry a U.S. citizen, then there are some important requirements to meet. In the information below, we will explain what requirements are necessary as well as who is eligible for this document, and how much it costs.
Who is eligible to get the K-1 Visa | Fiance Visa | 90 Day Visa?
Since the K-1 Visa permits a U.S. Citizen to sponsor his or her fiancé to visit the U.S. and get married, then both partners must meet certain conditions. The main requirement is to get married within 90 days after the sponsored fiancé arrives in the U.S.
The other requirements for eligibility are shown below:
The sponsoring partner must be a U.S. citizen, meaning that it cannot be a green cardholder.
Both citizens must be qualified to marry. It means that both must be currently unmarried.
The legitimacy of the relationship must be proved, including pictures, hotel reservations of trips taken together, etc.
The couple must prove that they have met in person at least once within the two years before filing the visa form (some exceptions may apply).
The U.S. fiancé must have valid proof of funds so that he or she can sponsor the foreign fiancé.
Lastly, K-1 visas are available for same-sex partners regardless of the same-sex couples laws in the sponsored fiancé's country of origin.
All About the K-1 Visa | Fiance Visa | 90 Day Visa
How much does it cost to apply for a K-1 Visa?
The total price for a K-1 visa ranges from USD1000 to even USD3000. These fees are charged for the services below:
The Form I-129F that must be filled out and signed. It costs $535.
The medical examination, which costs around $200, but the price may change depending on the medical service center.
The actual K-1 visa application. It costs $265.
Be aware that these fees do not include other expenses like photocopying charges, fees for getting the documents required, travel expenses, etc.
How long does it take to process a K-1 Visa?
Currently, the processing time for the K-1 Visa can last from 8 to 10 months on average. Also, you have to add 4 to 6 weeks to get the interview notice.
Also, take into account that some conditions can delay the process, like the requests for evidence (RFE). The RFEs are the most common obstacles to process the K-1 Visa fast as the U.S. Authorities tend to be very strict with them, which is why we recommend you to be cautious with it.
Applying for a K-1 Visa can be a bit stressful, but that is why iVisa.com has created this guide. Plus, we are working hard to bring you an online service soon to help you process your K-1 Visa faster and easier.
Can I apply for a K-1 Visa | Fiance Visa | 90 Day Visa online?
The actual K-1 Visa application is completely online, and it is the most important step in the entire process. Once you fill in the Form DS-160 (the form to get the K-1 Visa), you must print the DS-160 confirmation page so that you can take it to the interview. In case you have children and they are applying for K-2 Visas, then they will have to do the same with their respective application forms.
How can I apply for a K-1 Visa | Fiance Visa | 90 Day Visa?
To successfully obtain the K-1 Visa, you must follow these series of steps:
Step 1: Fill in the USCIS petition, which is Form I-129F. This is necessary to prove the validity of the relationship, so you will need certain documentation like proof of citizenship for the U.S. citizen fiancé.
Step 2: Once you submit Form I-129F, you will have to wait for at least two or three weeks to receive a notice of action (NOA1) in the mail. This notice will let you know if your petition was approved and it will inform you about the date and location for the visa interview.
Step 3: You can now complete the online DS-160 form. This is the K-1 Visa application, so remember to print the confirmation page once you submit the form online.
Step 4: This is when you have to complete the medical exam and the rest of the documentation required so that you can send it along with your DS-160 form.
Step 5: In this part, you will have to attend an interview at the embassy. It takes about 4 to 6 weeks after the embassy's first note.
Step 6: Once you meet all the requirements and get the K-2 Visa approved, you have a total of six months to travel to the U.S.
Step 7: This is the last step when you arrive in the U.S. and get married. Remember that you must get married within 90 days after arrival.
Required Documents
Before applying for the K-1 Visa, you and your U.S. fiancé must have the following documentation on hand:
The DS-160 Form completed.
Valid passport for traveling
Birth certificate
Divorce or death certificate (only if necessary).
Police certificates (only if necessary).
Medical examination
Proof of financial funds (for the U.S. citizen sponsor, including Form I-134).
Two passport-style (2x2) photographs.
Valid evidence of the relationship
Payment of fees.
Tips for Filling out the K-1 Visa | Fiance Visa | 90 Day Visa
This process may not be as complicated as others, but it is still important to consider some tips, especially while submitting the initial forms:
The proof of financial support is important for the U.S. sponsor. The adjusted gross income must be at least 100% of the Federal Poverty Guidelines according to her or his most recent tax return. In case the U.S. sponsor cannot meet this requirement alone, a joint financial sponsor can be helpful.
When signing and completing the forms on paper (if necessary), remember to always use black ink.
Before submitting any form or documentation, be aware to always review the information written to avoid mistakes.
How does the application with iVisa.com work?
iVisa.com is a third-party company that's been issuing visas and other travel documents for years, which is why it is ready to help you get your visas in the easiest way possible. Once we launch a process to get the K-1 Visa smoother, you will be ready to enjoy the following:
Online forms with an easy-to-understand language. Our application forms turn complex government language into something easier to understand.
Experts ready to review your documents. We'll check your entire application to ensure your application is error-free.
100% government compliant photos. Getting the right photo is important, especially in visa processes. You can use our photo service to get exactly the right photo for your documentation processes, all from the comfort of your home. Just take a selfie and our experts will ensure it meets the correct requirements for your visa type.
Full guidance every step of the way. Our 24/7 customer service team is always prepared to help you on your application journey.
Frequently Asked Questions
Can I extend my K-1 visa?
No, you cannot, it expires after 90 days of arrival.
Are the K-1 Visa and the K-3 Visa the same?
No, they are not. Fiancés of U.S. citizens can apply for the K-1 visa, while spouses of U.S. citizens can apply for the K-3 visa. The only similarity is that both visas are available only for partners of U.S. citizens.
Is it safe to use iVisa.com to apply for a K-1 Visa | Fiance Visa | 90 Day Visa?
Once we launch the electronic process to help you with the K-1 Visa, you can feel very safe because we always provide reliable services. We do not put any information in danger. Besides, we always help our customers with any doubt they have through our customer service center.
I have more unresolved questions, where can I find more info?
Applying for a K-1 Visa | Fiance Visa | 90 Day Visa is not too complicated, but it can be a bit stressful, which is why we are ready to help you with this matter by offering you valuable information and appropriate guidance 24/7. Plus, we may offer a faster service to process this renewal very soon.
We remind you that you can always read more information about our services at iVisa.com's website or you can also contact our customer service center, which is available at any time to help you with any doubts you have!