Please note that as of June 2022 the CDC no longer requires travelers to present a negative COVID-19 test or documentation of recovery from COVID pre arrival to the US
Visitors to the United States of America are often shocked by the size. When we say size, that doesn't just refer to the vast distances between cities, or the vast sandy beaches that hug its coastlines or the giant shopping malls that sprawl along the outskirts of many towns. Size also comes to mind when tourists finally take time out to refuel during a mammoth shopping spree and sit down to a three-course meal. European travelers, who may normally eat a three-course meal when dining out, are often stunned by the sheer size of the portion of food that appears in front of them. Appetizers are often made to share, but piles of deep-fried onion rings fill up even the hungriest group of diners. A towering hamburger or dinner plate-sized slab of meat as a main course is almost certainly enough for the average person, whilst those who make the mistake of ordering a dessert as well may find themselves overcome by the amount of chocolate and ice cream that the standard brownie portion refers to.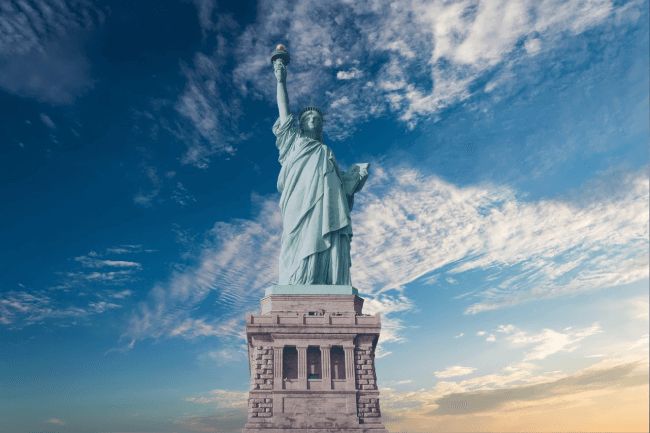 If the idea of food wastage is worse than the thought of eating yourself into a stupor, then you can relax and put down your fork. It's also common for Americans to request a 'doggy bag' so that their uneaten leftovers can be thoughtfully packaged up to put in the fridge, or the dog bowl, once you get home. For readers from smaller countries, the thought of all this size might cause you to feel intimidated or nervous about the prospect of starting a new life in the United States. You may find it hard to imagine fitting in amongst so many enlarged habits. The team at iVisa.com is here to help you squash these reservations. Don't feel like the little guy when it comes to the DV lottery. The green card lottery was created to improve diversity in America and protect its melting pot of cultures. The requirements are easy if you know what you need to do. So don't allow yourself to be intimidated and check out this informative post that can guide you through everything you need to know about requirements for the DV lottery.
Frequently Asked Questions
What should I know about the DV lottery?
The Diversity Visa has existed for 25 years. Its aim is to diversify the melting pot culture of different global backgrounds that make up the nation of North America. Over the years, legal and illegal immigration has resulted in some groups holding a higher majority in the USA. The DV lottery opens doors for 55,000 winners every year, who have the unique opportunity to start afresh in America. More than 55,000 winners are chosen though, many of the applicants do not proceed in the process as a result of false or missing information or by choosing not to continue. Therefore, it's important to keep an eye on the DV lottery winners list as soon as it's released in May 2021.
Are requirements for DV lottery hard to obtain?
Applying for the DV/green card lottery doesn't have to be as challenging as it sounds. There are a number of requirements, starting with the deadline. You can only apply for the DV lottery between 7 October and 10 November. If you miss this window, you'll have to wait until next year for another chance. You also have to provide information about your personal, family, and educational circumstances. Applicants must have graduated from high school or have 2 years of professional work experience.
You are also required to submit recent photos of you and your family. There are requirements relating to the photos, whereby they must be taken against a plain light background, and of a specific size and style. The team at iVisa.com has experience with official photographs, as you can discover by checking out iVisa.com's Passport Photos page.
What if I don't meet the requirements for the DV lottery?
You are encouraged not to apply if you do not meet the educational requirements for the DV lottery, as the next step of the process is an interview at the embassy and ineligible candidates will be removed from the process at this stage. If your nationality is also not accepted in this draw, your application will be void. Use the chat function to discuss your individual application with a team member.
Can I apply more than once?
You are not allowed to apply for the Diversity Visa lottery more than once per draw. If the authorities encounter two identical applications under the same name, they will both be invalid. Apply today while you still have time, as applying for this popular lottery through iVisa.com is the best way to improve your chances of winning. Why? Because iVisa.com boasts a professional team with years of experience submitting official documents and application forms for wannabe travelers just like you.
Is iVisa.com a safe choice for my DV lottery application?
It's key to meet all the requirements for the DV lottery when you're submitting your application. If you meet the requirements, but your application is filled with errors or is missing an essential answer then your eligibility is greatly reduced. iVisa.com is a safe choice because your application is in safe hands. Our team has years of experience in the travel document industry, and you're less likely to make basic errors thanks to our user-friendly format. Don't waste time worrying, apply today and keep your fingers crossed until May when the winners list is released.
Where can I read more about the requirements for the DV lottery?
For all the ins and outs about the requirements for DV lottery, make your way over to the iVisa.com webpage for lots of tips and guidance, helpful articles, and useful tools to help you get on track to make a winning application. The DV lottery application is easier with iVisa.com because the team has created a user-friendly format.
As an iVisa.com customer, you're already moving in the right direction, so don't waste any more time and start your application today.