Please note that as of June 2022 the CDC no longer requires travelers to present a negative COVID-19 test or documentation of recovery from COVID pre arrival to the US
We are improving our B1/B2 application process to make sure it is up to date with current US visa policy. We will make this product available again soon. In the mean time, below you will find useful information to keep in mind for your US visa application.
As an Albanian citizen, you need a visa to enter the United States of America. So if you are planning a trip there, for business or pleasure, iVisa can help you with the formalities so that you can get your US B1/B2 VISA easily.
While you cannot get the visa itself online, we can help you with the application form, also known as the DS-160. Once you do that, we can even set the interview for you at the nearest US embassy or consulate.
Do you want to know more about it? Then we invite you to keep reading this article.

Frequently Asked Questions (FAQs)
I'm from Albania, do I need a visa to enter the US?
Yes, you do need a visa to enter the United States, since you're not one of the visa-free countries.
What is a B1/B2 Visa?
The B1/B2 is a category of "non-immigrant" visa for those citizens who wish to enter the United States temporarily for business (category B1 visa), for tourism (category B2 visa) or a combination of both purposes (B1/B2). The U.S. Government tends to offer B1/B2 visas rather than just a B1 or a B2 visa.
How long can I stay in the US with a B1/B2 visa?
With your B1/B2 visa you can stay in the US for 180 days Per Entry.
What are the requirements to apply for this visa?
Before you fill in the application form, you should make sure that you have everything you need for the online process. Fortunately, iVisa does not ask for much.
You must have the following to apply:
Valid passport – all applicants need to have a passport that remains valid for at least another 6 months beyond the intended stay in the US.
Digital photo – when you apply for a US B1/B2 visa online, you need to have a picture of you, preferably taken as recent as possible. The photo must follow all the other guidelines for a valid passport photo.
Travel itinerary – this applies only if you have made the arrangements for your stay in the US.
Dates of previous trips to the US – of course, only if you have traveled there in the past.
Additional information – depending on the purpose of your travel, you may be required to provide other information when you apply.
E-mail address – after iVisa processes the application, you will receive a confirmation page via e-mail, which is why you need a valid address. You need that confirmation page for your appointment at the US embassy when you have your interview. Do not forget to print it out.
Means of payment – the payment must be made during the online application process as well. iVisa accepts credit or debit cards, but you can also use PayPal.
Does iVisa offers me the B1/B2 Visa?
Keep in mind that iVisa does not offer the B1/B2 Visa, we offer the application form to get an interview as soon as you desire in order to get your visa. But to approve to have one or not will only depend on The U.S. Government and not on us.
How much do I have to pay to get my B1/B2 Pre-Registration?
In iVisa we try to simplify the process, so that's why we give you three options according to how soon you would like to proceed with the application and have your interview:
Standard processing – your application is processed within

9 days

since submission, and it costs

USD 210.99

including the visa cost.
Rush processing – your confirmation page is ready within

7 days

, but you are charged

USD 211.99

.
Super Rush processing – it only takes

5 days

for you to receive your confirmation page, and you must pay

USD 298.99

.
How long does it take to apply for a B1/B2 Application Form ?
Filling in the application form to get you closer to your visa will only take you less than 10 minutes.
How is the online application form to proceed with the B1/B2 US Visa?
Now that you know what you need to apply for a US B1/B2 visa, let's talk a bit about the form.
You should know that this application process is not challenging in any way, but if you feel like you need some help or have questions, you can contact iVisa's customer support 24/7. The service is free of charge.
iVisa created a form that is broken down into three steps for your convenience:
The first one is pretty basic. You need to provide your personal information, travel details, as well as passport info. You must also select a processing time for your application, something which determines how much your US B1/B2 visa will cost.

The second step of the form asks that you make the payment and review your form so that it is 100% accurate,

The third step is the part where you must upload the documents that support your application and whatever iVisa thinks is necessary. When you finish, submit your form, and you are done.
What you need to remember is that getting a confirmation page for a US B1/B2 Visa for the citizens of Albania is easy when you apply with iVisa. We will even send you information on what to expect during your interview, as well as a checklist with everything you need to bring with you for the interview.
What condition should I have for the US B1/B2 visa?
The most important thing is that your passport must be valid for at least six months beyond your period of stay in the United States. And remember that this applies to each and every stay within the visa's 10 year validity period.
What happens after I finish my application?
In that case you just have to wait for all the information we will send you by email in the timeframe you chose. We even prepare you for the Interview, just remember that you still will need to go to the Embassy
How does the B1/B2 Visa look like?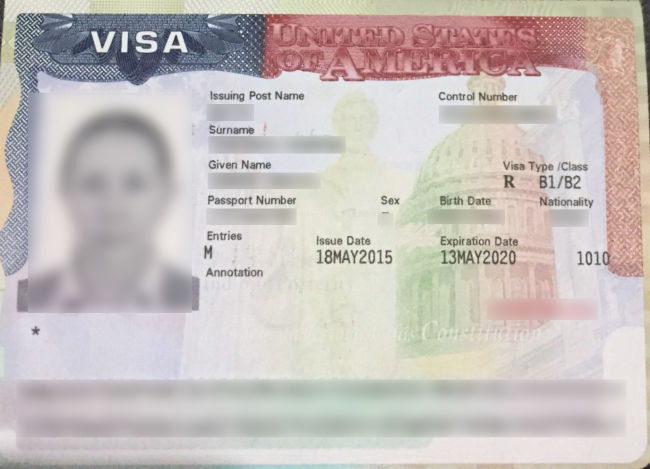 What can I do if I make a mistake in my application?
In case you realize that you made a mistake in your application, just contact one of our customer service representatives immediately. We will be ready to assist you properly at anytime.
Just keep in mind that if we already submitted your application, you will NOT be able to make any changes.
Is it safe to use iVisa to get my B1/B2 application?
With iVisa, your personal information is totally safe since we provide you maximum safety, and we invest a lot in the security of our database. And at the same time, we work properly with the US Authorities that allow us to give you the best chance to have an interview. You can check what thousands of happy customers say about us here.
I have more questions, where can I find more info?
If you have some specific doubts or questions to be solved, then click here to contact one of our customer service representatives. On the other hand, you can find more info and FAQs here.