Please note that as of June 2022 the CDC no longer requires travelers to present a negative COVID-19 test or documentation of recovery from COVID pre arrival to the US
We are improving the B1/B2 program procedure to make sure it is current with the US visa policy. We will make this product available soon. You can read useful information below to keep in mind for your US visa program, while you wait for it.
You can't get this document online. But you'll have the ability to apply online for your own confirmation page you need when you go to the embassy and iVisa can assist with that. We will even schedule the meeting for you in the closest US embassy after your application is processed. Learn more about this upcoming document with the info below.

Frequently Asked Questions / FAQs
As a citizen from St. Vincent & Grenadines, do I need to obtain a visa for the US?
Yes, to go to the USA you must acquire a visa, because you are not among the visa-exempt countries.
What is a B1/B2 Visa?
The B1/B2 is a category of "non-immigrant" visa for those foreign citizens who want to enter the United States temporarily for business (class B1 visa), for tourism (category B2 visa) or a combination of both purposes (B1/B2). The U.S. Government usually offers B1/B2 visas instead of just a B1 or B2 visa.
How long can I remain in the US with a B1/B2 visa?
You can remain in the US for 180 days per entry.
Which are the requirements?
The very first thing you need to do until you fill in the form is to make sure you could supply whatever is necessary for iVisa to get the process started. You will need the following documents and information:
Passport -- to apply and get a confirmation page, you have to be a passport holder. Be sure that you look at its expiry date before making the application. Your passport needs to be valid for another 6 months on the date of your planned departure from the US.
Digital photograph -- make sure the picture follows all of the official guidelines to get a passport photo. For instance, it must be taken recently.
Travel itinerary -- that requirement doesn't apply if you did not have the opportunity to make all the arrangements yet.
Dates of 5 previous trips to the US -- because you can imagine, this requirement does not apply to you if you have never been to the United States.
Further information -- you have to be prepared with all of the documents you have which are related to your trip. You could be asked to give any extra information you've got about your travels.
Email address -- the verification page you apply for arrives by email. So, supply a valid and proper address. Additionally, don't forget to print out the document you get before you visit the embassy for the interview.
Way of payment -- iVisa permits you to utilize multiple methods of payment. It's possible to pay with a credit or debit card, but if you have PayPal, you can use it as well.
Can iVisa delivers the B1/B2 Visa?
iVisa doesn't offer you the B1/B2 Visa. Nevertheless, iVisa will offer the pre-registration form very soon to have an interview as soon as you want. Remember that the final acceptance of your US Visa will only depend on The U.S. Government and not on us.
What are the prices as well as the processing times?
In iVisa you have three options to select based on how soon you want to get your interview:
Standard processing -- your application is ready within

9 days

plus it has a price of

USD $213.99

.
Rush processing -- your own confirmation page is prepared in

7 days

, but you are going to be billed

USD $260.99

.
Super Rush -- you only need to wait

5 days

. All the service fee and visa cost have a total of

USD $311.99

.
How much time does it take to make an application for a B1/B2 Application Form?
Filling in the online form to get your interview will only take you 20 minutes.
How can I apply?
After you manage to put together each of the above, you can move forward with the application procedure and fill in the form. It should be a simple task, but if you need help, iVisa's customer service is at your disposal non-stop and has no charge. You will see that the form created by iVisa consists of three measures:
The initial one wants you to offer your private info, as well as to select a processing period for your application.
When you get to the next measure, you must cover the payment and examine your form.
the third requires you to provide the necessary documents that support your application. You'll be given directions to upload them. After you finish, click on the submit button, and iVisa takes it from there.
The most important thing is that obtaining the confirmation page to get a US B1/B2 Visa for its citizens of St. Vincent & Grenadines is not at all complex or time-consuming. iVisa will even send you useful info on what to expect during the interview, as well as a record of documents you will need to bring with you to the embassy.
What should I do after I complete my application?
You'll only have to wait for all the information required for the interview. This information will be sent by email. Don't overlook the fact that you will need to go to the Embassy.
How does the B1/B2 Visa look like?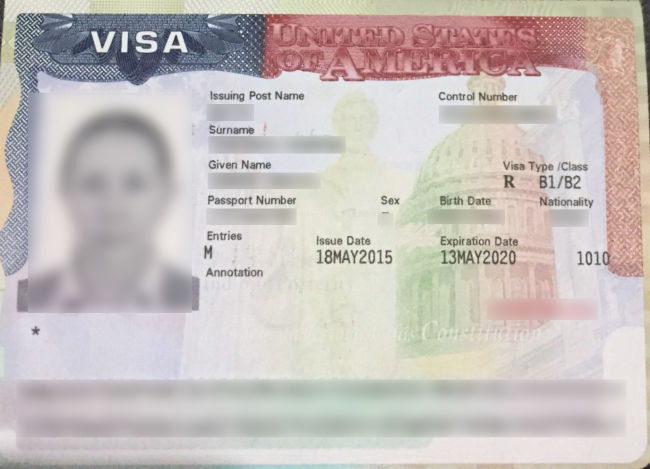 Where can I find more details?
If you still have doubts about this procedure, then click here to speak to one of our client service representatives. On the other hand, you can find more information and FAQs here.