Please note that as of June 2022 the CDC no longer requires travelers to present a negative COVID-19 test or documentation of recovery from COVID pre arrival to the US
Citizens from Lithuanian might need to receive tourist visas whenever they would like to travel to some countries. Traveling to the United States should be slightly simpler than other destinations due to the rules and regulations that are in place. Read the FAQ below to understand more about traveling into the US and getting a US visa.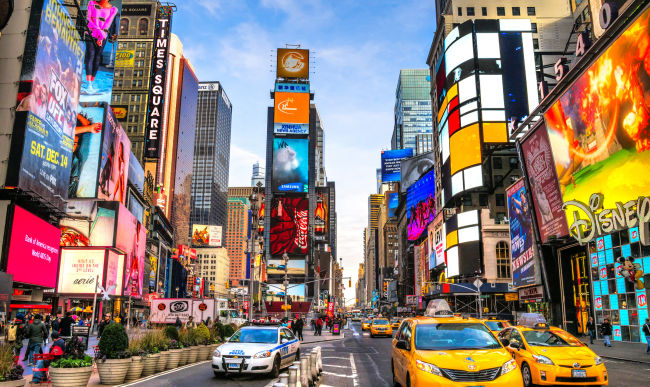 Frequently Asked Questions (FAQs)
Do Lithuanian passport holders require a visa to enter the US?
Considering 2010, the US Electronic System for Travel Authorization has been the essential travel document for visa-exempt travelers that fly to the US. The only time that this document is not required is if you have a valid visa issued by a US Embassy. Click here to check the requirements to apply.
What is the US ESTA?
The Electronic System for Travel Authorization (ESTA) is an automatic system that helps in determining your eligibility to go to the USA under the Visa Waiver Program (VWP). It also assesses whether there are any safety risks with your travel. The traveler is advised of his/her eligibility to travel to the United States.
How long can I stay in the United States having an ESTA?
The ESTA is valid for 2 years after issued. Please feel free to contact iVisa 24/7 via phone or chat if the ESTA program is the right selection for your planned journey to talk.
Lithuanians will require the following for us to publish their application:
Passport -- applicants need to have a passport which remains valid for at least another 6 months in the planned date of arrival in Dubai. Otherwise, you risk having your application denied.
A passport scan -- we only need the information page of your passport. Make sure to have a passport with at least 6-month validity in the planned date of entry.
An electronic photograph of you -- in order to finish your application, our visa specialists will require a digital photo of all applicants.
Email address -- when applying with iVisa, your visa will be sent to you via email, so make certain that you introduce a valid email address you have access to.
Means of payment -- iVisa takes multiple procedures of payment such as credit/debit cards or Paypal.
What are the processing period and costs of the ESTA?
iVisa has three options for the processing time of your ESTA. Remember that will determine the purchase price. The choices are as follows:
Standard processing -- for

USD $68.99

, we process your ESTA in

24 hours

.
Rush processing -- within

8 hours

your email address receives the document in PDF but with a higher price of

USD $116.99

.
Super rush processing -- that is the fastest option as you obtain the visa in

2 hours

. The total for this option is

USD $177.99

.
How long does it take to apply for an ESTA?
The application for an ESTA will not require more than 10 minutes. Then submit your application and expect your visa to arrive at your email address.
How can I use to an ESTA?
iVisa has among the simplest application forms that consists of three steps:
Supply your overall information is the first step. In addition, you ought to choose the processing period from the choices mentioned above.
The next step consists of a revision of measure one and also the payment.
The last step consists of a poll. Other documents may be required too, but it is dependent upon individual conditions.
If you happen to require assistance to fill your program, iVisa has a fantastic service that you can call 24/7.
What happens after I've applied?
Once the application is completed, you simply need to wait for an email from us telling you all of your eligibility to travel to the USA under the VWP.
How many times can I enter the United States with an ESTA?
With the ESTA you will have Multiple Entry to the country.
Do I need to get an ESTA for my children too?
Yes, all children (regardless of age) require their own ESTA before their journey to the US. Children listed on their parents'; passports do not qualify for an ESTA. Children must have their own (unexpired) passport in order to be qualified for an ESTA.
How can I apply for my loved ones or friends?
To apply for others you require to have all the necessary documents (you can see above in this article). You can click here introducing his/her data. In the case you want to apply for more than 1 individual, it is possible to do so by clicking on ''insert new candidate'' in the application form and finishing the information required.
What can I do if I make an error in my application?
When we already submitted your application, then you cannot make any changes and you'll need to apply again but we will NOT charge you another service fee. So, if that is the case, then please contact immediately one of our customer service representatives to help you.
Is iVisa the Very Best Electronic Visa Company?
Obviously, we would like to believe that we're the very best eVisa company out there, but we do not expect you to take our word for it. You will observe that nearly all of the testimonials on our site are overwhelmingly positive. You could see here their testimonials and in case you feel comfortable making your impressions from 3rd party review sites, we'll happily refer you to TrustPilot.
Is Doing This Type of Important Software Online Safe?
We use SSL encryption on our pages. We also go beyond that simple safety standard by hosting our database servers at a data center that is world-class for securing the information provided from us to our customers, and utilizing methods. We're compliant with all PCI regulations for payment processing.
I've more comprehensive questions, where do I find more information?
To get a faster resolution click here to contact by chat or call among our customer service agents. Alternatively, you can find more info and FAQs here.