Please note that as of June 2022 the CDC no longer requires travelers to present a negative COVID-19 test or documentation of recovery from COVID pre arrival to the US
The Vaccination Passport New York is the new solution to all your trip struggles. If you thought the pandemic was endless, we are excited to announce that there is a light at the end of the tunnel. If you have a covid vaccine, you have a greater chance of entering cities, such as New York. TheiVisa.com team is working tirelessly to bring you the latest news about this.
The vaccination certificate, or vaccine passport, is an official document that shows you have received the vaccine to fight covid. Now you can start planning your trip without worrying about tests along the way. Your body will be strong enough to fight the virus if you encounter it at some point. New York is ready to welcome you as soon as you get vaccinated.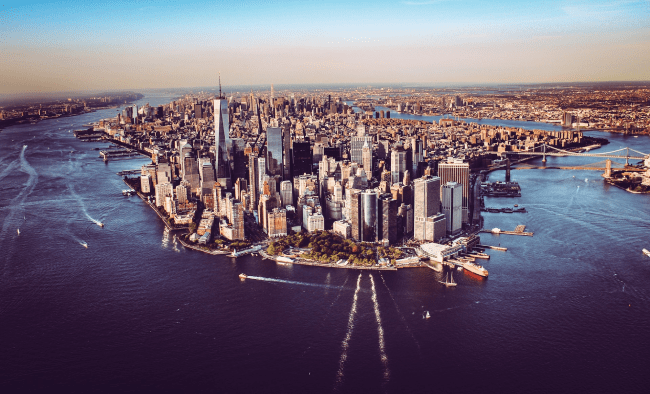 Frequently Asked Questions
What is the vaccination certificate, and what other required documents do I need to travel to New York?
The vaccination certificate is a health document that allows your smooth entry to New York. The Vaccination Passport New York shows details about the covid vaccine you have.
Besides, you will need to have the New York Traveler Health Form before entering the city. You must provide health and trip details to complete the mandatory document. The process is 100% online, and iVisa.com can help you.
Will I need to quarantine on arrival?
It will depend on your travel status. If you left New York for more than 24 hours, you must quarantine for three days upon the arrival. This guideline also applies if you come from a CDC Level 2 and higher Health Notice country. By the 4th day of your isolation period, you need to take another covid test. Once you have the negative results, you could end your quarantine period. Still, the US Government advises staying at home as much as possible.
Remember that the Vaccination Passport New York is a new beginning to start traveling again.
How much does this document cost, and when can I get it?
The New York Traveler Health Form offers the following fees:
Standard processing time:

24 hours

-

USD $24.99

Rush processing time:

8 hours

-

USD $44.99

Super Rush processing time:

4 hours

-

USD $75.99
Is iVisa.com safe?
Yes! We have thrived over the years due to our reliable services. Our customers know they can trust our excellent results. Check their accounts of their great experiences in the comments section. Trust our services and learn more about the Vaccination Passport New York with us.
Where can I find more information?
Communicate with our customer service agents, who can give you a hand with the Vaccination Passport New York.
We are available day and night for all your questions. We want you to enjoy New York to the fullest.
Go to the application page now
iVisa.com Recommends
New York is a fast-paced city that offers unique sites. Start with the Statue of Liberty, a famous US landmark that represents freedom. France gifted the statue back in 1886, and it stands at 152 feet. Check it from Battery Park, which is located south of Manhattan. Also, you can take a boat trip to Liberty Island for a closer look. If you reserve in advance, you can even get to the crown. Also, you can stop at Ellis Island and check the Immigration Museum that displays stories and experiences of immigrants who came looking for the American dream.
Continue with Central Park, the perfect spot during any season. If you visit during winter, get your skates and enjoy Wollman Rink. Also, check out nature in this 2.5-mile-long park located in the middle of the city. Make sure to go to Belvedere Castle, Strawberry Field, the Central Park Zoo, and the Lake. Don't miss any spots! Ask for any help at the visitors center. The Rockefeller Center is another favorite spot among tourists. 30 Rockefeller Plaza with its Art Deco skyscraper offers incredible views of the city. Make sure to buy your ticket in advance and explore the different floors that provide incredible views of New York.