Are you planning to return to the United States to enjoy a nice vacation or attend that important conference you were waiting for? If your U.S. B1/B2 visa is about to expire, it's time to apply for your visa renewal; at iVisa, we make this process easier for you.
The United States is an incredibly diverse country where there is a lot to do. From Florida to Chicago or California to New York, we always look forward to returning whenever we can.
Our iVisa team has prepared some questions to guide you through renewing your U.S. B1/B2 visa.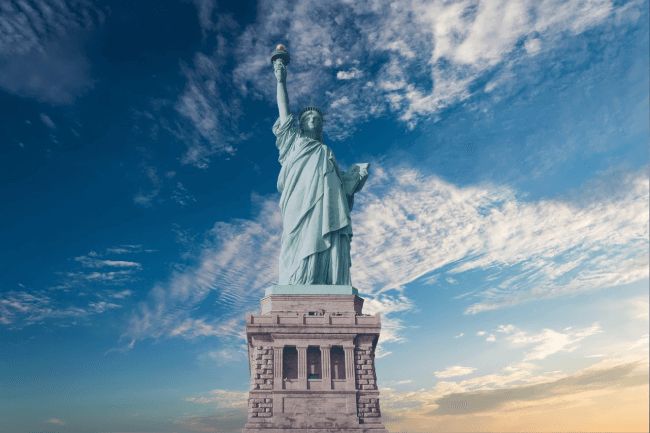 Am I eligible to renew my U.S. B1/B2 visa?
You are eligible to renew your U.S. B1/B2 visa if you meet these requirements:
You are going to renew the same type of visa. You cannot have one visa and renew a different one.

Your visa must not have expired or be less than 48 months old.

You have not been denied any visa by the U.S. Embassy in the last 12 months.

You have only stayed in the United States for the time allowed.

You have not committed any crime or been in jail.

You must have the visa stamped in your passport and have to send passports with previous visas. If your recent passport does not have the visa, you must send it with the others.

Demonstrate that you have the means to pay your travel expenses during your trip.
What documents am I required to renew the U.S. B1/B2 Visa in Jamaica?
The documents required to renew the U.S. B1/B2 visa are the following:
Passport: The passport must be valid for 6 months or more.

Form DS-160: You must have the form filled out, and the answers must be correct.

Previous visas: A scanned copy of your last B1/B2 visa.

Digital Photo: Photo must be 2" x 2" passport size, must be in color with a plain white background with no shadows, taken within the last six months. You must not be wearing glasses unless they are medically indicated, must not be smiling, and must be looking at the camera. We offer a photo service if you do not have a digital photo.

Receipt of payment: The receipt of the DS-160 form.

Travel documents: Airline tickets with arrival and departure dates. Also, the hotel reservation where you are staying. If you are staying at a friend's or relative's home, please provide the address.

Email: Frequently used email address where iVisa will send you the renewal of the US visa B1/B2.

Supporting documents: iVisa will let you know if you need to submit any additional documents.
U.S. Visa Renewal Application: How to apply for an American Visa renewal in Jamaica?
To apply for renewal of your U.S. B1/B2 visa in Jamaica, please follow these three steps:
Step 1: Complete the iVisa simplified form, which is 50% shorter than the DS-160 form, and answer the questions with the help of the iVisa Guide Manual.
Step 2: Review the form and verify that all answers are correct. Pay the fee. You can make the payment with a debit or credit card.
Step 3: After submitting the application form, one of our iVisa Experts will review each one of your answers to ensure that everything is filled out correctly, and it is 100% compliant with the United States government standards.
Then, we'll email you all the documents you need to take to the US embassy in your country. Important information: A DS-160 form is a personal form that each family member, including minors, must fill out. In one payment transaction, you can pay for all forms, up to a maximum of five forms at a time.
We'll let you know whether the Department of Homeland Security (DHS) allows you to mail your documents or if you must schedule an in-person appointment to leave them. In that case, we will notify you of the Drop-Off location.
What is the cost and processing time for U.S. B1/B2 visa renewal in Jamaica?
At iVisa, we offer you this service, and personalized attention for the renewal of your U.S. B1/B2 visa:
Standard Processing Time: The visa renewal processing time for citizens of Jamaica is

30 days

(

USD $218.99

). It includes the MRV fee of

USD $160.00

.
DHS officials may take at least 4 weeks to review a visa renewal application and decide.
Can I renew my U.S. B1/B2 visa without an interview in Jamaica?
For visa renewal, in most cases, you do not need an interview at the U.S. Embassy. Still, there may be some cases where you are requested more documents or additional information. In that event, you may need to schedule an interview at the Consular Section of the U.S. Embassy in Kingston.
Can I renew my U.S. B1/B2 visa before its expiration in Jamaica?
It is not necessary to wait for the visa to expire before renewing it; if you often travel or plan to travel, it is advisable to renew it before it expires in case there are any delays due to visa demands or additional documents required.
How can I track my passport to get it back?
When the passport with the stamped visa is ready, the U.S. Embassy in Kingston will send you an email outlining when and where you can pick up your passport. You can also track your passport through the consular section of the U.S. Embassy in Kingston website.
Do I need travel medical insurance to visit the United States?
To renew the U.S. B1/B2 visa, it is not a requirement to have travel medical insurance. When you plan a trip, you want it to be fantastic. It is essential to have everything covered, and traveling with travel insurance will guarantee the insurance company will take care of everything in case of an accident, illness, flight cancellation, or loss of luggage, among other things.
A few tips:
Travel documents: The most essential are your passport, credit cards, reservation numbers, and contact phones; you should always have them in your purse or backpack. Have them handy when you are asked for them.

Arrive at the airport on time: International flights require you to arrive three hours before departure, but coming a little earlier is better; sometimes, you may be delayed at the counter or immigration.

Choose your clothes: Before packing, check how the weather will be during your trip; it is always good to take some formal garments for dinner at a good restaurant or go to a show.

Read about where you will be: Before traveling, look at the most popular attractions you can visit. Ask friends who have traveled before to give you some tips.
Where can I contact you?
If you have any additional questions, our dedicated customer service team is available 24 hours a day, seven days a week. Also, for your convenience, you can write to us at [email protected], and we will respond to you as soon as possible.