Renewing your United States B1/B2 Visa while in the Philippines sounds like a daunting task, but do not fear. iVisa is here to guide you through the visa application process. Continue reading and find out all you need to know.
The most requested documents for travelers going to the U.S. for short visits are the B1 or B2 non-immigrant visas. B1 is for travelers visiting the United States for business, and B2 is for tourism, pleasure, or medical treatments.
The process of renewing non-immigrant visas for the United States can seem quite complicated, from filling out the DS-160 form to figuring out whether you'll need an interview. That's why we have created a complete guide to renew your B1/ B2 visa successfully from the Philippines.
For more info about current policies and requirements, read our complete guide for applying for the B1/B2 visa.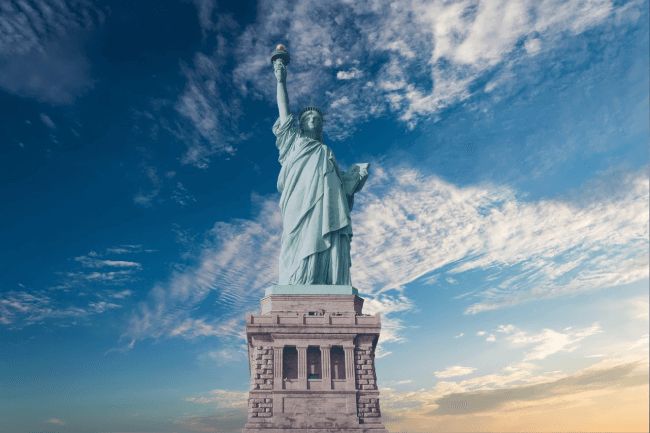 How to renew a U.S. Visa in the Philippines
The process of renewing your United States visa can be done online. Start the process, fill out the requested information, and pay the visa application fee. From there, our experts will make sure to guide you through the process.
During the non-immigrant visa application you'll have to fill out the DS-160 form. After that, you can book your interview appointment or apply for an interview waiver. Applicants who qualify for a visa Interview Waiver will then need to drop off the required documents at specified drop-off locations.
The entire process of the visa issuance can take six to ten weeks.
When to apply for a U.S. visa renewal
Non-immigrant visa applicants are encouraged to apply at least three months before they intend to travel, as the process is often quite lengthy. All applications go through various checks from the U.S. embassies, consulates, and the National Visa Center.
If you need an interview, book it as early as possible, so you can secure a date and time that works for you. Remember, in the Philippines, this will happen at the U.S. embassy in Manila.
Requirements for U.S. B1/B2 Visa Renewal in the Philippines
If you apply to renew your B1/B2 visa, you must have a passport that will be valid for at least six months from the intended arrival date in the United States. Your reason for traveling must fit within the business (B1) or for tourism/medical treatment (B2) conditions.
Renewal applicants must have honored their last visa and not exceeded the six months of stay allowed on past trips to the United States.
Documents required for renewing the U.S. Visa in the Philippines
When applying to renew your business or tourist temporary visa, you must submit the following visa information:
A completed Non-immigrant Visa Electronic Application (DS-160) form.

Your passport valid for at least six months beyond your intended period of stay in the United States.

Applicant photo of 5cm x 5cm. If you don't have one, check the iVisa digital photo service.
In addition to these items, you must present either the visa interview waiver document or a visa interview appointment letter. You may be requested to submit other supporting documents to the consular officer.
U.S. Visa renewal fees & processing times
The government fee for U.S. visa renewal applications is USD $0.00. However, if you opt to use iVisa, we offer this processing time.
Standard Processing Time:

30 days

for a fee of

USD $29.49

.
Renewing a B1/B2 document without a visa interview in the Philippines
It is possible to qualify for a visa Interview Waiver and skip the interview at the U.S. Embassy. To be eligible for an Interview Waiverapplicants need to meet specific criteria. This includes:
A previous B1/B2 visa which was valid for ten years and is still valid or has expired within the last 48 months.

The passport with the previous visa.

Name, date of birth, and gender on the last visa must be the same as on the passport (documentary proof if there is a name change due to marriage or annulment).

Recent visa was issued on or after your 14th birthday.

Last visa application was approved.

No extension or change of status request was made through USCIS.
If non-immigrant visa applicants meet all the above criteria, they may apply for an Interview Waiver. However, if the applicant does not meet some requirements, they may still need to book an interview appointment.
Additional information about the B1/B2 Visa category
Individuals with a B1/B2 visa may not accept employment or work in the United States, and there is no guarantee they will get a B1/B2 visa. It is advised that you do not finalize travel plans or buy tickets until you are issued a visa.
Please remember that a valid U.S. visa in an expired passport is still usable unless canceled or revoked by the United States government. If you have a valid visa in an expired passport, you may present the old passport with the visa to immigration services alongside your new valid passport when traveling and entering the United States.
More questions about the B1/B2 visa renewal?
Ready to apply for your B1/B2 visa renewal? Remember to read our complete guide to B1/B2 visa renewals and check the Visa Checker Tool to ensure you have everything you need to travel to the US.
You can always contact our expert customer service team online or via email at [email protected]. They are available 24/7 to answer all your questions.