Please note that as of June 2022 the CDC no longer requires travelers to present a negative COVID-19 test or documentation of recovery from COVID pre arrival to the US
Traveling to the United States can be very pleasant, but it's always necessary to have all the documents up to date. If you are a Chinese citizen, you probably need to apply for your EVUS to enter the U.S. without complications. However, if your EVUS has expired, you will have to follow a series of steps that we detail in this article to renew it.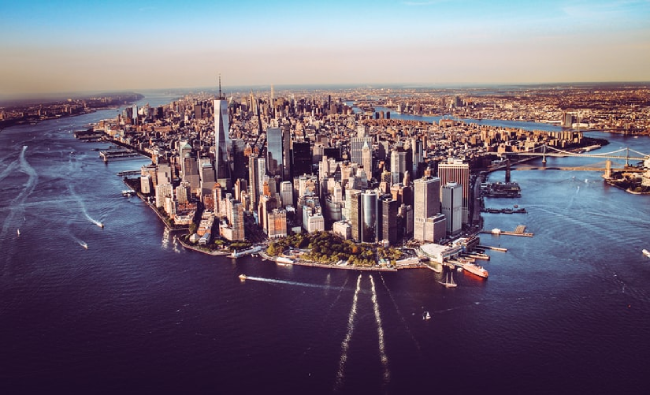 Although it is common to get bored when you have to renew a document, with iVisa.com it'll be easier and faster, and you'll be able to avoid the hassle. All you have to do is to read the FAQs below, nothing else. This way, you'll be able to follow the step-by-step to renew your EVUS as soon as possible.
Frequently Asked Questions
What does it mean "EVUS"?
EVUS is the acronym for Electronic Visa Update System. This is an official system that allows the Chinese to enter the United States if their purpose is pleasure or business on a 10-year U.S. visitor Visa, class B1, B2, or B1/B2. Any traveler that fit this description must apply for an EVUS.
How do I know if I can apply for an EVUS?
If you want to know if you're eligible for an EVUS, then simply answer the following statements:
You are a Chinese citizen.
You hold a valid Chinese passport.
You are traveling to the United States for business or pleasure.
You have to renew an EVUS.
If your answer is "yes" to all of these, or at least to the first three, then you're eligible to apply for your EVUS.
What requirements do I need to apply for the EVUS?
In comparison to other processes, the EVUS enroll doesn't require a lot of documents, and if you decide to use iVisa.com, the process will be even simpler. If you have to renew your EVUS because it's expired, then you'll need the same documents as if you were applying for it the first time. Here's the following list of documents:
A valid Chinese passport.
A scanned copy of your passport main page.
A 10-year U.S. visa. The visa has to be one of the following: B1, B2, or B1/B2.
A valid email address to get your document.
A valid payment method. You can pay with a credit/debit card or even Paypal.
You also need to offer your contact information including the address of your U.S. destination.
What are the processing times and prices to get my EVUS?
You have to pay for iVisa.com's service if you want to receive your EVUS, but the good thing about it is that you have three options to pay according to how fast you need it. Also, these options are exactly the same when you want to renew this document. These are:
Standard Processing Time: you'll get your EVUS in

7 days

by paying

USD 37.49

.
Rush Processing Time: you'll only wait

5 days

if you pay

USD 61.99

.
Super Rush Processing Time: this is the fastest option you can choose with iVisa.com. Your EVUS will be ready in

3 days

, but you'll have to pay

USD 106.99

.
How can I apply for an EVUS with iVisa.com's service?
You can renew or enroll for your EVUS with the US Official Website of the Department of Homeland Security, but you might find it difficult to understand this process, especially because it can be very bureaucratic, and it doesn't include translations.
On the contrary, if you use iVisa.com's system, you can apply or renew for your EVUS in just a few minutes with a reliable method that works more as a digital friend for you. If you have any trouble, you can translate it to your official language or you can contact iVisa.com's service to get assistance.
Here's the list of steps to follow:
First, fill in the initial online application form with personal data like name, address, and phone. You have to select your processing time as well.
Second, verify that the information you wrote in step one is correct. You also have to pay for iVisa.com's service with a credit/debit card or a Paypal account.
Third, upload the documents required (scanned copy of your passport and B1/B2 valid visa) and after that, send the online form.
Once you finish this process, you'll have to wait for your EVUS according to the processing time you selected. You'll get the heads up via email, so be sure to provide a valid email address.
How much time do I need to apply?
Since iVisa.com has a modern system, you shouldn't spend more than 20 minutes filling in the online form. It's the same amount of time you can spend in a coffee break, so you don't have to stress about finding the best time to complete the process any day, even a workday.
What is the difference between the U.S. visa and the EVUS?
First of all, keep in mind that EVUS isn't a Visa. The EVUS doesn't follow the legal requirements that the U.S. Visa has. That's why, citizens that are from the People's Republic of China need both the B1, B2, or B1/B2 10 year valid visa + EVUS. If you have any other class of Visa that's not the B1, B2, or B1/B2 with 10-year validity, then you don't have to apply for the EVUS.
Why do I need an EVUS if I already have a valid US Visa?
Even if you're Chinese and you have a valid U.S. visitor Visa, class B1, B2, or B1/B2, you still need to apply for an EVUS. This is an important requirement under U.S. Immigration law that permits you to avoid any legal inconvenience during your journey.
What is the first thing that I should do if my EVUS is expired?
Just like we already mentioned before, you'll have to apply for a new EVUS if the current is expired. You can have a piece of mind knowing that the EVUS only expires 6 months before your passport or visa expires, whichever comes first. This document is also valid for multiple entries to the US for over two years.
If you realize that your EVUS is expired or is about to expire, then you'll have to renew it by following the same process as if you were applying for a new one. Remember that if your EVUS is about to expire due to your passport's validity, then you also have to renew your passport, so we recommend you to contact your passport issuing authority first.
Where can I find more information about the EVUS?
If you still have questions related to the EVUS enrollment, then don't stress, we're ready to help. You can contact us via chat, or you can get more information by exploring iVisa.com's website.
Take advantage of this opportunity that iVisa.com gives you to apply for your EVUS without so many inconveniences. Your trip may be closer than you think.