Please note that as of June 2022 the CDC no longer requires travelers to present a negative COVID-19 test or documentation of recovery from COVID pre arrival to the US
Now that covid vaccines are arriving in your country, we are sure you are looking forward to new trip plans. A vaccination certification will allow you to enter many places, such as New York. Also, the United States usually requests travelers to have hepatitis and rabies vaccinations before arrival. Trust iVisa.com as we know all about the required vaccinations for a smooth entry to New York.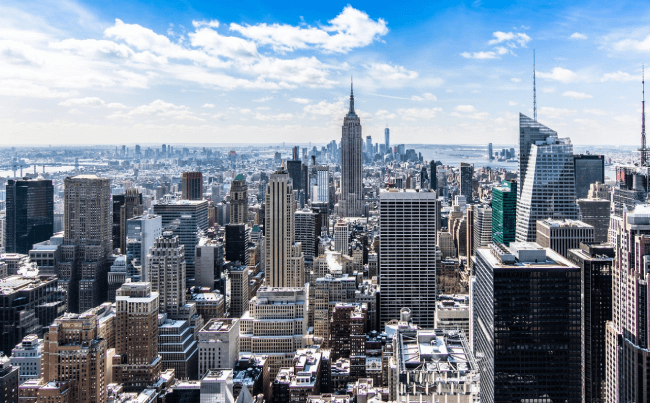 The vaccination passport is a health document that shows the covid vaccine you have received. It's time to start traveling, and what a better way than knowing you will be safe during your trip. Having the right vaccine means covid won't get to you that easily. New York is the perfect city to start traveling again. Let us help you with your question: What vaccinations do I need for New York?
Frequently Asked Questions
What is the vaccination certificate, and what other required documents do I need to travel to New York?
The vaccination certificate or passport is an official document that has all the information about your covid vaccine. The travel document allows your entry to New York without any issues. On the other hand, you must have been vaccinated against hepatitis and rabies.
Remember that you will also need the New York Traveler Health Form before landing in this city. The questionnaire will request personal details that you must complete. We are ready to answer your question: What vaccinations do I need for New York?
Do I need a negative coronavirus test?
COVID testing requirements: There are no testing requirements.
Will I need to quarantine on arrival?
A quarantine is mandatory according to your travel status. If you were out of New York for more than 24 hours, you must isolate for three days as soon as you return. If you come from a CDC Level 2 and higher Health Notice country, you will also need to follow this quarantine guideline. Once you reach the 4th day of the quarantine, you need to take a covid test. The isolation period could end if you have negative results from this test. Health authorities in the United States recommend staying at home for as long as you can.
Let us give you a hand with your question: What vaccinations do I need for New York?
What are the requirements?
You must provide personal details to fill out the online form. Also, you should have the following:
A valid passport
An email address to receive your documentation.
A payment method. Choose between a credit/debit card.
How much does this document cost, and when can I get it?
The New York Traveler Health Form has three different fees according to how quickly you need the health documentation:
Standard processing time: 24 hours -

USD $28.49

Rush processing time: 8 hours -

USD $51.99

Super Rush processing time: 4 hours -

USD $86.99
What are the steps to apply?
Complete the online form with personal details. Select a processing time according to your needs.
Check your application. Pay with a credit/debit card.
Attach any required documentation and apply!
Is iVisa.com safe?
Yes! We have established the highest security guidelines for all our services, including the travel documents related to the vaccinations in New York.
Go to the comments section and confirm we are ready to help you with anything you need. Even with your question: What vaccinations do I need for New York?
Where can I find more information?
Get in touch with our customer service agents, who are available 24 hours a day. We are more than happy to answer your question: What vaccinations do I need for New York?
Go to the application page now
iVisa.com Recommends
We are sure you have heard about New York and the incredible sites you can visit. Start with the Metropolitan Museum of Art or famously known as Met. Founded in 1870, the museum holds one of the most relevant collections in the United States. Find over two million artifacts that display 5,000 years of history. Check the collections of American decorative arts, Egyptian art, photographs, and costumes. Also, visit the Met Cloisters, a branch of the Met located in northern Manhattan. Explore the medieval art collection and architecture of Europe.
Continue with Broadway and the Theater District. If you're passionate about theater, Broadway shows all the highlights of American theater. Check new performances or purchase a ticket in advance for the classics. Visit Shubert Alley, where aspiring actors look for opportunities to star in different shows. Visit Shubert and the Booth, two famous playhouses. Make sure to visit Sardi's restaurant and the Music Box Theater.
Visit the Empire State Building, a gorgeous landmark in New York. The 102-story building opened in 1931 and was the tallest building in the world until the World Trade Center appeared 41 years later. Check the 86th Floor Observatory, where you can have privileged views of New York. Countless movies and TV shows have filmed scenes here.