Please note that as of June 2022 the CDC no longer requires travelers to present a negative COVID-19 test or documentation of recovery from COVID pre arrival to the US
If you are a Chinese citizen and you're planning a trip to the United States, you probably want to know all the details about the EVUS. Aside from the Visitor Visa, the EVUS is another requirement that the United States Government asks for Chinese citizens. However, you don't have to keep looking for a place to get your EVUS form because in this article you will find it. You'll also learn how to apply online in a few minutes.
You might get bored when completing online forms and preparing travel documentation, but with iVisa.com that changes a lot. The online process that iVisa.com offers is quite easy and it doesn't require a lot of time. All you have to do is to read the following information.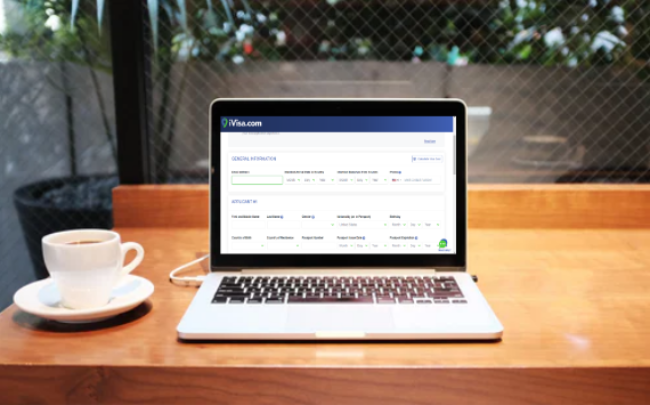 Frequently Asked Questions
What is "EVUS" and why is it so important?
The Electronic Visa Update System or EVUS is the name of an official program that authorizes you to enter the U.S. if you're Chinese, but only if the journey is for pleasure or business on a 10-year U.S. visitor Visa that must be B1, B2, or B1/B2.
This document is important because it allows you to have free transit to the United States legally and without complications as soon as you land at the airport.
What do I need to check if I'm eligible for this program?
In case you want to know if you're eligible for the EVUS enrollment, you must check certain requirements first. The short-list is the following:
You have Chinese nationality.
You have a valid Chinese passport (it means that is not expired).
You are traveling to the U.S. only for business or fun.
You have to renew your EVUS.
Once you check that you follow all of the requirements mentioned above, then you can apply online for the EVUS.
What are the documents required to apply online for the EVUS form?
In the last information, you could check if you were ready to apply for EVUS, but there are other documents that you need to apply online. But again, the list is also very short and you probably have most of these documents (if not all). Don't forget that if you have to renew your EVUS, then you'll need the same documents:
You need a valid Chinese passport.
A scanned copy of your passport (especially a copy of the information page).
A valid 10-year U.S. visa. It must be B1, B2, or B1/B2.
A valid email address where you'll receive your document.
A payment method. This can be a credit/debit card or Paypal.
Your contact information is also required.
What are the processing times and prices when I apply online?
The Official EVUS Enrollment is free but it has a troublesome process. On the other hand, iVisa.com's service allows you to get your EVUS faster and with an online form that you can complete in less than 20 minutes.
What you should know is that you have to pay for this service. Nevertheless, you don't have to stress about it since you have three excellent options for you according to how fast you want your document:
Standard Processing Time: You'll wait

7 days

for your EVUS and pay

USD 37.49

.
Rush Processing Time: You'll wait

5 days

and pay

USD 61.99

.
Super Rush Processing Time: You'll only wait

3 days

, but you'll have to pay

USD 106.99

.
How can I apply for an EVUS with iVisa.com's service?
You can get an EVUS form with the U.S. Official EVUS Website, but this option can be tricky for you, especially if you're not familiar with online forms and you need official translations.
If you apply for your EVUS form using iVisa.com's website, you'll be able to have the document in just a few minutes. You can even contact iVisa.com's support service if you have any issues.
These are the steps you have to follow:
1.First, fill in the online application form. You have to choose your processing time too.
2.Second, double-check the information you gave in step one. In this part, you have to pay for iVisa.com's service using a credit/debit card or a Paypal account.
3.Third, upload the B1/B2 valid visa and click on the submit button.
After you complete all these steps, you have to wait for your EVUS and nothing more. Don't forget to offer a valid email address to get all the notifications on time.
Do my children need to apply for an EVUS if they travel with me?
Yes, they do. Every person who is a citizen of a country that's required to apply for an EVUS, must have a valid passport and also be enrolled with the EVUS before traveling to the U.S.
How will I know if my enrollment is successful?
You get your EVUS update via e-mail in less than a minute, but if there's an exceptional case where the team needs additional time to process, an answer is mostly delivered in 24 hours. We highly suggest to always stay alert to the email and check the information according to the processing time selected.
What is the difference between the U.S. official Visa and the EVUS?
First of all, EVUS isn't a U.S. Visitor Visa. The EVUS doesn't meet the same steps and requirements that you can find in the U.S. Visa. Take note of that because if you're Chinese, you need the B1, B2, or B1/B2 10 year valid visa and the EVUS as well. If you have another class of Visa that's not the B1, B2, or B1/B2 with 10-year validity, then you can skip the EVUS process.
Why do I need an EVUS if I already have a US Visa?
As we mentioned above, both documents are different. That's why, if you have a valid U.S. visitor Visa, class B1, B2, or B1/B2, you still have to apply for an EVUS. This document was launched under U.S. Immigration law, so it's a must to enter the country without a problem.
Where can I get more information?
There might be more questions in mind about the EVUS and we're more than ready to assist you. You can contact us via chat, or you can read more information by visiting iVisa.com's website.
Get ready for your trip by applying for your EVUS form in a few minutes! You won't regret it.