Please note that as of June 2022 the CDC no longer requires travelers to present a negative COVID-19 test or documentation of recovery from COVID pre arrival to the US
If you're a Chinese citizen and you're planning a trip to the United States, you have to be careful with the documentation required to enter this country. Aside from the U.S. Visitor Visa, you also need an EVUS. If you're looking for a place to get help for the EVUS enrollment, then all you have to do is to keep reading the information in this article, it'll be very helpful.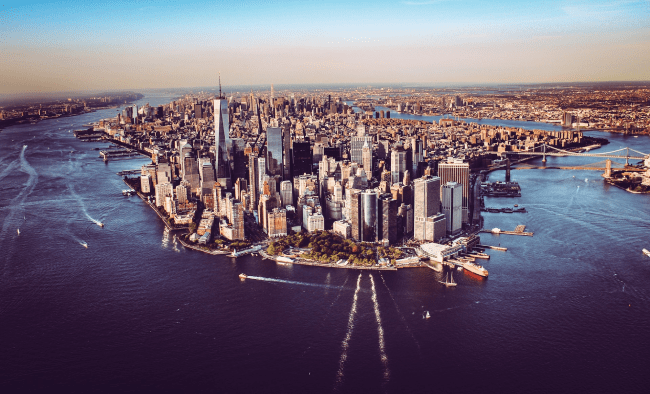 Also, take note of the requirements and the prices you'll find since they're available with iVisa.com's online form, which is an excellent option if you want to get your EVUS fast and easy. In less than 20 minutes, you'll be ready to take the next plane to the U.S. without any stress.
Frequently Asked Questions (FAQs)
What is an "EVUS" for Chinese?
If you're a Chinese citizen and the purpose of your travel to the U.S. is pleasure or business, then you need to enroll with EVUS as long as you have a 10-year U.S. visitor Visa, which can be class B1, B2, or B1/B2. The EVUS works as an official system that allows the Chinese to enter the U.S. legally and with free transit.
How do I know if I'm eligible for the EVUS enrollment?
If you want to know if you're eligible for the EVUS, you must answer certain statements. Many people tend to believe that these statements can be hard, but they're actually quite common and easy to follow:
You are a Chinese citizen with a valid Chinese passport.
You are traveling to the U.S. only for business or pleasure.
You need to renew your EVUS at this moment.
Were your answers positive to all of these? Then you're ready to enroll with EVUS.
What documents do I need to apply?
Just like any other online process, you need some documents when filling in a form in order to receive the travel authorization, which is the EVUS in this case. You'll need the following:
A valid Chinese passport, this is the essential item of the list.
A scanned copy of your passport (information page).
A valid 10-year U.S. visa. This visa must be a B1, B2, or B1/B2 class.
A valid email address so you can receive the document.
A payment method. It can be a credit/debit card or Paypal.
You also ought to offer contact information, like your U.S. address and phone number.
What are the processing times and prices?
There are two options for applying for an EVUS. One of them is to use the Official EVUS Enrollment, which allows you to be free of charge, but you'll depend on their availability. The second option is to apply using iVisa.com's service. With iVisa.com, you'll get your EVUS faster and you'll need 20 minutes to complete the EVUS online form.
For this service, you have to pay. Nevertheless, you shouldn't stress about it since iVisa.com has three alternatives for you according to your needs:
Standard Processing Time: you'll have to wait

7 days

to receive your EVUS and you must pay

USD 33.99

.
Rush Processing Time: you'll wait

5 days

and pay

USD 54.99

.
Super Rush Processing Time: with this option, you'll only have to wait

3 days

, but the total amount will be

USD 109.99

.
How can I apply for an EVUS with iVisa.com's service?
As you read before, you can apply for an EVUS with the U.S. Official EVUS website launched in 2016, but this option can be troublesome and it requires you to spend a long time answering all the questions.
It's easier to apply with iVisa.com. You'll be able to work with a modern method that won't ask you to spend more than a few minutes. You can even contact iVisa.com's support service if you have trouble. As you can see, with iVisa.com you can get the EVUS help you were looking for.
These are the steps you have to follow:
First, fill in the online application form and select your procedure time as well.
Second, double-check the spelling and all the information you gave in the first step of the process. You also have to pay for iVisa.com's service with a credit/debit card or a Paypal account.
Third, upload the scan of your B1/B2 visa and click on the submit button.
After you're ready with this 3-step process, just wait for your EVUS according to the processing time you selected and nothing else!
How long does it take to apply for the EVUS?
If you apply with iVisa.com, you'll only need at least 20 minutes to complete the online application form. You can prepare yourself a nice cup of coffee or tea and enjoy it while filling in this easy application form.
What is the difference between the U.S. official Visa and the EVUS?
First of all, you should know that a Visa isn't the same as an EVUS. Both documents meet different legal requirements, and that's why, as a Chinese citizen, you need both. Remember that in case you have another class of Visa that's not the B1, B2, or B1/B2 with 10-year validity, then you can avoid the EVUS enrollment.
Is it safe to use iVisa.com to get my EVUS?
Yes, totally! iVisa.com has a verified and trustworthy system with updated technology that prevents unauthorized access to the information you give. You can feel relief with all the data you enter and also view on this website.
I have more unresolved questions, where can I find more info?
If you've come this far, then it means that you're ready to process with the online form or you probably have other doubts. If the last words are your case, then don't worry, we're ready to help. You can contact us via chat, or you can get more information by visiting iVisa.com's website.
Plan your trip easily and with no stress by applying for your EVUS form in a few minutes! You're just one click away from your destination!