Vietnam recently launched an automatic visa extension for non-residents who traveled to Vietnam on or after March 1, 2020. This visa extension was created to avoid long ques at the immigration offices all over the country considering this can be a time-consuming task for many foreign nationals.
If you entered the country before this date, you may be considered for a visa extension if you provide proof that you have been stranded in Vietnam due to mandatory quarantine or other reasons beyond your control. In order to do this, you will have to show an exit letter from your country of origin's Embassy or Consulate while you're still in Vietnam. Whichever your current situation is, you will need to showcase your eVisa along with your Medical Declaration.
This doesn't apply to you if -and only if- you are from one of Vietnam's visa-exempt countries.
Keep in mind that a Vietnam eVisa is a pre-approval letter to receive a visa on arrival way faster. By digitally applying for this document, you will prevent wasting long hours and uncomfortably confusing situations at the airport.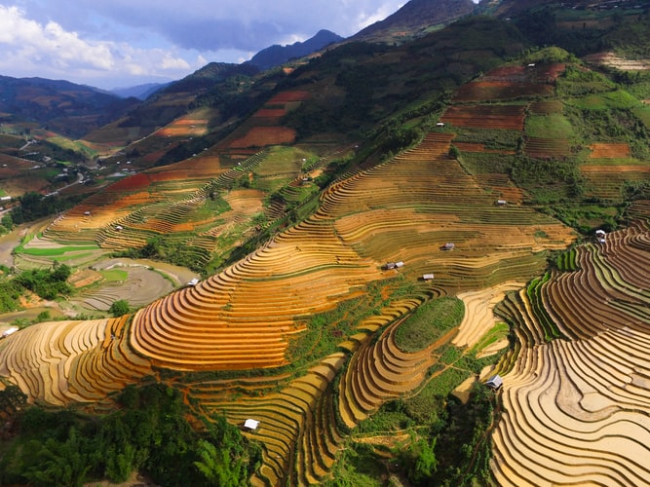 As far as the Medical Declaration is concerned, we are talking about a document that will hold your travel records of the last 14 days prior to your trip, and where you will truthfully declare your health condition.
Thinking about your satisfaction, iVisa.com can help you process both your Vietnam eVisa on arrival and Medical Declaration effortlessly from the comfort of your own home today, bypassing a very long waiting.
Read all about this easy-to-do process by viewing the FAQs below.
Frequently Asked Questions
WHY DO I NEED AN EVISA ON ARRIVAL AND A MEDICAL DECLARATION?
You'll need both documents if you're not from a Vietnam visa-exempt country. You can check that by using our visa checker tool. You will need these documents to verify your entry at the airport and avoid any inconveniences with immigration authorities. In short, you won't be able to enter by only applying for the Visa On Arrival, you will also be requested to present the Vietnam Medical Declaration at the moment of your arrival.
Please be advised that without both travel documents, you will be denied to access this country. You can process your digital Medical Declaration through iVisa.com's platform as well.
DO I HAVE TO PROCESS BOTH DOCUMENTS AT THE SAME TIME?
Not necessarily. If you already have a valid Vietnam eVisa, you can process your Medical Declaration single-handedly through iVisa.com's service.
If not, you will have to apply for both documents at once.
WHAT DOCUMENTS DO I NEED TO GIVE YOU TO PROCESS MY VOA AND MEDICAL DECLARATION?
We will only need you to provide the documents below for you to quickly process your eVisa On Arrival and Medical Declaration through our highly intuitive platform:
Passport Scan: You will have to deliver a valid passport scan so we can have all your details and contact information.
Return Flight Ticket: Please be advised that this document is valid for 30 days, therefore, you can only remain in this country for a month. This means you will have to show the immigration officer proof of your valid return flight ticket.
Accommodation Proof: This can be either a hotel reservation or a letter from your Vietnam host.
Valid Email Address: Our expert team will send this document directly to your email, which is why you must provide us with a valid email address.
Payment Method: You are able to use Paypal or any valid credit or debit card to pay for the processing fees.
WHAT ARE THE STANDARD PROCESSING TIMES AND FEES TO GET MY DOCUMENTS?
We know these are traveler's top concerns. Times and fees are really important to properly plan your trip, which is why we've come up with a fast and reliable system for you to apply for your documents from the comfort of your own home in less than 10 minutes. These are the available processing times for you to request your Vietnam Visa On Arrival and Medical Declaration. Please select the one that is the most beneficial for your trip:
Standard Processing Time – you'll have your document in

3 Business Days

, and the price will be

USD $73.99

(fees included).
Rush Processing Time – you'll receive your VOA along with the health declaration in

1 Business Day

, and the price for it is

USD $125.99

(all service fees included).
Super Rush Processing Time – this is our fastest option available. You will obtain the documents in

8 hours

, by paying

USD $188.99

.
If you've already selected your processing time, request your documents in iVisa.com´s website.
HOW EXACTLY DO I PROCESS THESE DOCUMENTS?
Once you request your documents with iVisa.com, you'll enjoy the safest way to get your VOA from the convenience of your own home. Besides, iVisa.com's platform is really secure and extremely easy to follow. We can assure you that it won't take you longer than a few minutes to complete your application form by simply following our 3-step method:
First, Fill out your application form. Then, choose the processing time that is the most suitable for your overall needs.
Second double-check the information you've provided and kindly verify that is correct. Only then, you will be able to complete the online payment via Paypal or with a valid credit or debit card.
Third, upload your passport scan and any other documents that might be required. The last thing you'll need to do will be delivering the online form once you click on the "submit" button.
After you've correctly submitted the form, iVisa.com's expert review team will carefully check your application to send the Visa On Arrival and your Medical Declaration directly to your email. Please note that you may also get a QR code for you to display it to the immigration authorities once you arrive at the airport.
HOW SECURE IS IVISA.com TO PROCESS THESE DOCUMENTS?
You can be sure that iVisa.com's platform is extremely reliable. Even though we are not related to Vietnam's government whatsoever, we are a seasoned travel agency with an amazing team of experts who will most definitely take care of your application in the best possible way. For you to feel at ease, you can check what our customers have to say about our whole set of travel services by clicking here.
WHERE CAN I FIND MORE ANSWERS TO MY QUESTIONS?
You can get in touch with any of our super operators whenever you need to! Our customer service team is eager to answer any of your questions 24/7. You can also reach out to them via phone or by emailing [email protected]