Are you planning a trip to Vietnam? Then you'll be happy to know that you might be able to apply for a Vietnam e-Visa using an online service, like the one that iVisa provides. This is a convenient way of obtaining travel permission to enter Vietnam, and it's a lot easier than going to an embassy.
In this article, you'll find out some of the most frequently asked questions related to this document so you can get ready for your online application.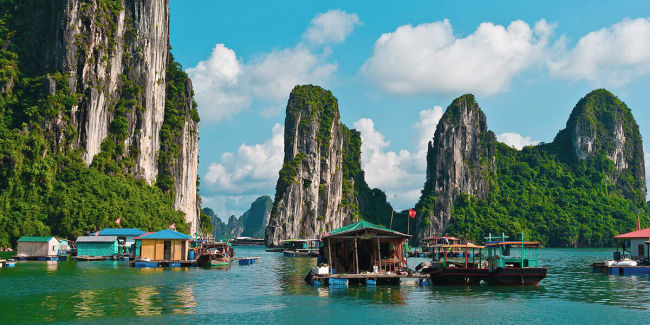 Frequently Asked Questions / FAQs
How can I verify if I need this e-Visa?
You can verify this information by using iVisa's Checker here. You have to write your name on the drag-down menu and write Vietnam as the country you're going to. This way, you'll immediately know if you can get this eVisa or not. If you need another type of visa, you'll also be informed.
I am completing my application online. What will I need to complete it?
You will need the following to complete the Vietnam Visa Letter application online:
Applicant Photo

Passport Personal Details Scan

Last Page of Passport (if applicable)
You'll also need a valid e-mail address and a Payment method which can be credit/debit card or a PayPal Account.
How many types of Vietnamese eVisas are there?
There are only two:
What is a Vietnam eVisa on Arrival (VOA)?
A Visa on Arrival is a process where you get an approval letter to enter Vietnam. The actual Visa will be issued upon arrival in Vietnam. Note that upon arrival, you must present the VOA letter, along with your passport, 2 passport-size photos, and pay the appropriate visa stamping fees.
You also have to consider that on the VOA letter, you may see other travelers' names listed. This is because the government approves travelers in quantity.
I am a US citizen. How long can I stay in Vietnam?
US visitors can stay 30 days in Total in Vietnam for the purpose of tourism.
Be sure to indicate the correct reason for travel when applying online...
Can anyone apply online?
Anyone can get the Vietnam eVisa Letter online.
The document can be obtained online as fast as in 3 Business Days, but we always suggest that people apply at least one week in advance.
This document must be presented when boarding your flight and at the immigration office upon arrival.
What are the processing times and fees for the eVisa?
The Vietnam e-Visa cost is not high, but you have to add iVisa's fee when paying for this document. The total price will vary according to the processing time you choose when you fill in the application. There are three options:
Standard processing time – The standard processing lasts 5 Business Days. The price for this processing is USD 73.99 (or the equivalent of your country's currency.)

Rush processing time – The Rush processing will shorten the waiting time with one day. You will obtain the requested document in 4 Business Days. However, that one day will cost you an extra 30$, which means you'll pay a total of USD 116.99.

Super Rush processing time – This option is meant for people who are in a rush. The e-Visa will be yours in 3 Business Days, but your bill will be USD 166.99.
The prices showed are just an average, and it was made taking the US nationality as an example. This price can vary according to your nationality.
I already got my Vietnam eVisa. What should I take with me on my trip?
You need to have the following documents when entering Vietnam:
Entry permit form (Vietnam Pre-Approval Letter - apply here:
Two photos (4cmx6cm or 3cmx4cm)
Original passport
Visa fee
How can I apply for the Vietnam eVisa?
You have to follow just a few steps provided by iVisa. Keep in mind that this online process is a lot easier than going to an embassy. These are the steps:
The first step is to fill in the online application form with this information: the airport of arrival, date of arrival, full name, passport number, date of birth, and your nationality.

The second step is to pay the service fee and check your information (double-check the spelling). After that, you will get an email for your visa order. That's when iVisa processes your Vietnam e-Visa.

The third and final step is to download the Vietnamese e-Visa and print it out. Remember to show this document once you arrive in Vietnam.
Click here when you feel ready to start the online process.
In case you need some help or assistance to fill your application form, iVisa has a support service that you can call 24/7, including holidays.
How many entries can I have with this eVisa?
You get one Single Entry with your Vietnamese eVisa.
Can I enter any point of entry with my eVisa?
No, you can't. There are certain points of entry that allow the use of the eVisa. You can find them on this link.
How does a Vietnam e-Visa look like?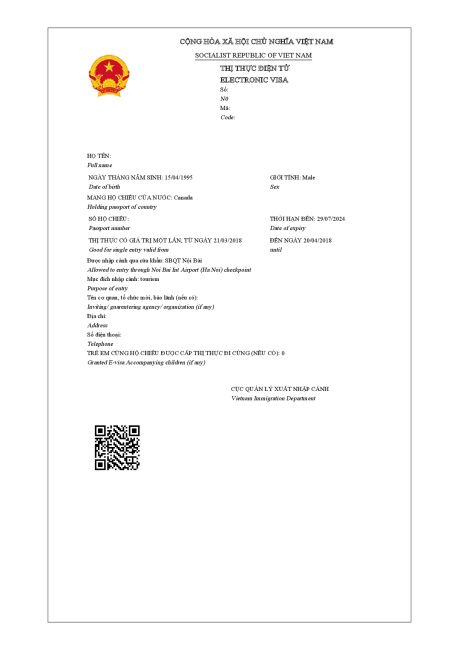 How does a Vietnam Visa On Arrival look like?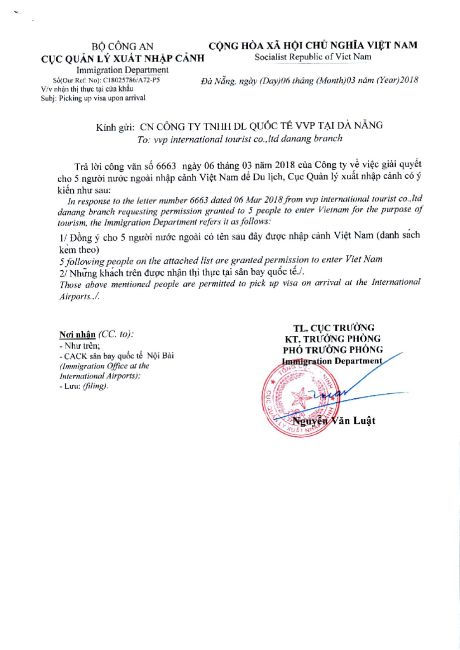 Where can I find more FAQs and other information?
If you need more information to feel sure about this process, we encourage you to read the iVisa reviews at TrustPilot. The sheer number of reviewers will help to show how widely used our service is, and the overall 9.5/10 rating should reassure you that we are very good at what we do.
You can also check this link to read more info related to Vietnamese e-Visas. As a last resource, you can also talk to one of our customer service representatives if you rather have something direct.