Vietnam has its set of rules and regulations that are to be followed by the citizens as well as the tourists. You can read all the guidelines on the Learn more page.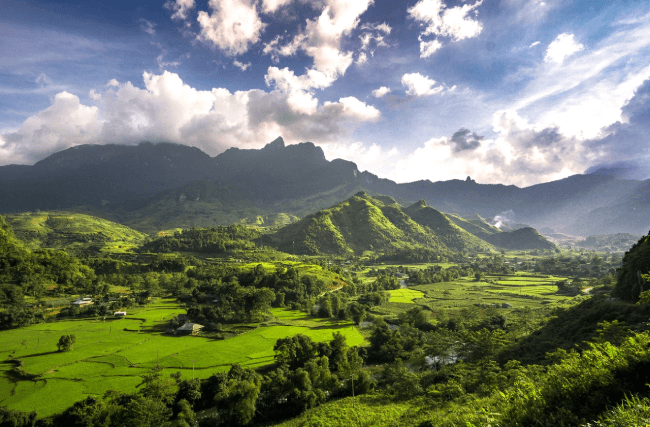 If you wish to travel to this country and witness the glorified culture and history of the same then you need to be well vaccinated. Vaccination for diseases like hepatitis, yellow fever, malaria, etc., is mandatory for the tourists who are entering the country. This is to ensure the safety of the citizens and to ensure that there is no outbreak of any kind of endemic. To know the vaccination policies of the country, you can go to iVisa.com and get all the relevant information.
Apply for your travel documents with iVisa.com
Enter iVisa.com's page.
Complete the application form with your private details.
Ensure that the information is 100% correct, and choose a processing speed.
Pay for the fees required and add the items necessary to process the request.
Wait for your ETA via email inbox.
Frequently Asked Questions
Do I need a vaccine to travel to Vietnam?
Yes, you need vaccination for diseases like hepatitis, yellow fever, malaria, etc. To see more information about enter this page.
Are there any quarantine requirements for travelers to Vietnam?
It depends on your vaccination status. Fully vaccinated travelers need to quarantine for 7 days and unvaccinated travelers must quarantine for 14 days.
What should I do to get my travel documents to visit Vietnam?
There are a few basic documents you will be needing at the time of filling the form for traveling to Vietnam are:
Primarily, you will have to fill the visa form correctly. This form has to be filled by everyone who will be traveling with you.
You will then need to provide a valid passport that should have two blank pages and should be valid until the next 3 months. A professional passport size photograph is required to be attached to the form. The photograph has to be a recent one and not older than 6 months.
Documents bearing your personal details will be required next. Such as your job details or employment letter. This is not valid for students and retired personals.
Next, the details of the payment method are required. They can contain anything like credit or debit card or a valid PayPal Wallet.
A valid bank statement of your bank is required.
Finally, a valid travel insurance is required to complete all the form's formalities. To Learn more about the same, you can go to the website.
What will be the price and the processing time of the visas?
If you apply for traveling to Vietnam through iVisa.com, the processing time and charges will depend upon the plan chosen by you. The basic plans are:
Standard processing time: This plan will take

5 Business Days

to process your medical declaration and the amount charged will be

USD 50.00

.
Rush processing service: This plan will take around

4 Business Days

for the declaration to get processed and the amount charged will be

USD 70.00

.
Super Rush processing time: This plan will take only

3 Business Days

to complete the declaration processing. The amount charged for this is

USD 115.00

.
Is it safe to apply through iVisa.com?
If you want to apply for your visa to travel to Vietnam then you need to know about the terms related to Do I need a vaccine to travel to Vietnam and then you can safely and surely apply for the same through the portal.
How can I apply for a visa?
To apply for a visa to travel to Vietnam, first, you need to go through the requirements and terms of Do I need a vaccine to travel to Vietnam. Once you have got yourself vaccinated as per the given instructions for the various infectious diseases mentioned particularly, you can apply for the visa easily by following the application process.
Do I need the vaccine shots before traveling?
If you are pondering upon the fact that Do I need a vaccine to travel to Vietnam then the answer is yes. You need to get the vaccination done for yourself before heading to travel to Vietnam. The country has its guidelines and rules for the vaccination policies that are to be followed by all the travelers entering the country.
Why is a vaccine a necessity for traveling?
If you are wondering why Do I need a vaccine to travel to Vietnam then you need to update yourself on the information about the ongoing spread of diseases. To curtail the spread of other viruses, vaccination of several infectious diseases has been made mandatory.
Where can I find more information about the visa application?
To find more information about the visa application process and the vaccination rules to travel to Vietnam, you can contact iVisa.com's customer care portal and fetch all the needed information from there.
iVisa.com recommends
Vietnam is a country in Asia famous for its beaches, cities, rivers, etc. Housing a French-colonial architecture, Vietnam is historically rich and is also known for the famous Vietnam War that took place in the past. Not only this, but Vietnam is also extremely famous for the lip-smacking dishes it offers. All in all, Vietnam is a city full of features that will leave the tourists awe-struck. The law and order in Vietnam is also something that is followed in a very well manner by the residents.
Vietnam is also known for its beaches, rivers, Buddhist pagodas, and overflowing cities. The capital Hanoi pays tribute to the nation's iconic communist-era leader Ho Chi Minh with a massive marble mausoleum. Ho Chi Minh City (formerly Saigon) has French colonial sites, along with Vietnam War history museums and the Củ Chi tunnels, used by Viet Cong soldiers.
Discover everything that this country awaits you and how to enter it in our FAQ page!