Australians can travel to many places just with their passport, but in other places, it is a little bit more complicated. A great example of it can be Vietnam, a country that requires a more complicated 2-step process. But that's why iVisa can help Australians to get the Vietnam visa. Read through the series of questions below for a better understanding of the process for Australians to get their Vietnam eVisa.

Frequently Asked Questions (FAQ)
What is a Vietnam eVisa?
An eVisa for Vietnam is a type of visa issued to foreigners by the Vietnamese Immigration Department. This visa was created to be accepted with an electronic system and give you permission to travel to Vietnam.
What types of Vietnamese visas are there for Australians?
There are only two types of eVisas required for Australians:
eVisa, which is the most common to travel to this country.

eVisa on arrival, which is a process where you obtain an approval letter for entry into Vietnam. Keep in mind that the visa will be issued upon arrival in Vietnam.
How long can visitors with Australian passport stay in Vietnam with an eVisa?
It depends on the type of visa. In case you use an eVisa, you can stay in Australia for 30 days in Total. If you just go with the eVisa on arrival, you can stay up to 90 days in Total.
What do I need to get this visa with an Australian passport?
The answer to this question is a 2-part answer since it depends on the type of visa.
However, these are the main documents you should have in order to process the online application and get your eVisa properly:
Applicant Photo

Passport Personal Details Scan

Last Page of Passport (if applicable)
Keep in mind that your passport must have at least six months of validity, and that you need a credit/debit card or PayPal account. You will also need to be ready to answer some simple personal questions.
When applying to an eVisa on arrival, remember that this is not the actual visa – it just qualifies you to complete Step 2 and obtain one. When you get to Vietnam, you will need the pre-approval letter you obtained in step 1 printed out and ready to give to the local authorities.
Last but not least, you should also have these documents when arriving if you decide to go on with an eVisa on arrival:
Two photos (see sizes on our website).

Your original passport.

The amount of money necessary to pay for the actual Vietnam Visa.
What are the processing times and prices?
It depends on the type of Visa. Please remember that if you choose your visa on Arrival, you'll have to pay for the Visa itself when arriving in Vietnam.
Remember that travelers are required to pay a stamping fee on arrival. The stamping fee is 25 USD for a single entry visa (both 1 month and 3-month type) and 50 USD for multiple entry visa (both 1 month and 3-month type).
But you have to give some documents and learn all by yourself what to do with their tricky system. That's why in iVisa we recommend you to go on with an eVisa and our professional assistance. You can select one of these three options according to your needs:
Standard Processing: You get your visa in 5 Business Days for only USD 50.00.

Rush Processing: For this option, you can get your visa in 4 Business Days for USD 70.00.

Super Rush Processing: This is the fastest option iVisa offers, but also the most expensive. You can get your eVisa in 3 Business Days but for USD 115.00. This is an excellent option for those who need the visa with urgency.
Is this Document Acceptable if I Travel by Boat, Rail, or Car?
No, this travel document is only acceptable if arriving at a Vietnam Airport. If you are flying into a nearby nation and arriving in Vietnam via land, this is not the correct travel documentation. To avoid potentially costly and time-consuming errors, please take advantage of our 24/7 chat and phone service to make sure you have the travel document that meets your needs.
How quickly can I get my Vietnam Visa Approval Letter?
The actual application form is very easy to fill out and can be done quickly. We have thousands of customers satisfied with their experience obtaining a Vietnam Visa Approval Letter via iVisa. One person reviewed our service on TrustPilot, saying "A friend who lives in Vietnam recommended iVisa if we didn't want to give up our passports […] The instructions were very easy to understand. Their response was quick and efficient." Although we cannot guarantee this document in less than an hour, it is typical that we can get it to you via email within 8 hours.
How many times can I enter Vietnam with an eVisa?
The Vietnam eVisa has a Single Entry, so you can only use it once.
Which is better: obtaining the eVisa or getting my Visa on Arrival?
It depends on what you need. If you require multiple entries and/or are planning on staying in Vietnam for longer than 30 days, the VOA (visa on arrival) will be the best option (as long as you are entering via one of the 5 international airports that have Visa on Arrival issuing capabilities).
How does the Vietnam eVisa look like?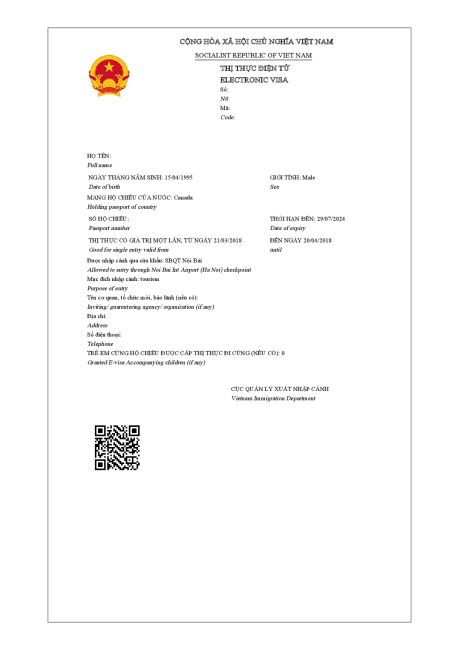 I still have some doubts, where can I find more info?
If you still have some questions to be answered, then you can contact our customer service for a better resolution. Remember that you can also find more information about these visas in this link.
Although the process of getting a visa for Vietnam is more complicated than for many countries, iVisa can still take most of the headache out of the process.
We look forward to walking you through the process so you can turn your attention away from worrying about your visa and back to planning your adventures. Please be prepared with the documents listed above and be sure to take the necessary items with you to Vietnam to complete the process.