A great advantage of the Australian passport is that it allows you to visit various places around the world without needing a visa. Still, there are some exotic destinations that do require some type of documentation, even if it's an electronic visa.

Such is the case of Vietnam because to enter this country, you need a Vietnamese eVisa. But, unlike a conventional visa, this document is easier to obtain thanks to the automated service of iVisa.com.
If you want to learn more about the Vietnam Visa for Australians, keep reading the article below and learn how easy it is to apply.
Frequently Asked Questions
Is There a Vietnam Visa for Australians?
Yes, Before entering Vietnam, Australians must apply for a Vietnamese eVisa as it's a pre-travel requirement made by the Vietnamese Immigration Department. This online document was created to enter this Asian country through an electronic system.
You can apply for the Vietnam eVisa For Australians by entering iVisa.com.
What types of Vietnamese visas are there for Australians?
If you have an Australian passport, you can only choose one the following eVisa:
eVisa, which is the most common because you can do the entire process online.
How long can visitors with an Australian passport stay in Vietnam?
If you apply for a Vietnamese eVisa using iVisa.com's service, you'll be able to stay there for 30 days in Total.
What do I need to get this visa with an Australian passport?
What you should know first is that the online process only asks you for a few documents, which are:
Applicant photo (we suggest you use iVisa.com's passport photos to get the best photo for that).
Scan of your passport.
Valid email address.
A valid payment method like a credit/debit card.
You'll also need two photos, your original passport, and the amount of money necessary to pay for the Vietnam Visa.
What are the processing times and prices?
We recommend you get ahead with an eVisa and iVisa.com's professional assistance. You can select one of these three options according to your needs:
Standard Processing: You can obtain your eVisa in

8 Business Days

for only

USD $83.99

.
Rush Processing: For this option, you get your document in only

7 Business Days

if you pay

USD $141.99

.
Super Rush Processing: This is the fastest option iVisa.com has, but also the most expensive. You get your document in no more than

6 Business Days

but for

USD $216.99

. You can choose this processing time if you're in a rush.
Is the Vietnam Visa for Australians acceptable if I travel by boat, rail, or car?
You can only use this travel document at a Vietnamese Airport. If you are flying into a nearby nation and arriving in Vietnam via land, then you won't be able to use the eVisa. To avoid time-consuming mistakes, we recommend you use iVisa.com to apply for the Vietnam Visa for Australians. This way, you'll be ready to visit this country without any stress involved.
How can I get my Vietnam Visa for Australians?
If you use iVisa.com's service you'll only need to complete these steps:
First, add your basic details by entering the application form, and then choose your processing time.
Second, review the information and once you're sure that everything is correct, continue with the payment using your debit/credit card.
Third, upload the papers required and send the online form.
You'll get further instructions via email inbox.
How many times can I enter Vietnam with an eVisa?
The Vietnam eVisa has a Single Entry allowance, meaning that you can enter this country only once per eVisa.
How does the Vietnam eVisa look like?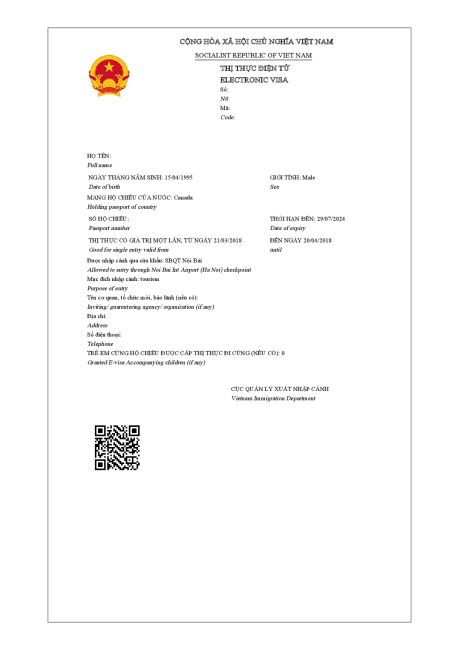 I still have some doubts, where can I find more info?
You can always contact our customer service for a faster resolution. Remember that you can also read more information about these visas on this link.
Although the process of getting a visa for Vietnam is more complicated than for many countries, iVisa.com can still take most of the headache out of the process.
We look forward to walking you through the process so you can turn your attention away from worrying about your visa and get back to planning your adventures. Please be prepared with the basic documents required and get ready for the application at iVisa.com!