If you are Russian and are hoping to make a trip to Vietnam for longer than 15 days, be aware that there are 2 types of visas for foreign visitors who wish to travel to Vietnam, this is, an eVisa or a Visa on Arrival (VoA). Both are easy to obtain and you don't need to stand in a queue at an embassy. iVisa.com can help you obtain both.
With iVisa.com the process of obtaining this Vietnam visa for Russians is even better. All you need to do is fill out the application form and leave it up to us.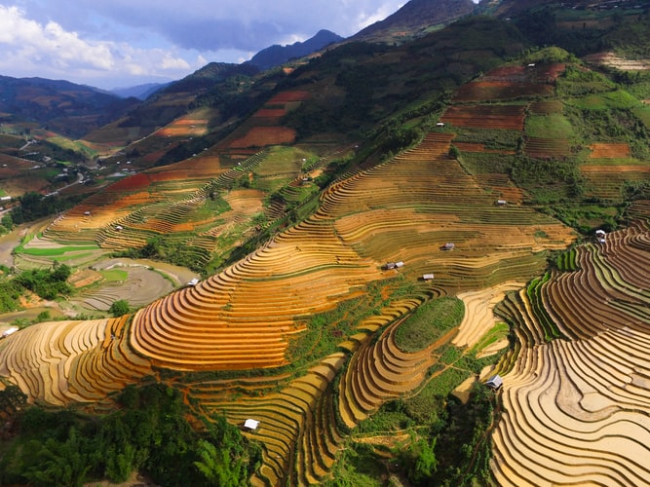 Apply for Vietnam visa for Russians
Why should I apply in advance?
Apply in advance to avoid the chaotic mess of last-minute preparations and arrangements which are prone to mistakes. Even a single mistake can largely impact your trip and get you in a lot of problems. It is very economical to have everything ready beforehand. Visit iVisa.com and apply now to get the best travel experience and find out more about Vietnam visa for Russians .
Frequently Asked Questions
Traveling to a new country definitely has a lot of pros, but one biggest con is uncertainty and bewilderment. This section has therefore been meticulously cut out to provide answers for all your questions about the Vietnam visa for Russian citizens to make sure you make an informed choice.
Learn more about this process by visiting iVisa.com.
What is the application process?
The application process for a Vietnam visa for Russians is done in just a few easy steps, be it for an eVisa or a Visa on Arrival :
Visit iVisa.com to fill out your eVisa application form . Mindfully insert details like your name, passport number, and arrival date, as well as designate a payment method and attach all the scanned documents. Double-check to avoid errors.
We will start processing your visa as soon as you submit your application and make the payment. You will receive your eVisa or an approval letter [pre-approved visa letter] via email. Print it and prepare 2 passport-sized photos (4cm x 6cm) to submit when entering Vietnam.
Showcase your visa or approval letter, passport, photos, and pay the stamping fee on arrival in Vietnam. You will receive the visa stamp into your passport issued by the Immigration Office. You can obtain a visa on arrival for Vietnam from any of [these 6] international airports
What is a Vietnam e-Visa and Visa on Arrival (VoA)?
Introduced in 2017, the Vietnam e-Visa is an electronic travel authorization from the Vietnam Government, issued in PDF format, valid for 30 days, and single entry only. It can be used by Dutch citizens for multiple purposes like tourism, business, study, visiting relatives, investment, journalism, and labor employment, among others. All passengers, including children, must have it on arrival in Vietnam. An eVisa is obtained totally online and will exempt you from paying a stamp fee upon arrival at the airport.
The Vietnam visa on arrival is the same as an eVisa, but An Approval Letter for obtaining a Vietnam VOA is sent to the applicant visa email instead of an eVisa, which then needs to be printed and presented at the airport immigration office. After which applicants are then required to wait in the immigration queue to get a passport stamp and gain entry to Vietnam. It is available for either a 30-day or 60-day stay in the country and for single or multiple entries. It is a lengthy and hectic process.
What are the other essential documents required?
Vietnam visa for Russians, via iVisa.com, is very simple to apply for. All you need apart from an internet connection, are the following documents :
Clear digital photos taken recently.
A valid and up-to-date Russian passport with at least six months validity and at least one blank page in your passport in case you require a stamp.
A scan of your passport's information page which you will be asked to upload while you fill in the application form.
Details of Accommodation in Vietnam like hotel/lodge reservations, or an invitation letter.
Documents to prove your purpose of travel, like your travel itinerary.
An onward flight ticket to prove that you will exit Vietnam.
A functioning email address to keep in contact with you.
A credit card/debit card or PayPal account will be required to make payments for your form.
The requirements for eVisa and VoA are the same. Also, iVisa.com vouches to keep your personal details totally secured, as you can read in the reviews section on our website. Click here to get started with your application.
What is the processing time and price?
Vietnam visa for Russians is easy to avail with iVisa.com according to your preferred time. Choose from the following options via iVisa.com :
Standard Processing; It is the option where your documents come in time for your departure, at very low costs.

USD 66.99

-

5 Business Days

.
Rush Processing; It is the option where your documents come a little ahead of time with little extra charges.

USD 126.99

-

4 Business Days

.
Super Rush Processing; It is the option where your documents arrive immediately, but at the highest charges.

USD 159.99

-

3 Business Days

.
How safe is iVisa.com?
iVisa.com can be trusted and is safe to get your visa from. We have a well-functioning and super-efficient system that keeps your details absolutely safe. You can read more from our clients who vouch for our services, you can visit iVisa.com.
I still have questions, what do I do?
Customer support is ever-ready to help you with all your doubts about the Vietnam visa for Russians as and when you like. For more help, visit iVisa.com.
iVisa.com Recommends
If you happen to be in Ho Chi Minh City, Vietnam, you're in luck because it is known for some of the best restaurants in the Country. If you want to experience some authentic, home-cooked Vietnamese food, the Secret Garden is the place for you. This rooftop oasis has gorgeous Vietnamese-style lanterns, impeccable greenery and wooden furniture, much like a garden would be. And what's better than its interiors is its family-style menu. Another favorite of the locals is Skewers, with its open-air kitchen barbecuing Mediterranean food on skewers. It is perfect for an entertaining candlelight dinner, with the town's best cigars and whiskey at your disposal.
For a relaxing and luxurious experience, you can head to Shri Restaurant & Lounge at the top of the Center Tower. The decor includes frangipani trees and water features, along with huge windows that provide breathtaking views from literally anywhere you sit. The best ambiance to enjoy the delicious home-cooked European food. Or, would you like to dine where Anjelina Jolie and Brad Pitt like? Well you can, if you chose Cuc Gach. This restaurant has been made quirky, after being restored from a French colonial house, with recycled material. However, the interiors also include very tasteful decor and a nice little pond.