Are you preparing for a trip abroad to Vietnam? From gorgeous historic Buddhist temples to their amazing beaches, this country offers incredible sightseeing opportunities. Whether you're exploring the beautiful cities in Vietnam, traveling for work, or visiting family or friends, planning a trip to this exciting, vibrant country can be a lot of fun.
Of course, on top of planning out your itinerary, arranging for accommodations, and packing for your trip, you also need to make sure you have the correct visa for traveling to Vietnam. International traveling can be tricky, as different countries require different levels of identification and have their own travel regulations. If you want to make sure you're all set for your Vietnam adventure, you'll definitely want to take advantage of online visa service, like iVisa or Vietnam Visa Pro.
Both services provide simple steps to obtaining your visa quickly and cost effectively. To help you choose the right service for your trip, take a look at the below comparisons and features of each company.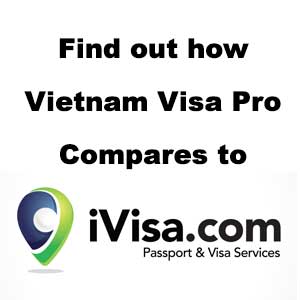 Benefits of Online Visa Applications
In order to enter Vietnam, international travelers must have a Vietnam Visa Approval Letter on them, either in print or electronic. This allows travelers to skip out on waiting at the Vietnam Embassy to sort out their travel arrangements.
Both iVisa and Vietnam Visa Pro offer electronic approval letters for Vietnam. In order to apply for a visa from either service, you'll need a valid passport (at least 6 months old) and a debit or credit card. Both services offer online applications and both deliver letters via email.
Website Navigation
While both companies offer pretty much the same end result product, getting through this process is a little different.
When you apply with iVisa, you'll simply type in the country you're traveling from and then type in Vietnam as the country you're traveling to. It will then bring you to the Vietnam visa page, where you'll click Apply Now. From there, you'll complete your application and enter the payment. Then, sit back and relax while they do the hard work, and wait for your electronic letter to be delivered.
At Vietnam Visa Pro, the process is similar, but their website is a little more difficult to navigate. They do offer a bar towards the top of their home page where you can select where you're traveling from, but it's small and easy to overlook. If you scroll down their home page, you'll come to tourist, business, and visa stamp charts, below which you'll find an Apply Online button. Click that to get started.
Security
When it comes to internet security, iVisa offers plenty of trusted security features. They even allow payment with a PayPal account, to further protect your personal information. All user accounts are guaranteed to be secured, and you'll receive a letter of approval with only your information.
Vietnam Visa Pro promises 100 % secure transactions, as well. One thing this company does to provide faster turnaround times for letters is to offer letters of approval for everyone applying within a set period of time. This means you'll receive an approval letter that has information for other travelers on it. While this did seem odd to many reviewers, most of them ended up still feeling safe with this information being given out, since no confidential information was shared. However, it should be clearly established upfront that this will be happening.
Visa Approval Letter Delivery
iVisa promises to provide your Vietnam approval letter within as little as 3 Business Days. They also have 4 years of experience providing these approval letters and have reviews of many satisfied customers who have traveled to Vietnam successfully with these letters. iVisa will email the letter directly to you, so you don't have to worry about carrying another paper document.
Vietnam Visa Pro also offers fast approval letters, in as little as 4 hours in some cases, though these letters are group letters and not private letters. You will need to pay extra if you need fast delivery times. There have also been reviews about people not receiving their letters because they were flagged as spam, so keep that in mind when waiting for your letter to come through.
Pricing
Both iVisa and Vietnam Visa Pro offer similar pricing tiers. The main difference between the two is that iVisa has one price for all Vietnam visa letters (all delivered as quickly as possible), whereas Vietnam Visa Pro has pricing tiers, depending on how quickly you need your letter. Vietnam Visa Pro also offers different prices for tourist and business visas. Both companies are extremely upfront about their costs.
Customer Service
iVisa has a very responsive customer service team, always available by phone, live chat, or email. Reviewers positively note iVisa's customer service team as one of the main reasons to order through them. Their Vietnam Visa page also provides some handy information on your visa letter, as well as FAQs that will help ensure you feel at ease during your trip.
Vietnam Visa Pro also has customer service available through email or telephone. While there were no reviews on how quickly this company responds to requests, users who emailed Vietnam Visa Pro did receive helpful answers to their inquiries.
Overall Rating
If you're looking for a quick, effective Vietnam Visa Approval Letter service that you won't have to think twice about, iVisa is the right company for you. Their application process is extremely simple, navigating their website is easy and intuitive, and there is usually little reason to have to reach out to customer service.
Vietnam Visa Pro is a close second. While their website is a little harder to get around, they do still offer the same services at similar prices. They can also get you a visa in as little as four hours (as opposed to iVisa's 8 hours), but you will pay extra for this speedy service. Reviewers also seem to reach out to Vietnam Visa Pro's customer service more, which seems to indicate iVisa's service overall is faster and easier.