We all know that traveling is among the best experiences in the world. However, the process of getting all of the necessary paperwork may seem daunting.
An example of this can be how difficult is the process of getting a consular visa. There are many confusing ways of getting what you need from embassies –and some visa companies do better than others in cutting through the confusion and making the process as painless as possible.
If you're looking for a good visa service to help you accomplish that goal, then read this article to find out more about some of the pros and cons of using iVisa versus using vietnamvisa.govt.vn.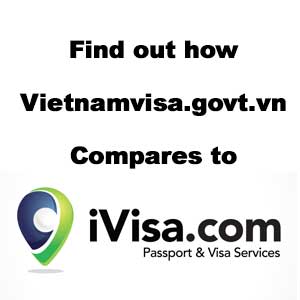 Review
Customer Service
Visa services are supposed to make the visa application process much easier, but they don't always work on this. Questions arise many times, and they should get an answer without a hassle.
In a review on Tripadvisor, someone in Singapore said that vietnamvisa.govt.vn had sent him a letter "and it had five other people on the letter." In the same thread, another client expressed concern about the lack of personalized service as follows: "Hey I have just received my letter after calling them and asking for it. I am not happy about our personal details being shared with other people in the letter. I am still unsure if this letter will allow us into the country!"
On the other hand, iVisa.com gets very high scores for customer service, especially from users of Yelp and Trustpilot. Many users say that the staff at iVisa is "friendly, polite, and professional", and they are also reported to "respond to questions with grace and ease". iVisa has been reported as "self-explanatory and straightforward", in contrast to vietnamvisa.govt.vn. This makes a huge difference when looking for a visa, and you can trust that iVisa will get your visa the best way possible.
Efficiency of Service
Many times, travelers want to use a visa service when they are running late at getting a visa from the embassy. That's the main reason why any visa service needs to be honest about the time it will take to receive a visa, and they also need to promise that results will be fast.
According to more than one person on online websites that reviewed them, vietnamvisa.govt.vn takes longer than the promised 48 hours to send out the visas. Many people on the websites were concerned about it, and they thought that they were on a false visa provider website.
There were even some users believing that the site was using a government name without being a "real" website for visas. However, one person did say that she received her letter from them after sending off for it.
As for iVisa.com, it has received excellent marks for service and efficiency. In many cases, iVisa has exceeded its user's expectations of what it should do. One person said that after selecting the "4-day option", they still received the visa overnight. Others have said that they received a "fast and efficient service." There were a few who didn't get the best service, but this was, ultimately, rare. Lucky for them, it seems that iVisa is rarely inefficient, so it wins in this regard.
Price
It is very important that visa services are upfront about the prices they will charge. This is a competitive industry, that's why the companies should ensure their prices are appropriate.
If you're looking for iVisa's contribution on this topic, you'll find their fee info on the second page of their application process, and this information also includes requirements and processing time.
Most of the clients that reviewed iVisa said that their prices were good. One reviewer said that iVisas's services are quick, simple, and reasonably priced. These aspects make us think that iVisa is worth it.
With vietnamvisa.govt.vn, however, you don't get all the information upfront. They have a website that doesn't look like a legitimate one, and if that is a concern to you, you should probably avoid using them. If the website looks disjointed, why should you trust them with your money? Again iVisa seems to be the best bet to make sure you get the right visa for the right price.
Ease of Use
Many people use visa services to make sure they can avoid the bureaucratic process. This means that any visa service needs to make sure they are practical and very straightforward about what they are giving you.
As far as vietnamvisa.govt.vn, many customers suspect them of being a fake website. This makes sense because they appear to use a government handle (govt) but have no real ties to any governmental agency. And it's important to remark that their website layout is also not conducive to building confidence.
On the other hand, iVisa.com gets very high scores for a modern, attractive, intuitive, and user-friendly website. According to one user, the website is easy to use, and the webchat is helpful. He said he would pay for the service again if needed, for it made his experience with the visa process very convenient.
A few people reported that they had glitches, but iVisa.com made all the issues go away, and they also responded to people who had issues with their site.
vietnamvisa.govt.vn summary
This site has a considerable number of problems: first, it doesn't really work well, and it gives the appearance of not being a real website (but a fake "government" handle).
Second, it has sent out application materials and then did not answer in time to the applications received. That's why it cannot be highly recommended. TrustPilot does not show any active reviews for this site, which also gives the potential user an idea of its overall level of use. A less popular site doesn't necessarily mean that it is less functional, but in this case, it appears there is some truth to that assumption.
According to many users, iVisa is great, especially 'cause they offer excellent service. iVisa's website is also user-friendly as we mentioned before, and it is efficient and inexpensive.
Apparently, it's rare to find complaints about iVisa, and the customer service scores excellently. iVisa's current average score out of 18,000 reviews on TrustPilot is 9.5/10, and we're sure you'll feel the same way about using them.
Just go to iVisa, the clear winner of the visa contest here. Then, click on the button labeled 'Visa Application,' and from there you can enter where you're going and write the country you're from. You'll see the requirements for your visa next to their processing fee and time. Apply for the Vietnam eVisa with iVisa now!