Citizens of 46 countries can now electronically apply for the Vietnam eVisa, meaning they no longer need to visit an embassy to get a visa and enter Vietnam. This process is 100% online and can be easily done by using iVisa.com.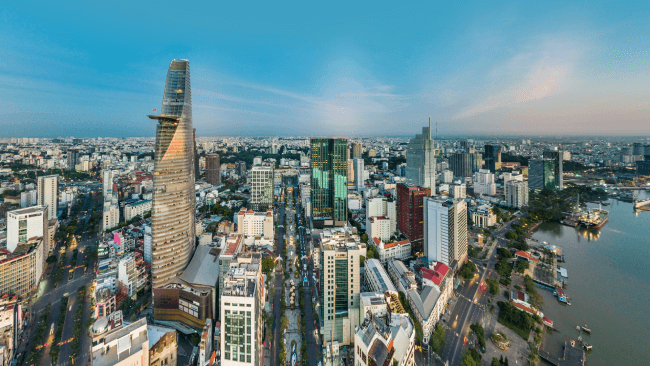 Applying for the Vietnam eVisa is not complicated. Still, before heading up to the application process, we invite you to read the following questions to see what is an eVisa Vietnam. Besides, with the following info, you will also learn all about its price and processing times.
Frequently Asked Questions
What are the Covid restrictions to travel to Vietnam?
The Covid-19 travel requirements often vary, so we suggest you head up to our FAQ section to obtain the most up-to-date information about this topic.
Do you want to know what is an eVisa Vietnam? Read the question below.
What is an eVisa Vietnam?
The Vietnam eVisa is a single-entry travel item that allows you to visit Vietnam for a short-term stay (30 days per visit). This document works similar to a visa, but it is processed online.
What items or documents are necessary to get this eVisa?
While completing the online application form, you will need to have the following items on hand:
Your current passport (make sure it has a validity of 6 months after your arrival in Vietnam).
Your current credit/debit card to complete online payments.
A scanned copy of your passport's first page.
A physical copy of your Digital ID or a passport image.
If you want to know more details about this topic: What is an eVisa Vietnam? Then continue reading below.
What are the processing times and prices for the Vietnam eVisa?
The price you pay for your eVisa will depend on the processing time you choose. We offer these 3 processing times so that you can choose the one that suits you best:
Standard Processing Option:

USD $86.99

-

8 Business Days

Rush Processing Option:

USD $138.99

-

7 Business Days

Super Rush Processing Option

USD $201.99

-

6 Business Days
Now that you know what is an eVisa Vietnam, please read the steps below to apply for it.
How to apply for a Vietnam Visa with iVisa.com
Forget about going to any Vietnamese diplomatic mission! By following this 3-step method, you're ready to receive your eVisa online with minimum effort:
Step One, complete the online request form we offer with general information about yourself (for example, your passport ID). Choose the processing speed you prefer.
Step Two, review the information you wrote to avoid typos and pay for your eVisa using your debit or credit card.
Step Three, upload and add the copies of the items needed (scanned copies of the passport) and click on the 'submit' button to complete the process.
Finally, wait for your Vietnam eVisa, which will be delivered by email inbox, and that would be all!
See more information on this topic: What is an eVisa Vietnam? in the questions below.
Is it safe to use iVisa.com?
Yes, it is safe to use our website because we constantly update it with the most important travel information. We're also very honest about the services we offer. If you have doubts, then visit our comment section to learn more.
Where can I see more information?
If you still want to know exactly what is an eVisa Vietnam, then feel free to reach out to our agents! They'll be ready to help you at any time.
iVisa.com Recommends
Vietnam is a fantastic country with impressive nature and inspiring history. Better yet, it is a country made for museums as it has a lot of them. So if you're interested in learning more about Vietnamese history and culture, then you should definitely visit at least two or three of its museums.
One of the most popular is the Ho Chi Minh Museum, located right behind national hero Ho Chi Minh's final resting place. This museum is dedicated to the life of the Communist leader, so you can be ready to find a lot of interesting information about 'Uncle Ho' (this is how most locals refer to him). The museum's principal exhibition hall was created by students of the University of Fine Arts in Hanoi, the capital city. It takes visitors on an interesting journey through Ho Chi Minh's life.
Another museum you shouldn't forget to visit is the Vietnamese Women's Museum, located south of Hanoi's Sword Lake. This museum is a valuable representation of Vietnamese women's role in the country's history and culture. Here, you can find a lot of fascinating themed exhibitions and displays.