Vietnam - Open for Tourism, here's what you'll need
Vietnam - Open for Tourism
Trustpilot recommended. We lead the industry in innovation and reputation
Learn More: eVisa
Last updated: October 2022
After two years of suspension due to the pandemic, the Vietnam e-visa is back in operation since March 15, 2022, with the same regulations as before COVID-19. This is the time to jump on a flight to visit the majestic Ho Chi Minh City, friendly Hanoi or the spectacular Halong Bay.
Before taking off to one of Southeast Asia's most visited countries, Vietnam, you'll need to know a few things. For example, what documents you should obtain before traveling, visa fees, how to apply online, Vietnam government rules, and more. Find the most up-to-date information about the Vietnam tourist visa here.
What is a Vietnam eVisa?
The Vietnam e-visa is an electronic visa that was introduced by the Vietnamese immigration department in 2017. The Vietnam visa policy enables travelers in need of visas to obtain one online without having to go to a Vietnam embassy. With a Vietnam visa, people from more than 80 different nationalities can visit Vietnam for tourism or business.
Am I eligible to apply for the e Visa?
The Vietnamese visa is now available for citizens of over 80 countries who wish to stay in Vietnam for no more than 30 days. Travelers must get a Vietnam tourist visa before travel, even for short stays. You can apply online with iVisa.com and receive your electronic visa in as little as two business days.
As of January 2022, regular passport holders of 25 countries DO NOT need a visa for Vietnam. The length of stay varies between 14-90 days for each nationality. Those passengers who wish to stay in Vietnam do not need a visa to enter and simply show their passports at border control to get a visa on arrival.
Vietnamese citizens with a Permanent US Resident Card can apply for a Visa Exemption Certificate instead of a visa. Visit the Vietnamese government site for further information.
There may be some countries that are not eligible for a visa on arrival or the eVisa to travel to Vietnam. In that case, you can use our Visa Checker tool to determine if your nationality qualifies and apply online. If in doubt or you need another type of visa, contact your nearest Vietnam embassy.
What is the validity of the Vietnam tourist e-visa?
The Vietnam eVisa is valid for 30 days in Total from the date of entry. It is a Single Entry visa.
Visitors wishing to stay longer than the duration of a standard tourist visa or e-visa will need a visa extension, which can be requested at the nearest Vietnam embassy.
Please note: At the moment, both the e-visa extension or visa on arrival are not available. Travelers who wish to stay in Vietnam for more than 30 days are recommended to leave the country and re-enter.
What are the entry requirements and documents to apply for the e-visa for Vietnam?
Below is a list of the current requirements in operation for your e-visa application form and entry into Vietnam:
Passport: You must have a passport with at least 6 months of validity left at the time of arrival in Vietnam. The passport must have at least two blank pages available to apply an entry and exit stamp (one on each page).

Recent passport photo: If you don't have one, no problem! Simply use the iVisa.com passport photo service.

Vaccinations: You need to show proof of vaccination for diseases and viruses such as hepatitis, yellow fever, and malaria, among others. Please talk to your general practitioner (GP) or doctor to arrange these.

Credit or debit card: To pay the e-visa fee and service fee.

Valid email address: To receive your e-visa receipt and confirmation.
Do I need a Vietnam visa if I am transiting?
The Vietnam visa requirement is not applicable to air travelers transiting the country, provided they remain in the transit area at the airport and do not stay more than 24 hours. If you plan to leave the airport at any time, you must apply for the e Visa online before departure.
How to apply for your Vietnam visa online
It is recommended to apply at least a few weeks before your trip to Vietnam, but if you're in a rush, we also have you covered.
The whole process is very simple:
First, read all the information and fill out your details. Then, choose the preferred processing time for the Vietnam e-visa.
Second, double-check and verify your information and pay the iVisa.com service fee (see below for information about visa fees).
Third, attach any documents required and click on the 'submit' button to apply for your Vietnam visa.
Once you have successfully applied for your Vietnam visa, you will be emailed a receipt and confirmation of the final e Visa.
Make sure to save a copy in a safe place on your electronic device, and print your Vietnam e-visa confirmation to carry with you while you travel. On arrival, you may be asked to present it by the Vietnam immigration department.
What are the prices and processing times of the Vietnam visa?
If you apply through iVisa.com, the processing time and charges will depend upon how fast you need your visa:
Standard processing time: Get your Vietnam visa in just

14 days

for a service fee of

USD $86.99

.
Rush processing service: This option is slightly faster and takes just

12 days

for a fee of

USD $138.99

.
Super Rush processing time: For those in urgent need of a Vietnam visa, we offer this option, which takes just

10 days

for a fee of

USD $201.99

.
Do minors also need to apply for a Vietnam e-visa?
Minors aged 14 and under, included on their parent's passport, must be included in their parents' application for a single-entry visa to visit Vietnam. All other travelers need their own visa, regardless of age.
What does the Vietnam e-visa look like?
Here is a sample of the final document that will be emailed to you: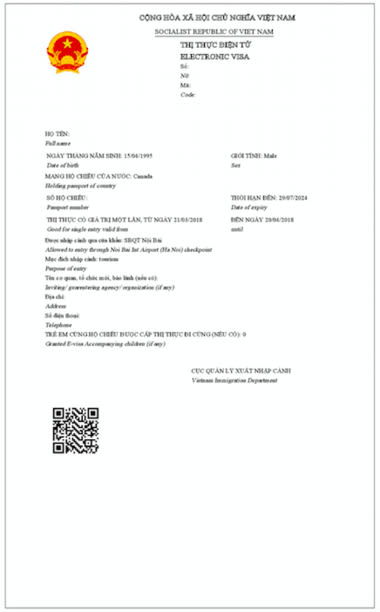 Vietnam COVID-19 travel restrictions
All Vietnam destinations are open to travel, no quarantine is required, and all regulations for SARS-CoV-2 testing are suspended. Since information may change quickly, we advise you to follow up on the latest Vietnamese travel updates and/or contact your local embassy.
Do I need a COVID vaccine to enter Vietnam?
No, you don't. The COVID-19 vaccination passports or certificates are no longer mandatory to apply for a Vietnam e-visa online or enter Vietnam.
Do I need to do a COVID-19 test prior to arrival?
Travelers no longer need to take a COVID-19 test before traveling to Vietnam.
Will I need to quarantine?
No, the Vietnamese authorities no longer require travelers to quarantine on arrival in the country.
Where can I find more help in completing my visa application?
To find further information about the Vietnam visa online application process, please contact iVisa.com's customer care team, available 24 hours a day, or simply email [email protected].
Required Documents to Apply
Applicant's Photo

Passport Scan

Last Page of Passport (if applicable)
Important Instructions
The e-Visa is a Single Entry visa.

The e-Visa is valid for 30 days in Total from the proposed date of entry indicated during the application.

e-Visa holders may remain in the Socialist Republic of Vietnam for a maximum of 30 days in Total

Once the first 30 days in Total have passed and a renewal is needed, e-Visa holders in Vietnam may be considered for a new visa if they are invited/sponsored by an authority, organization or individual in Vietnam, in accordance with the law on foreigners' entry into, exit from, transit through and residence in Vietnam.

The applicant's passport must be valid for at least 6 months after arrival in Vietnam, and it must have at least two blank pages for a stamp/sticker from the immigration/border control officer.

Minors with their own passport must complete a full e-Visa application. Minors aged 14 and under included on their parent's passport will have to be included on their parents e-Visa application.

Applicants are required to carry a copy of their e-Visa at all times during their stay.