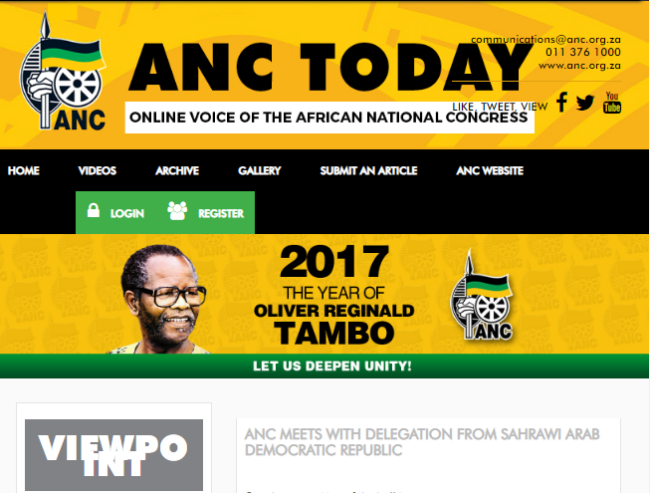 The African National Congress began this site in May 2016. The website design and website development of the ANC site was completed by Ogilvy Public Relations.
In sum, the African National Congress (ANC) is the governing political party of the Republic of South Africa and has governed South Africa ever since the election of Nelson Mandela in 1994 in post-apartheid South Africa.
The site was not the main African National Congress political party site. Instead, it was a partisan-influenced site sharing multiple viewpoints through news and personal articles about the politics of post-apartheid South Africa.
Basic ANC Today Information & Contact, Social Media
ANC Today was released in weekly volumes. They wanted to provide up-to-date information on the programs, perspectives and policies of the movement on current national and international issues. It was published every Friday and one could subscribe and have it emailed to them.
The front page included quick access for visitors who want to contact the African National Congress and its members or the social media pages or main email address: [email protected] Social media included ANC Facebook age, ANC Twitter, ANC Google+, ANC Pinterest, ANC Linked In, and ANC e-mail.
You could also click for Archived articles, a gallery, one could submit an article, and also jump to the main ANC website. Anyone could sign up and subscribe to their email marketing list and also possibly receive text messages.
You could also register as a site member and log in from the from page.
Many articles pertaining to all aspects of ANC and South African politics were displayed on the front page also as one of the main goals of the site was accurate and diverse political reporting.
The site claims to have articles that are:
Robust
Debatable
Critical
Authoritative
Include Analysis
Engage citizens intellectually
Accurate
Dispassionate
Well-informing
If anyone wanted to know the role of the African National Congress in national and international relations, then this site was for you.
The ANC claimed that ANC Today was the "voice of the ANC" and that they were telling their story on their own terms.
If you wanted to submit an article to ANC Today, you had to go to the Submit an Article page and complete the online form and upload any images necessary. The African National Congress encouraged outside submissions and also story pitches.
ANC Today - Types of Articles
Examples of articles included:
Viewpoints
Media and the new science of 'Stadiumology'
SishodaNgawe - a call for unity by the ANC
ANC 2016 Manifesto puts communities at the heart of development
ANC at the forefront of building a non-racist South Africa
ANC TODAY - Telling our story on our own terms
Most Read Articles
SA Investing 'R1 Billion Per Day' in Infrastructure
Building ANC Unity the Best Tribute to Fallen Comrades
Accountability of ANC Councilors to be Enforced
ANC Only SA Party with 50/50 Gender Representation Policy Frameworks
The website was up and running until at least March 2018.