Central Park Hotel and Lan Kwai Fong Hotel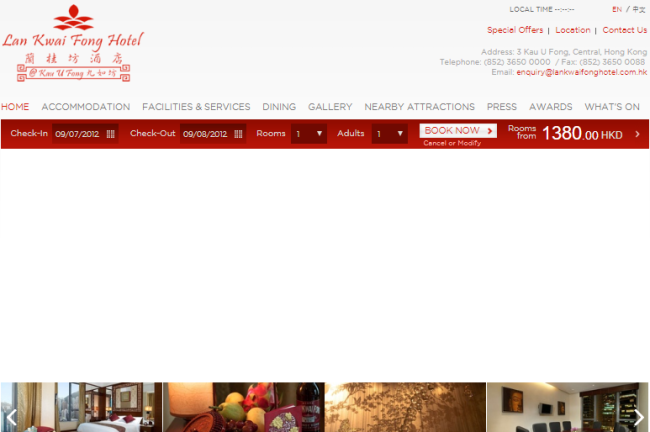 The site, owned by Dorsett Hotel Management Services Limited, went live in June of 2005. It was the website for two hotels: the Central Park Hotel and the Lan Kwai Fong Hotel, both located in the financial and commercial centre of Hong Kong.
The content defaults to English, meaning they appealed to an international audience and business class. Both hotels were and are located near the Victoria Harbour, Tamar Park, and Central Government Office district.
Hong Kong Tourist Information, Sightseeing, Directions, Transportation and Shuttle
Both sites offered information for guests, visitors, and travelers. The landing page informed guests of nearby public transportation, sightseeing and tourist sites, and nightlife in Hong Kong.
The Location Map page displayed ways to get around Hong Kong and how long the trip would be to and from major office buildings like Cosco Tower and Shun Tak Centre. The goal was to make it easy for hotel guests to get around without relying on multiple resources.
Central Park Hotel had 136 guest rooms and 6 suites. They offered many levels of guest rooms from "superior" to "deluxe" and "executive." You could choose a two-single bed room or a room with a queen size bed. Most rooms overlooked the Hollywood Road Park. Rooms were equipped with:
24-hour Cable TV on LCD flat screen TV
Bathrobe, Hairdryer, Shower
Fully stocked mini bar and tea/coffee pot system
International Direct Dial telephone system
In room broadband internet access
In room electronic safe
In room voice mail service
Radio/alarm clock
Hotel Prices, Hong Kong Business Rooms, Tours, Travel Information
Rates, or price, of rooms ranged from HK$900 - 3,300 depending on the level you chose.
They also had the Central Park Lounge where they offered continental breakfast, East-West fusion food selections, and alcohol like beer. Clients could rent out the lounge, which included a balcony, for private events for up to 150 people.
There was also a business center on the mezzanine floor with Wi-Fi, secretarial support, international courier service, and equipment rentals. The Tour Center was open from 0730-2300 hours and was a one-stop-shop for local tours, Visa applications, shopping recommendations, airline tickets, and shuttles. You could also receive in-room massages and beauty treatments or request a personal butler.
The Lan Kwai Fong Hotel, a fusion boutique hotel, was completing construction in 2005. They offered the same amenities, information, and services as Central Park Hotel, except they also had a gym located in the Lan Kwai.
Book Rooms Online, Special Promotions, Hotel Packages
In May 2006, the hotel sites were split into two separate domains. So, Centralparkhotel.com.hk focused on just Central Park Hotel. An access link to the Lan Kwai Fong Hotel was still on the site. The Central Park Hotel updated site offered special promotions, or package deals, for customers. They also added a photo tour of the facilities and listed their partners on the website.
In 2011, both hotels came under the management of Kosmopolito Hotels International Ltd.
Lan Kwai Fong Hotel Rooms, Reservations, Tourist Information
In 2012, the Central Park Hotel closed operations so the site redirected Hong Kong travelers to the Lan Kwai Fong Hotel page.
The domain went inactive after January 2013.