There's no better way to broaden your horizons than by traveling and getting to enter unknown lands, experience new cultures and see new sights, but different immigration rules apply for countries and affect various citizens of the world.
US citizens, as well as nationals from a range of developed countries, can often travel with relative ease, but you'll need to get a visa to visit many of the world's amazing nations. The requirements and fees to get some of these visas vary from country to country, and it can be tricky to get everything right and guarantee you'll receive your visa in time for your trip. For this reason, many companies can help you to get your visas as long as you pay for a fee.
Since there are so many businesses that provide a visa service, it can be difficult to choose the best one according to your purposes, which is why this article reviews two popular providers: iVisa and CIBTvisas.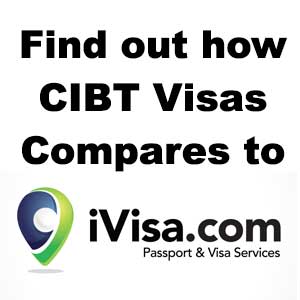 Frequently Asked Questions about CIBT Visas and iVisa
How is the Customer Service?
The process of getting a visa for certain countries can be painstaking and tiresome, which makes it vital to choose a company that makes everything easy to understand and responds to questions promptly. In this category, both iVisa and CIBTvisas score rather well.
Most users report that both services respond to email questions on the same day, often within an hour, and that constantly monitored enquiries provide excellent user support. Users also report that the staff at both iVisa and CIBTvisas are polite and professional, and always do their best to give you all the information you require as and when needed.
What about the Efficiency of Service?
In many situations, you'll need to book your trip before applying for a visa so that you can prove your expected duration of stay, provide details of your hotel and show you have an outbound flight, and that means finding a visa service that guarantees to deliver your visa and passport on time. And for that, you'll need to post your passport to the visa service to obtain your visa.
CIBTvisas' customers report that they received their passport before their trip, though there is a small portion of clients who report missing their trip due to an unpunctual delivery.
Additionally, another small but significant section of customers report only receiving their visa one or two days before departing. Of course, every company is bound to make mistakes from time to time, but late passport delivery can be an extremely rare occurrence for a visa service.
iVisa, on the other hand, has received exceptional reviews regarding the speed of their service, with most users saying it is honest and accurate with its expected timeframes. iVisa also has a good track record with getting in touch with people the second a problem arises – which is rare.
What are the differences in the prices?
Visa services exist to make the process of obtaining a visa easier, though you'll have to pay slightly more than usual to obtain the visa as a result of using a third-party service. This means that companies offering a visa service need to provide a transparent pricing system so that you can decide whether the extra fees are a worthwhile investment.
iVisa's customers are happy with the price they paid to obtain their visa, with a small handful of people saying they wish that they had acquired their visa through the relevant consulate to save money. However, iVisa doesn't have any hidden charges and all customers know what they'll pay before deciding to go ahead with the service. The clear majority of customers report fair pricing.
CIBTvisas reportedly have a variety of extra charges that customers can't opt out of paying, such as a passport replacement fee and a UPS Next Day Air free. An alarming portion of reviews state that the total cost of the service was much higher than anticipated, though CIBTvisas do state all their prices in the small print of their terms and conditions.
Differences in the Ease of Use
The whole point of using a visa service is to make the process of applying for a visa simpler than it would be otherwise, especially if you had to visit the relevant consulate or embassy yourself, so companies need to ensure their service is as straightforward as possible.
Both iVisa and CIBTvisas score highly in this category, with most users reporting each respective website is easy to navigate and the guidance offered is easy to understand and follow. A minuscule number of iVisa customers have previously reported website glitches, though all reported issues are now amended.
CIBTvisas Summary
CIBTvisas does its job. Most of the time, it's a reliable visa service that offers visas for customers before they head away on holiday, and it makes the process of acquiring a visa much simpler.
However, it seems that CIBT is geared towards business customers so their charges are usually more expensive than other online alternatives.
iVisa Summary
iVisa seems to tick all the boxes for most of its customers. Its prices are transparent and fair according to the vast majority of customers, the staff is friendly, personal and polite, and it offers a speedy, dependable and easy-to-use service.
iVisa rates extremely high on review websites such as Yelp and Trust Pilot, and in the rare cases where customers experience issues, its staff are quick to act and keep customers well informed throughout every step of the process.
How to Get Your Visa
We'd recommend heading to iVisa.com to obtain your visa. All you need to do is state your nationality and destination on the home page, and then you'll be shown the total cost of the service and the processing time instantly on the second page.
The second page also states all current visa requirements for your chosen nation. You'll then enter your personal details, review the price and pay, and submit any additional required documents to obtain your visa. As long as you utilize a dependable visa service such as iVisa.com, you can feel confident that you'll obtain everything you need to enjoy your next amazing holiday.