Thanks to the rise of the Internet and growing economies around the world, travel is now more accessible than ever, and many people have their sights set on Australia. People are drawn to Australia because of its ultra-modern cities and sprawling beaches while others prefer the idea of touring the large nation in a campervan to explore its scenic sights. Depending on your nationality, there are different rules and regulations in place for obtaining the required ETA (Electronic Travel Authorization) or visa to enter Australia, and the application process can be a bureaucratic nightmare. To help make things simpler, there are many visa services available that can obtain your ETA for you, but it's vital to choose a company that offers fair prices and a reliable, efficient service.
To help you find a visa service that won't let you down, we've compared two major companies, iVisa and EasyETA, below regarding what they offer and what their customers have to say.
Customer Service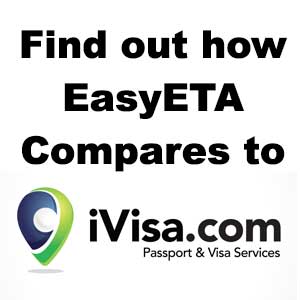 Travelers often utilize online visa services to avoid dealing with official bodies that explain rules and requirements in complicated terms and bog the application process down in bureaucracy, which is why you need a visa service that offers exceptional customer service. In this regard, both iVisa and EasyETA come highly recommended.
Both companies have earned a reputation for continuously monitoring their communication channels and responding to queries promptly, and they ensure you fully understand every requirement. Speaking about EasyETA on Trustpilot, Syaza said: "Excellent, fast and all of my question were answered perfectly," and Gladys said of iVisa: "Our query was fully resolved. I would recommend using this site." When comparing customer service, there is very little to set these two companies apart.
Efficiency of Service
If you fail to obtain your visa before your scheduled flight, it's extremely likely that you'll be refused entry to Australia, meaning finding a visa service that prioritizes efficiency is a must. Again, both EasyETA and iVisa fair very well regarding efficiency, though it seems as if iVisa may score slightly higher. As standard, both companies can process the visa application in under 24 hours with great success, and for an additional fee, they offer an urgent service that processes your visa within 20 minutes. However, iVisa can often process the visa in as little as 15 minutes as a rule.
Ebrahim is especially impressed with the service offered by iVisa, reporting in his review: "Great service. This is the third time I have used this company. They deliver on time, every time. Much appreciated. Thank you for your great service." Price
Undeniably, travelers can save money by applying for their Australian ETA through the official authority, but visa services exist to save people time by making a lengthy process much simpler. For this reason, and to make a profit, visa services must charge a fee, but it shouldn't cost an arm and a leg. While both iVisa and EasyETA have a more expensive service for urgent visas, iVisa can often process applications within 15 minutes as a norm, but both services offer reasonable prices in most customers' eyes. For US citizens, iVisa guarantees to process visas within 15 minutes in the majority of cases, though the fee is marginally higher than that offered by EasyETA. Those who need an urgent visa may be better off utilizing iVisa to ensure success and save money. However, if you just need your visa to arrive within 24 hours, both EasyETA and iVisa offer high-value prices for an exceptional service.
Ease of Use
If a visa service fails to make its application process simple, its services become redundant. As aforementioned, the cheapest option is to apply for an ETA via the relevant Australian authority, but the process can be long, drawn out, and confusing at times. Both EasyETA and iVisa have decent platforms for applying for the ETA, each requiring just a few basic details and extra information depending on your nationality. For citizens of countries including the United States, the United Kingdom, and Canada, neither company even requires travel dates as the ETA will remain valid for a one-year period, commencing upon the issue of the visa. In terms of how each platform appears, iVisa scores slightly higher than EasyETA. iVisa's website design is modern and sleek, and it's easy to use on tablets and mobile devices as well as laptops and computers. However, EasyETA's website is still attractive, and neither website is difficult to navigate. It seems that both sites score highly in all categories, but iVisa steals a win for aesthetic appeal. EasyETA Summary
EasyETA is a reliable service that's been operating for over seven years, and almost all customers report receiving their visa promptly. It offers a fantastic level of customer service, is transparent about its pricing system, has a service for urgent visas with a website that's easy to use and navigate. It has a rating of 9.3 on Trustpilot from 499 reviewers, which indicates its service is trustworthy and of high value. A slightly more modern website design would be nice, but it 's hard to find any real drawbacks with this service.
iVisa Summary
iVisa is another visa service that makes it difficult to find any flaws. It offers a fair and transparent pricing system, an exceptional level of customer service, a well-designed and easy-to-navigate website and a very simple application process. With a rating of 9.5 on Trustpilot from 1,788 reviewers, iVisa only just snags the overall win over EasyETA in our review and comparison of each company.
How to Get Your Visa
To get your Australian Electronic Authorization from our winning company, iVisa, click here. Next, choose Australia from the nations displayed on-screen before choosing your nationality and providing a few basic details. Just like thousands of previous customers, your application will be processed efficiently, and you'll receive your confirmation in no time at all.