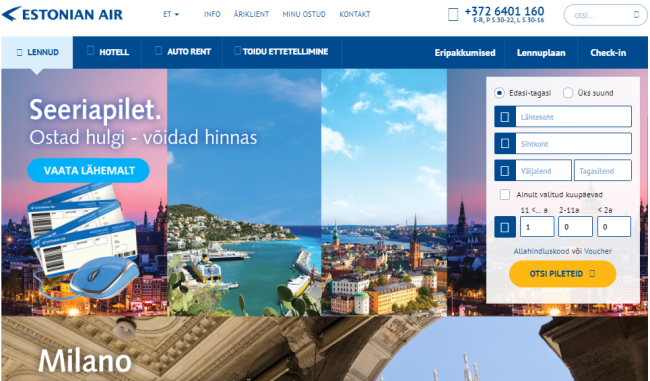 This Estonian-based airline website was started in early 1999. In 1996, the country of Estonia decided to privatize its publically-held airline and 66 percent of the shares were sold. These efforts paid off when the Danish airline Maersk Air, in cooperation with the Estonian-based investment firm AS Cresco bought the firm, resulting in 34% ownership of Estonian state, 17% in AS Cresco and 49% in Maersk Air. In September of 2003, the SAS Group and the Danish airline Maersk Air and Estonian Air signed a 49% share purchase and sale agreement, resulting in the Estonian Air firm becoming the owner of AS Cresco.
Estonian Air Loyal Customer Program
EuroBonus
Estonian Air was a partner airline of SAS EuroBonus loyalty program and its customers were given use of EuroBonus's bonus points for all Estonian Air flights.
Estonian Air Card Privilege Loyalty Program
Estonian Air Loyalty Card Privilege was designed for the most frequent flyers using their flights and offered these valued customers additional benefits when using Estonian Air flight services.
Estonian Air Freight Services, Track, and Trace
Estonia is geographically well-positioned, which facilitated the transit system between the East and West. Estonian Air's cooperation with international airlines offered opportunities to ship goods for its client companies all over the world.
Estonian Air Track & Trace search system allowed its customers to track the movement of their shipments by simply inputting their tracking number into the database on the website. The company's one-way fare included internet service and other airport charges. The service allowed passengers to travel to many cities around the world, including:
Amsterdam
Berlin
Brussels
Dublin
Frankfurt
Hamburg
Kiev
Copenhagen
London
Manchester
Milan
Moscow
Munich
Oslo
Paris
Stockholm
Vilnius

Hertz Estonian Air Special Offers

As an Estonian Air passenger, customers were allowed to take advantage of preferential rates for rental through their partnership with Hertz. Estonian Air flied to sixteen different destinations in Europe, all serviced by Hertz. Special offers by Hertz included:

One-way fare on the Internet starting from Tallinn, which includes a service charge of 25 kroons and an airport fee of 281 kroons. 
In Amsterdam-Tallinn and Manchester-Tallinn, the airfare costs approximately 1195 kroons and in Dublin-Tallinn it costs approximately 995 kroons. The price may change due to currency fluctuations.
The campaign price is on sale online at 10-13. March and lasts from 1 May to 30 June 2005.
Special offer is valid for Estonian Air direct flights starting from Tallinn and the number of seats is limited.
A round-trip ticket can be combined with different one-way price levels, as the ticket price depends on the airline's occupancy at the time of booking.
The child (2-11 years old) will pay 75% and the infant (up to two years of age) ticket 10% of the full price.
Changing one-way ticket before the flight costs 470 kroons, the price difference resulting from the price at the time of the change may be added.
Tickets cannot be returned. The site ended in 2019.