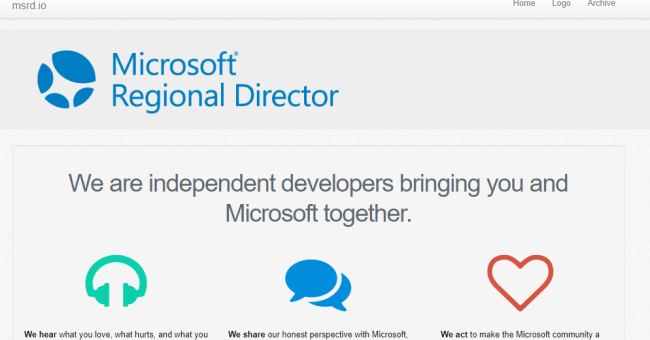 The site began in December 2012.
Microsoft Regional Directors Program
The Microsoft Regional Directors website focused on the RD program which connects individuals to Microsoft. It was for developers who wanted to work on Microsoft system technology and for those who desired to author technology-based books about Microsoft.
The Microsoft Regional Directors program was the best of the best when it came to this. It was an online community that supported those focused-on Microsoft system technology development.
Their three main missions were:
To listen to independent developers about the good and the bad about Microsoft and the technology they employ;
To, as a community, share these perspectives and opinions with Microsoft and then share the results and improvements with the larger Redmond community;
And, to act upon these requests and results to make a positive impact on the larger Microsoft development family.
Current Microsoft Regional Director Logo Updated
In 2012, the Microsoft Regional Director program updated their logo. This was in-line with the new corporate and product line rebranding the MRD program conducted. The new RD logo held a different aesthetic than before. They wanted it to be monochromatic, use a segoe typeface, have a simple layout and icon, and employ semantic HTML.
One could post this on their site or share with others. The PNG images one could choose from included:
Small: 336 x 96 pixels
Medium: 672 x 192 pixels
Large: 1344 x 384 pixels
All Microsoft Regional Director logos were available either with a white background or a transparent background. The diversity of logo options allowed people to share on multiple platforms based on the needs and speed requirements for different websites. So, if someone wanted to optimize their site, they could use a smaller version that required less strain on loading procedures for visitors to various websites.
Details showed how the new design compared to the old design prior to 2013 as well as how it contrasted with other Microsoft logos like Microsoft Office and Xbox. This created a symphony of Microsoft logos that were distinguishable but fell in line as a family unit of Microsoft logos.
Other notable updates to the logo design included: rendered from Adobe Illustrator; file size minimized and optimized with OptiPNG; image height evenly divisible by 16 or 24 pixels for typographical baseline; a 3.5:1 ratio; screen color of rgb (0, 125, 195) or hsl (202, 100%, 38%); print version suggestion of cmyk (85, 50, 0, 0).
The new logo was designed by Sean Dolinsky at Vertigo. A link to his earlier sketches was available. Source code was also linked to a github page.
Microsoft Logo User Guideline PDF
To provide convenience of the new Microsoft RD logo, MSRD created and posted a 5-page PDF user guideline.
A link for downloading all versions were available. The logo was crafted in Point Richmond, California and Reno, Nevada.
In September 2018, the site began redirecting to a different Microsoft main site.