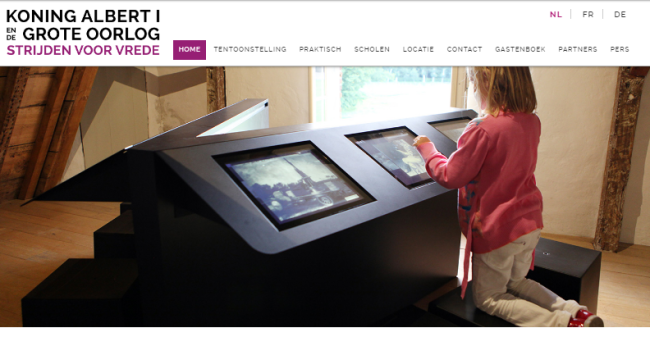 The website was created in August of 2014. It served as an online resource for an exhibition featuring King Albert I of Belgium and his roles and actions during the first World War in the fight for peace.
The site was available in Dutch, French, and German.
The exhibition was held in the Rumbeke Castle (or Kasteel van Rumbeke in Dutch) located in West Flanders, Belgium.
On the front page, site visitors will find general information about King Albert I's role in delaying German troops traveling through Belgium. Due to his humane and brilliant strategies, he became very popular back home as he helped put Belgium on the world stage.
Instead of easily sacrificing his troops to die, he found a better way to hold off the Germany army. Due to this strategic move, the German army indirectly lost the war.
The exhibition was a living one and evolved twice from the original presentation to cover different time periods throughout World War I.
Not only could you view exhibition pieces through photo and video, but you could also listen to audio clips and operate touch screens making this a dynamic display of history for those interested in Belgium's role in World War I.
The exhibition was closed on Mondays but was available Tuesday through Sunday from 10 am to 6 pm.
Fees and Packages
Entry fees for the tour:
Individual - € 6 pp
Reduced - € 4 pp (for those under 26 years of age or 65+, students who would also receive a map, groups of 15 or more, people with disabilities, and military personnel)
Free for those under 18 years, teachers, tour guides, and guides with a map
Free for school groups
Add on a guide - € 65 (reservation only by phone or email and max 20 people per guide)
Package offers were available for purchase:
Package 1 offered a guided visit of the exhibition and a soup and sandwich lunch combination with rolls and a drink like soda, water, or coffee. It was available for € 20.
Package 2 was similar to Package 1 except you could receive a fish of your choice to eat, cold meats, and could upgrade to wine and be served by staff. It was € 40 per person.
All packages included a 2-hour tour and a meal served in the castle's Ridderzaal, or main building.
More Albert I Exhibition Tour Information
You could also find out contact information for the Rumbeke Castle and King Albert I exhibition on the Contact page.
There was also an online guest book for those wanting to leave their names that they went to the exhibition in Belgium.
Corporate sponsors included Vanhool, Tec, de Lijn, Jules Destrooper, Knack, Floralux, Flanders State of the Art, Konvert Interim, be14-18.be, Nationale Bank, MuseumSpot.be, and Elia.
Press releases mentioning the Albert I exhibition were located on the site. Different press outlets included:
Royal Society of Dynasty and Cultural Heritage
Archives of the Royal Palace
Library of Congress
The site lasted until August 2018 when the exhibition was closed.