Armenia Travel Information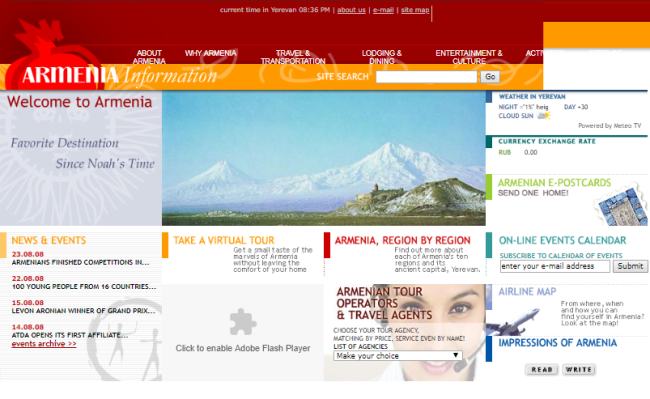 The domain was full of helpful travel information for tourists that ranged from how to travel around Armenia, where to stay, tour information, cultural sites, visa and passport information, and more.
The landing page provided information on the currency exchange rate, Yerevan weather, news and events, travel agencies, and a virtual tour. One could search for information on the site, send an Armenia e-postcard, leave an "impression" of Armenia, and subscribe to their events calendar.
Founded in October 2001, the site was redesigned and fully launched in January 2004 by the ATDA (Armenian Tourism Development Agency), the IESC (International Executive Service Corps) and USAID (United States Agency for International Development) to provide Armenia travel information and to enliven the history and culture of Armenia on the world stage.
Traveling and Sites in Armenia
About Armenia
This menu was full of useful travel information for Armenian visitors from basic information and a brief summary of Armenian history to planning information for your trip to Armenia.
Each page contained need-to-know information on traveling to Armenia such as:
Just the Facts: Population information, natural features, and weather;
We the (Armenian) People: People, language, culture, history, religion, and holidays;
Official Information: Government, visa and passports, custom regulations, and embassies in Armenia;
Set Your Watches, etc.: Time, currency, and electricity;
Keeping in Touch: Telephone, Internet Cafes, Postal Services, and Mobile Phone Rentals;
Healthy and Safety First: Medical/Health Info and Traveler Safety;
Armenia Online.
Why Armenia
The site provided valuable information on why travelers should visit Armenia.
Cultural Treasure Map
Nature's Healing Power
Your Long, lost family
Destination Celebration
Ageless Armenia
Armenia Year-Round
Armenian Travel and Transportation
One could find information on how to fly to Armenia or how to drive into Armenia. It also stored an interactive map of Armenia, transportation information on exploring Yerevan and other regions of Armenia, and information on organizing Armenia tours.
Armenia Lodging and Dining
There were many lodging options for Armenian tourists.
One could find booking information for hotels, B&Bs, and apartment rentals for long-term stays. Also displayed were restaurants, cafes, bars, and teahouses in Armenia.
Entertainment and Culture
If a visitor wanted to explore entertainment and culture in Armenia, there was a list of theaters like Agulis or Chamber Theatre, concert halls, cinemas, discotheques, nightclubs, and casinos on the site.
Activities
Many activities are available in Armenia. The site included information on:
Nature activities like hiking, biking, fishing, hunting, horseback riding, bird watching;
Sports and leisure such as racquetball in sports clubs, bowling, water parks, paintball, race karts, stadiums, the zoo, and botanical gardens;
Health and relaxation such as day spas, beauty parlors, and laundry services;
Shopping destinations for arts and crafts, open air markets, bookstores, boutiques, and brandy shops.
Sites of Interest
One could find many Armenian sites to explore such as museums, galleries, religious sites, natural and scenic sites, and information on a variety of other places including specific cities, towns, resorts, and regions.
The domain was active until the end of 2016.