Attica Eastern Prefecture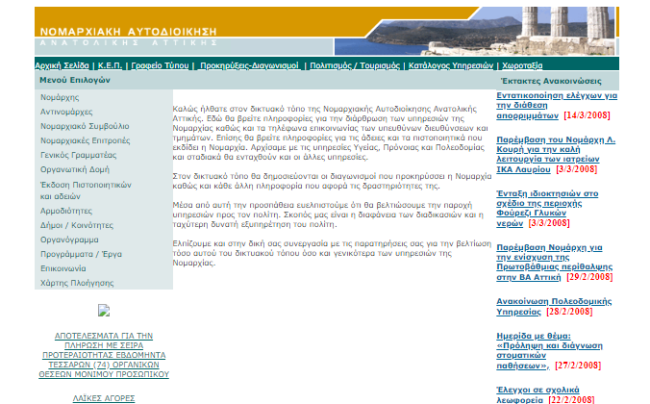 The site started in October 2005. It was owned and operated by the Prefecture of Eastern Attica.
The Prefecture of Eastern Attica was an administrative body of the Attica region of Greece. This body, with the sponsorship of the Greek National Tourism Organization, promoted tourism for eastern Attica that included geographical features like the Lake of Vouliagmeni and the famous pinetree forest of Schinia.
Prefectures in Greece were dissolved in 2010 as part of the Kallikratis Plan. Instead, the prefectures were integrated into thirteen regional units with independent administrative networks.
Attica Greece Tourist Information, Places to Visit
Site visitor could choose a destination from a drop-down menu which would then present information and tourist notes about the region, municipality, or sightseeing destination. Places included:
Agios Stefanos
Drosia
Vravrona
Lagonissi
Kalamos
There was an About section featuring the history of eastern Attica.
Suggested tourism experiences by the administration included walking tours and a list of places to visit by car or boat.
If Greek tourists needed accommodations for places to stay in Attica or the surrounding area, one could simply visit the Accommodations page for a list of hotels and similar lodging options.
They also offered transportation information for those wanting to travel to eastern Attica.
All sites that are promoted for visitors were listed in the Sights section of the domain.
If visitors had children and wanted special activities or if couples wanted to do something more adventurous than sightseeing, the administration provided a Fun sub-section to spark ideas for fun things to do in the area.
Other pages included special forms of tourism, events, announcements, press releases, region map, and Greek web memorabilia like wallpapers, screensavers, e-postcards, and referral email for friends.
Attica Prefecture, Eastern, Government Information
A major update in 2007-2008 change the main function of the site to be more of an objective government website where citizens and site visitors could obtain information on the activities and reports of the Prefecture of Eastern Attica, Greece.
The goal shifted to providing procedural transparency and efficient services to citizens.
News stories aggregated on the new front page.
The table of contents expanded and included:
Prefect
Deputy Ministers - Name and contact information
Prefectural Council Responsibilities, Bureau, and Member Roster
Prefectural Committees

Six committees focused on different industries such as administrative duties, agriculture, and health

General Secretary
Organizational Structure

Included Administrative Support, Policy Development, Quality of Life, and other available services for citizens

Responsibilities
Version
Municipalities/Communities
Organization Chart
Programs/Projects
Citizens could also read about the press office or contact the prefectural government through an online form.
Any forms for inquiries by citizens like requests or complaints could be filed online. Also, those interested in job opportunities with the Prefecture could find open positions and fill out an application online.
The site remained a source of information for guests and included Popular Markets and Helpful Links. People had the ability to register and sign in to the website for easier communication with the Prefecture offices and agents.
The site remained active until December 2013. Then, it moved to www.patt.gov.gr.