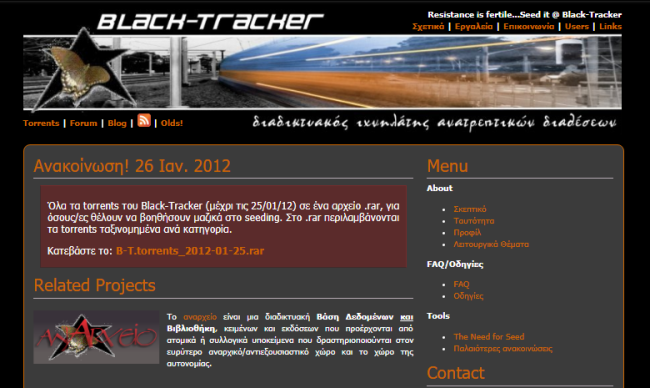 Black Tracker, the website, started in January 2007 in Greece.
The website www.black-tracker.gr was created with a view to gathering and sharing audiovisual material, usually through torrents, whose content and / or the way of creation oppose the dominant viewpoints and eventually became more bold and displayed content for anarchy and rebellion.
Black Tracker - Greek Anarchist & Rebellion AV Material
The aim of its creation was to be a participatory hub of material distribution. The material involved conveys or promotes the experience of social struggles, free expression and collective creation.
In the first instance, the interest of Black-Tracker (BT) focused primarily on material that could have a kinematic use, and in particular video files that could be displayed at public events, with particular preference for independent, non-commercial productions.
BT's operation was not an end in itself. The owners of the site wanted to clarify that it is only a technical means of displaying alternative audiovisual ideas and was not meant to be propaganda or to take sides at all.
On this note, they made sure to clarify what they were not: not political and not a political tool. Nor were they promoting any subversive actions or decreeing any ideologies.
They also listed a lot of guidelines for how they find, qualify, evaluate, and post the audiovisual files they find on the site.
Technical Details & Example Black Tracker Files
Visitors could click on any of the links in the tables on the site. Distinct columns made it easy to find various ways to break down the information.
Columns included: Archives, Comments, Name, Date Added, Size of Files, Came Down, Seeds, Leeches, and User who uploaded file. A semi-advanced search engine was set up at the top of the page for quick searching.
For example, if you wanted to check out all of the anti-establishment Documentaries listed on the site, simply click on any of the links labeled Documentary. You could also find music, movies, photos, and books.
Example AV files included:
BOOKS
Darius Fa - the accidental death of an anarchist and some other subversive
Instructions to Change the World - Notes from Subcomandante Insurgente Marcos, 1984-1989
Guy Debob - The Society of the Show
DOCUMENTARIES
The Fourth World War
Live the Utopia (VHS rip)
Earth Liberation Front [VHS rip]
MUSIC
The Argentinean Anarchism
Libertarian Songs
The Ex '1936'
PHOTOS
Posters from the Spanish Revolution (1936-1939) / Spanish Revolution posters
Photos from Genao, 2001
MOVIES
Evangelism Occupation - The History of the Tower
The site was free for anyone to help the site grow in content.
While the domain ran through 2018, it appeared to not be updated after the beginning of 2012.