Kazakhstan, Central Asia Travel Tours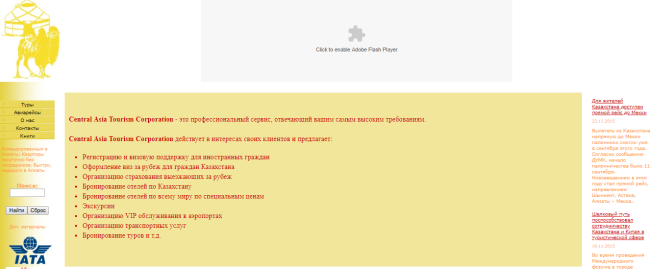 The domain was active starting in February 2007.
The Central Asian Tourism Corporation, in Almaty, Republic of Kazakhstan, was founded in 1993 as a travel agency. Their main objective was to plan tourist and business trips in Kazakhstan and Central Asia. They claimed to have professional team members who could assist with all travel-related matters in Central Asia.
Other offices were located in: Askay, Aktau, Aktobe (Aktyubinsk), Astana, Atyrau, Chimkent, Karaganda, Oskemen (Ust-Kamenogorsk), and Dushanbe-Tajikistan.
They were a part of the World Association of Travel Agencies, the American Association of Tourist Agencies, the National Association of Tourist Agencies, and the Association of Special Tariff Agencies. These partnerships helped legitimize their company.
Kazakhstan Travel Agency Visa Registration, Tours, Business
The services they offered their leisure and business customers were:
Visa Registration and support for foreign citizens

Information on embassy Visa registration

Kazakhstan Hotel bookings

Able to find special deals, especially for larger groups and business groups

Tours of Kazakhstan

In line with their mission to promote tourism in Kazakhstan for foreign visitors and to enhance international knowledge of the offerings of Kazakhstan

Booking hotels using special pricing around the world

They struck deals with leaders in the hotel and lodging industry to bring discount prices to their customers

Visa registration for Kazakhstan citizens out of the country
Booking tours

For group and business group tours of Kazakhstan and helping Kazakhstani citizens book international tours outside of the country

International travel insurance

Coordinate travel insurance for citizens going abroad
As they were an international travel agency and booking company, they offered longer tours for many regions of the world including:
North and South America
Middle East and Africa
South Africa
Europe
Islands
Southeast Asia
Tour packages were customizable and could include one country or area within a country or more for up to five travelers. They were willing to bargain to find the right price for consumers. Their flexibility included the ability to mold individual tours around the desires of their customers.
Central Asia Flight Information, Travel Updates
If a citizen wanted to travel, they could find flight information on the Flights page. Flight tables for international and domestic travel were listed. Also, if someone wanted to fly to the former Soviet Union, one could see the flight table on this page. A key for abbreviations was located at the end of the page.
The site was updated to include travel news concerning Kazakhstan, their citizens, and the surrounding regions such as East Asia and Crimea.
Travel Information for Travel Industry and Market
They also provided site visitors and travelers with free literature and books. Topics included:
Tourism and the Hotel Industry by Leonid Shmatko
The Psychodiagnostics in the Socio-cultural Service and Tourism by Olga Solonkina
Sociocultural advertising in tourism topic by Natalya Morozova
And many other detailed reports on different facets of tourism in or from Kazakhstan
A tour photo gallery was included that showcased trips to Greece, Spain, India and Goa, Cyprus, the Maldives, Norway, and more.
The domain ran under the Central Asia Tourism Corporation until the end of 2016.