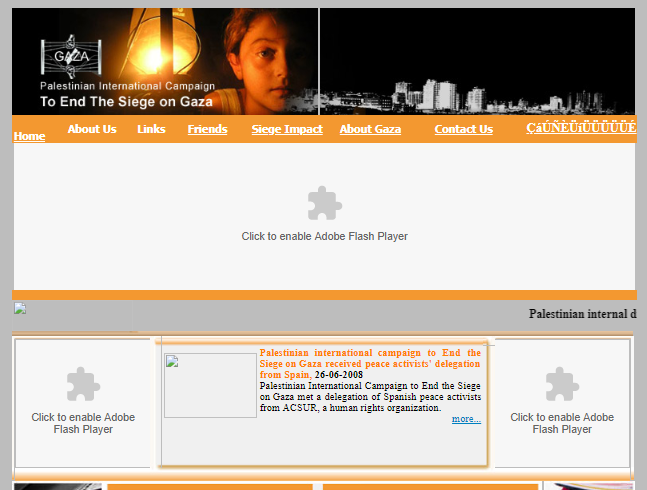 The website started in November of 2007. It was a site dedicated to the Palestinian International Campaign to End the Siege on Gaza.
The front page had the latest news on the Siege on Gaza. It also displayed members who supported the Campaign like Bank of Palestine and the Palestinian Independent Committee on Human Rights.
The site also had a scrolling news headline marquee that displayed the latest news and events like "Israeli tanks kill six Palestinians, including four young children in Beit Honoun" and "Refugees protest suspension of UN food aid in Gaza."
Palestine Gaza Siege Campaign
The group was diverse and had civil society activists, human rights activists, intellectuals, academics, and businessmen from Gaza and the West Bank. They promoted peace, human dignity and human rights, and ethical and moral responsibility.
The main purpose was to put pressure on the Israeli government to end the attacks on Palestine and its people. To do so, they wanted to distribute honest and brute information on the effects of the siege to the international community. Their main audience included the USA, Europe, and Israel to have allies that would hopefully invest in putting political pressure on the Israeli leaders.
The group was founded to be non-partisan, to work towards direct benefits for the people of Gaza, to build international relationships with other countries, and to strengthen their impact by increasing member numbers and supporters to their cause.
Some notable members and their positions in society were:
Mr. Khaled Abdelshafi, Economist
Mr. Constantine Dabbagh, Executive Secretary, Near East Council of Churches
Dr. Mahmoud Daher, World Health Organization
Many of the members had websites for their separate causes and groups listed next to their names.
Israel Palestine Conflict Impact
The impact that this conflict had on Palestinian people was documented and archived on the site.
They broke up each impactful event by sector. Sectors included:
Health Sector
Economic Sector
Agriculture and Farming Sector
Educational Sector
Human Rights Sector
Mental Health Sector
Youth and Sports Sector
Freedom of Movement Sector
Events covered included one story about Mohammed Alhurani who died from cancer after waiting for the Israel General Security Service (GSS) to approve his paperwork to go from Palestine to Israel.
There is an About Gaza page as well to help site visitors familiarize themselves with the Gaza Strip. It discussed the formation of Gaza and current population numbers as well as geographical features and border issues.
If Gaza was codified or referenced by international laws and statutues, it was listed on this site such as the 1907 Hague Convention.
Many points about the humanitarian crisis in Gaza were talked about including rates of poverty, aid cuts and commodities issues that affected the people living in Gaza.
If you wanted to contact this Palestinian International Campaign To End The Siege On Gaza, you could call them or visit them in the Alhalabi Building on the 2nd floor.
The website ran until near the end of 2013.