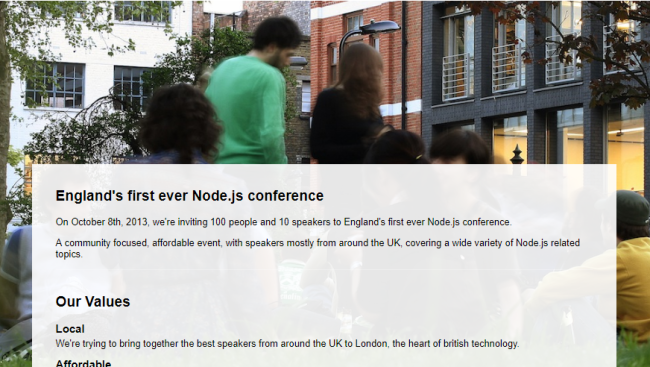 Started in October 2013, the site hosted information on the Great British Node Conference.
Great British Node Conference Information
2013 marked the first year that England hosted an official Node.js conference which is a technology conference usually centered around JavaScript but also includes other technology facets.
Speakers for the event were all from the UK and London which is considered the epicenter of British technology.
The site boasted that the event would be affordable to all and was set at £100 each.
The conference wanted to be community focused, engaging, and interactive and used these planks as selling points in their marketing platform.
The main menu included links to the introduction, the speaker list, the schedule of events going on at the GBNC, and information on the venue and getting to the venue.
Great British Node Conference Speakers & Schedule
The list of speakers were:
Sara Chipps
Darach Ennis
Julian Gruber
Tim Ruffles
Paul Serby
Anton Whalley
Hannah Wolfe
Alex R. Young
Gordon Williams
Milo Mordaunt
Harry Dalton
Pedro Teixeira
Caolan McMahon
Tom Hall
James Halliday
One could click on the names or pictures of the speakers in order to go to a respective social media page of the speaker for more information and to follow them on their preferred social media platform. Most speakers at the Great British Node Conference 2013 preferred Twitter.
The schedule for the conference included segments like Do come in…, Welcome to GBNC, Secrets of a Node Team, Node Internals, Elevenses, Different deployment strategies same codebase, Meta Programming with Streams and Pipes, Luncheon, Going Native, Ghost in the Shell, Solving the real callback hell, Afternoon tea, Espruino - JavaScript for Things, Voxel Britain, Learning, Lightning Talks, Closing remarks, and Dinner & Party. The conference ran from 9 am to 6 pm with the party going at least for an hour to three hours.
The schedule was also interactive since they put the clickable profile picture of each speaker next to the event taking place.
Great British Node Conference Location and Accommodations
It was held at the Shoreditch Works Village Hall at 33-34 Hoxton Square, N1 6NN, and a Google Maps location was provided for site visitors and prospective guests.
They also recommended staying at the Holiday Inn around the corner from the venue at 275 Old Street, EC1V 9LN. They also provided directions to get to the event such as the tube, bus, and overground options.
The event completely sold out, but they encouraged people to join the mailing list so they could reach them in case any tickets became available.
There was a link to the Google+ site. At the very bottom, you could also find the online social profiles of the organizers of the event.
The website was running until around May of 2017.