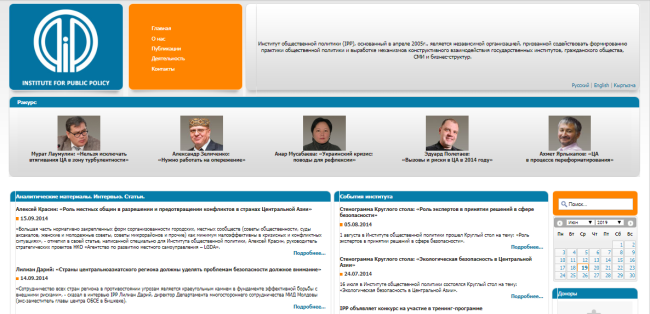 The website was founded in April 2007.
It served as the online site for the Institute for Public Policy (IPP) located in Kyrgyzstan. Their motto was "sound policies and effective governance - ideas for action."
The Institute was Bishek-based, independent, non-partisan institution that conducted research. They also studied and analyzed issues concerning politics, the economy, international relations, and other domains of interest to public policy.
Public Policy Kyrgyzstan
The three-tiered mission was to:
Promote participatory approaches to establishing public policy
Strengthen expert analysis to achieve effective decision-making for public policy matters
Create an independent platform for public policy discussion
Their programs were: Governance, Economics, and Foreign Policy.
The Governance program dealt with internal government structuring, development and implementation of national values, and any crossover from social issues as well.
The Economics program focused on business development and regulation as well as Kyrgyzstan economic issues.
The Foreign Policy program provided international policy papers, analysis, and conducted expert discussions on international issues. This also included bilateral and multilateral relations and agreements and how they affect the Kyrgyzstani peoples and governmental bodies and institutions.
The front page featured news on Kyrgyzstan Public Policy issues.
The staff of the Institute for Public Policy included the President, the Director General, the Financial Director, and associated expert consultants.
A list of donors and partners were available. Donors included the Open Society Institute, the UK Embassy of Astana, the Center for International Private Enterprise, and Freedom House. The website did let visitors to the site know that the views expressed by the Institute did not necessarily reflect those of the donors and partners themselves.
Kyrgyz Government, Economics, Foreign Policy
Activities featured by the IPP included consulting and expertise, research and analysis, training on governance, and projects. For example, the consulting and expertise wing of the IPP focused on providing salient information to key decision-makers in the Kyrgyz government from experts in their fields and by conducting information-sharing meetings with government bodies and officials.
Many roundtables were held by the Bishek-based Institute to discuss in-depth major issues and to receive wider participation for better outcomes and solutions. Some of the roundtables held included:
The Future of Online Journalism in Kyrgyzstan
The Current and Proposed Legislation to Regulate Online Journalism Activities
The Process of Foreign Policy Decision-Making: Kyrgyzstan and the Experiences of Other Countries
The Prospects of Digital TV in Kyrgyzstan
A list of publications by the Institute were listed on the site that included briefs and bulletins.
For those that wanted to become donors or supporters, the Support IPP page listed contact information.
Analysis on Kyrgyzstan Governance, Economics, and Foreign Policy were listed on the Analysis page. Many articles concerned the rights to free speech and journalism in Kyrgyzstan, promoting entrepreneurship and ethical businesses, and foreign policy issues with Russia, Central Asia, and other world players.
The site discontinued at the end of 2015.