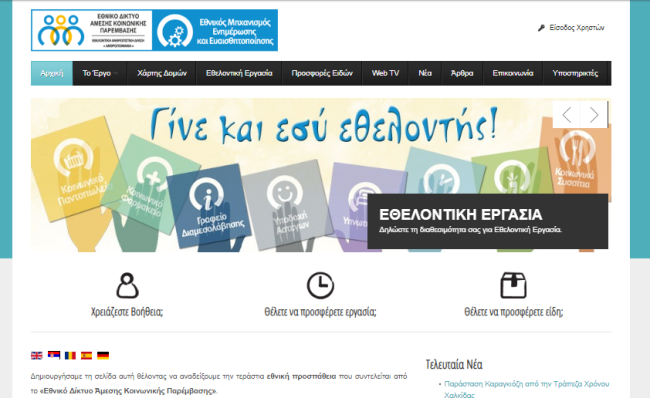 The site started near the end of December 2012.
The goal of the website was to provide Greek citizens in need of assistance with an easy-to-use online resource. It was created and maintained by the national organization known as the National Network of Immediate Social Intervention. They also formed the National Intelligence & Awareness Mechanism.
This network wanted to actively work on fighting poverty in Greece. Their vision was to eradicate poverty and lack of access to medical care, food, housing, and poor living conditions for all Greek citizens.
The website provided information on resources around Greece for vulnerable social groups such as the homeless and unemployed. It also covered updates and news on projects and how they were performing so that the public could see how the actions taken by the Network were affecting the community-at-large.
If anyone wanted to volunteer, the site acted as a database of information for training and educational purposes.
After the economic crises in the early 2010's in Greece, the prolonged recession held back a lot of people and citizens across the country and affected many people's livelihoods. They wanted to combat this by providing all of these psychosocial and material support.
The two main purposes summarized are:
Strengthening and social inclusion of vulnerable social and, in particular, homeless people and people in poverty
Raising awareness, mobilizing and activating society to help tackle the phenomenon of poverty
Participating bodies included:
51 Greek municipalities
46 non-governmental organizations (NGOs)
5 legal entities
8 public sector bodies
18 private sector bodies
The overarching involvement combined the best traits of each type of participating body to create one unified, complex structure of information and resources for needy Greek residents.
There was a social structure lookup tool so those in need could enter their address, zip code, and/or city and how much of a radius they were willing to travel and search for resources near them.
If one wanted to volunteer, they could simply fill out a form online and someone within the existing structure would contact them and help schedule them either through the volunteer's desired social structure or time schedule. A volunteer individual or a business or group could donate money as well to support the efforts of the Network.
Not only was it a text-based site, but the Network boasted a Web TV section where they posted videos covering both the issues facing Greek citizens and also the accomplishments of the organization.
There was also a news section covering what was going on in the country and what was happening internally in the organization.
The contact page gave the office information for the Network. The two offices were in Athena and Larisa and gave the street address, telephone number, and fax number. You could also fill out the online form to get into contact with someone.
The website lasted until sometime between August and December 2018.