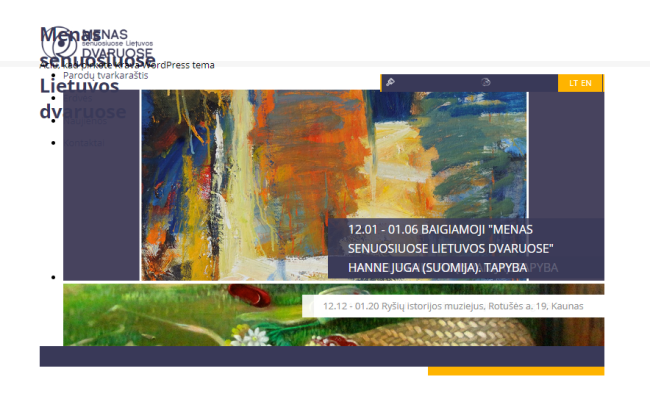 The website began in early 2008.
It was the information page on the Lithuania cultural project for artists. It was called Menas Dvaruose or the Art in the Old Manors of Lithuania.
Lithuania Modern Art Show
The idea was first discussed in 2007. The cultural project was based around cultural dissemination of art and how it was being received by tourists to Lithuania. The idea was that the beautiful manors and castles of Lithuania would be a great way to highlight contemporary Lithuanian art and artists.
This was an innovative idea at the time, as the manors and castles grew large numbers of visitors but didn't have the captivating power of the art displayed inside the manors and castles.
The first exhibition was scheduled for April 4, 2008. 38 artists presented their work at different historical sites. There were painters, a sculptor, a photographer, and a textile artist. Promoting art in Lithuania this way would work on a rotational basis this way and bring the old and the new together in the art world for tourists to see.
Contemporary Lithuanian Art
There was a schedule of exhibitions on the website to help art lovers know where the exhibitors were to be displayed around Lithuania.
The opening artists of the Art in the Old Manors of Lithuania were:
Sergej Novikov - from Ukraine
Laimon Smergel
Arunas Daujotas
Alius Berdenkov
Migle Kosinskaite
Vytautas Eigirdas
Vidmantas Gerulaitis
Gintaras Cesonis
Inga Liksaite
There was an opening reception as well as a final exhibition that moved to two different locations for maximum exposure.
The first round of exhibitions of contemporary Lithuanian art went from April 4 2008 to January 18 2008.
Some of the exhibition sites were:
Lithuanian Theater, Music, and Cinema Museum
Museum of Communication History, Town Hall
Kelme Regional Museum
Chamber Arts Center, Old Chapel
Raudone Castle
Traku Voke Tiskeviciai Manor
St. St. George's Church
Locations of these manors and castles and culture sites of Lithuania were in cities like Anyksciai, Vilnius, Kaunas, and Kelme.
Lithuania Art Information
There were many sponsors of the exhibition such as Monilaite-Thomek AMG Group, Ministry of Culture of the Republic of Lithuania, Diremta, Vokai.lt, Kaunas, Stumbras, Anyksciai, Jurbarkas, Kelme, Conceptio, and TEO LT.
For those traveling to Lithuania that may not know the country, the site provided an map of the exhibition locations. The art exhibition spread all over Lithuania to show the reach of the event and how it encapsulated all of Lithuanian culture.
There was also a link page that described, in detail, the Lithuanian artists that were part of the exhibition. The description provided was really about their work and what it means in the context of art history and Lithuanian art history. Such characteristics pointed out were the style, the recollection of art themes and periods, and how the artist achieved certain strokes and actions. There were also plenty of pictures of the art for each artist.
The website and project ran through the middle of 2015.