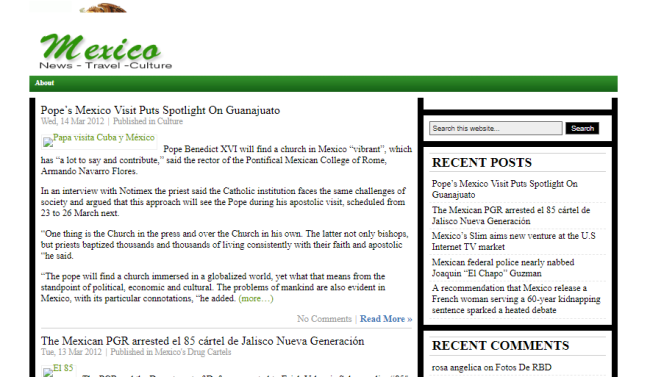 Mexico.vg started in 2006. It was powered by Mexico and Brown Pride and was a blog about Mexico travel, hotels, guides, vacations, and political news.
The main function of the site was to highlight Mexican vacation packages and travel in Mexico. They wanted to show that whether for business or leisure, people from around the world could travel to Mexico in a variety of ways with the right information. So, if you wanted information on Mexican news, travel, or culture, you could find it on this website.
There was a search function to help people search the best places to go in Mexico.
You could scroll through multiple pages, but there was not a main menu for separating the news articles. You could click on the tags they provided to find out more information about a specific section of news.
Some tags included:
PEMEX
Big Oil
Nissan
Mezcal
Spain
Tequila
ATF
Guns in Mexico
The Drug War
Traveling in Mexico
If you were looking to travel in Mexico, you could go to this site for a variety of information.
They would highlight hotels in Mexico, like the hotels in Acapulco, Mexico where they listed 5 major hotels in the area.
They also highlighted the Quinta Real in Zacatecas which a hotel but used to be a bullring where bullfighting took place.
Travel insurance was discussed about international tourists traveling to Mexico. The tourists wanted to purchase it in case of trip cancellations or medical problems. It discussed how the travel insurance industry had gained 20 percent growth from 2004 to 2006 totaling $1.3 billion in insurance from American tourists.
Tourism, Soccer, Culture News about Mexico
Some news articles that the Mexican blog highlighted was:
Tourism in Huatulco

When Investment from the Mexican Government involved tourism and world promotion, the site featured articles about this. For example, this article discussed how then-President Felipe Calderon Hinojosa of Mexico confirmed the 54 million pesos investment in Huatulco. They moved citizens out of the 50,000 acre region to the town next to it, and created a resort in Huatulco for international visitors and travelers.

Mexican Soccer, Mexico Soccer

When the World Cup for Soccer happened or just regional games, Mexico.vg discussed the games on the site. One such game was Mexico vs. China where Mexico won 1 to 0. So, anything involving the Mexican Federation of Futbol (FMF) would be displayed.

Political Relations with the United States

One article discussed how President Barack Obama spoke with Mexican President Felipe Calderon in 2011 about moving forward with stronger bilateral relations between the bordering countries.

Business Investment and Buyouts in Mexico

There was an article that talked about how ABC Capital bought out Banco Amigo Sofom that would be created by Mexican shareholders started with the initial capital of 900 million pesos. They wanted to finance real estate, infrastructure, public works, and business credit.
Mexico.vg was no longer active sometime after August 2012..