Libyan Oil Petroleum Companies, News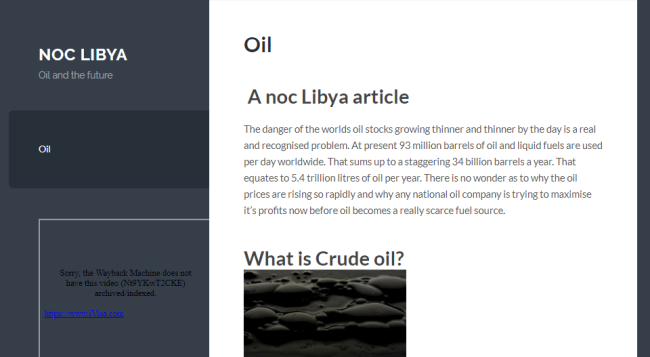 The National Oil Corporation (NOC) branch in Libya created the site in November 2006. The purpose of the site was to convey various information on the oil and energy industries locally, regionally, and internationally.
National Oil Corporation History and Information
The National Oil Corporation was founded in November 1970. The mission was to create a body to conduct operations within the oil sector.
They focused on developing innovative plans to grow petroleum production in the region and to monitor operations and investment opportunities for the reserves of petroleum extracted. They formed partnerships both regionally and internationally to stimulate growth in the oil sector. These partnerships and affiliations controlled exploration and production of oil. One such affiliate was a petroleum research center.
NOC also owned refineries, oil service companies, and oil and gas processing companies. They also provided ongoing education and training for oil industry workers to increase the amount of knowledgeable oil technician manpower for refineries, operators, and researchers.
Fully-owned companies by the NOC include Sirte Oil Company, Arabian Gulf Oil Company, and Brega Petroleum Marketing Company.
Petroleum prices per barrel were updated on the front page. There was easy access to: popular oil company websites like OPEC (Organization of Petroleum Companies) and the Waha Oil Company; and, bidding documents for budgets and projects by companies like the Brega Petroleum Marketing Company.
The Links page listed Libyan and other oil company sites for further information.
Oil and Energy News
Local News
The Local News page hosted articles about topics like oil and energy management positions, meetings between oil representatives and government officials, company mergers and expansion, and conferences. This content was focused on oil news in the Middle East.
Samples of local oil news:
Interviews with the NOC Chairman
Coordination efforts occurring between the NOC and the British Embassy
Information on oil company presidents and chairmen
International News
The International News section discussed industry affairs like oil price fluctuations, meetings held by OPEC, and deals struck between oil companies and other entities like international government bodies.
Topics of international petroleum news included:
Reports on OPEC meetings concerning the oil and petroleum industry
News stories related to oil prices and international market changes
The NOC Libya branch provided an advanced search feature for visitors to search oil- and petroleum-related news stories.
Oil Corporation Management, Leaders, and Jobs
The NOC's management committee had a dedicated page. The management committee was comprised of the following members:
Chairman
Vice Chairman
Member for Planning, Studies, and Projects
Member for Investment and Joint Venture Follow-Up
Member for Marketing and Manufacturing
Member for Exploration and Production
Member for Financial and Administrative Affairs
In 2007, the Chairman of the Management Committee was Dr. Shokri Mohamed Ghanem. The Vice Chairman was Mr. Faraj Mohamed Said. Members were as follows:
Planning, Studies, and Projects: Mr. Ahmed Elhadi Aoun
Marketing and Manufacturing: Mr. Abulkasim M. Zwary
Exploration and Production: Dr. Omar Abdallah Aljewefi
Financial and Administrative Affairs: Mr. Ibraheem Ali Elsoul
Auctions and bids were also listed on the site.
Any open jobs within the National Oil Corporation Libya branch was featured for those looking to work in the oil industry.
The site discontinued after April 2016.