Estonia Citizen and Immigrant Information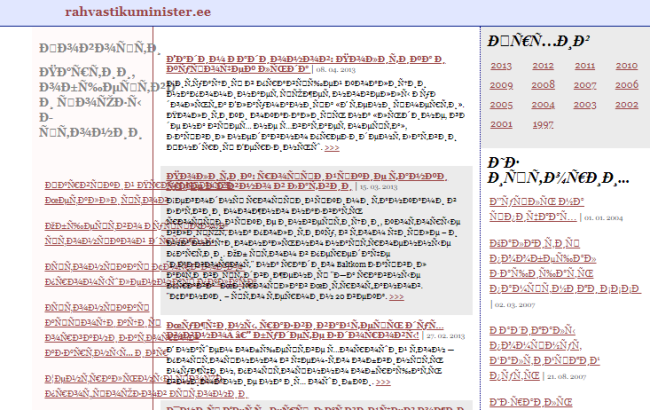 Rahvastikuminister.ee was founded in September 2002 by the Estonian government located in Tallinn, Estonia. The Minister of Population and Ethnic Affairs at the time, Mr. Eldar Efendijev, and his cabinet members started the site as an information portal for citizens and immigrants of Estonia. The site included news articles related to population and ethnic concerns such as the assimilation of Russian emigrants into Estonian culture after the collapse of the Soviet Union.
The website was shut down between June and October of 2003 and relaunched as a more robust and user-friendly website.
Estonia Population, Ethnic, and Family Policy Information, Committees
The updates included information on the Minister of Population's duties and obligations. The biographies and contact information of cabinet members were listed. And, the Ministry added a Question and Answer section to directly answer citizen and immigrant concerns.
The site provided access to important policy documents and explanations of how and why policies were implemented.
National Integration Program (or, Integration in Estonian Society 2000-2007)

The goal of this program was to help integrate Russian immigrants into Estonian society to alleviate issues of isolation and cultural divides.

Program of Compatriots

The goal of this program was to promote and preserve Estonian culture for citizens living outside of the Republic of Estonia. This included encouraging ex-patriots to preserve their own Estonian values and to employ traditions in their family activities.

Child and Family Policy

The Child and Family Policy includes information on the rights of all Estonian children that was modeled after the United Nations policy regarding children's inability to protect themselves.
The goal of the policy is to improve the quality of life for all Estonian children.
The website featured Action Plans on population and cultural policies. It also displayed research and reports on Estonia's population. One could find a list of laws concerning:
Family Rights
Citizenship
National Language
Minorities
Foreigners
Refugees
A committee page provided information on the Steering Committee, the committee on population demographics, and the committee concerning a budget for ethnic minority integration and assimilation.
Estonia Family and Children Policies, Adoption, Fertility
If one was or wanted to be a foster parent, or caregiver, in Estonia, one could find requirements, the application, and the terms and conditions of providing foster children homes.
Paid leave for new parents exists in Estonia. The Parental Benefit Act information was on the website concerning maternity and paternity leave and discussed payment information. Estonia promotes population growth.
One could also find adoption information if a citizen wanted to adopt an orphan or other parentless child who needed a family.
Also, to continuously promote population growth, the Ministry of Population included infertility information and external links for anyone experiencing fertility issues.
By 2006, the website included citizenship statistics and census data for research and archival reasons.
Rahvastikuminister.ee shut down in 2009 and relaunched in 2011 with a condensed version of the Ministry site that mainly focused on Estonian news stories related to the Ministry's missions and policies.
The Ministry site shut down permanently in 2016.