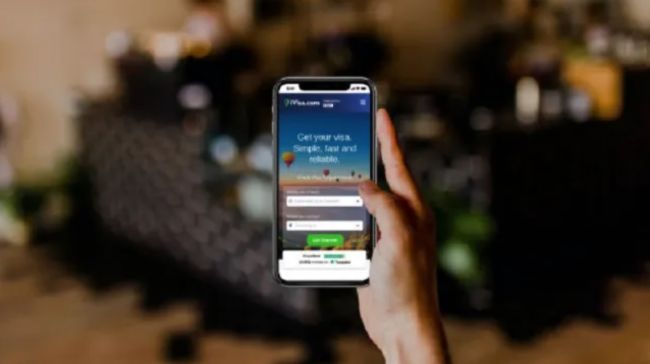 Applying for a visa is a daunting process. It can wind up being a costly, time-consuming, and bureaucratic affair. You might decide to make your life easier by using a travel visa website to expedite the situation. But this opens yet another can of worms – exactly how to tell if a visa website is a scam?
How to tell if a visa website is a scam or a fake? Discover it in this video.
When it comes to applying for a visa, there are two options available:
You can apply for a visa with the embassy of your destination country, either online or in-person.
Or, you can enlist the help of a third-party visa service.
If you do decide to order from a third party, you need to spot the difference between fake and legitimate travel visa websites. The last thing you want to do is share your passport details and credit card information with a fake visa agency! The document they provide you with might look perfectly official, but the immigration officer will see right through it.
"We love to travel, but we can't afford to waste time." This was the basis on which iVisa.com was founded, when our co-founders were planning a trip to India in between their MBA studies at Harvard. They didn't want to go back and forth with immigration to make their trip of a lifetime come true – and they don't want you to either.
That's why we hope you can get clued up with our guide, so you know how to tell if a visa website is a scam.
Do I need a Visa?
Before we get too far ahead of ourselves, let's take a step back. One of the most important questions to ask yourself is, 'Do I need a visa?' If the answer is no, then you can crack on with the fun stuff. Book a hotel, dig out your phrasebook, check out the best things to do. But, if the answer is 'yes,' then you need to make a plan. After all, the visa is as much a ticket to your vacation as the flight is!
We advise checking whether a visa is required for your intended destination before you even book a flight. Just as with travel insurance, the earlier you factor in the costs of a visa, the better. Your visa requirements will depend on your nationality and the country you intend to visit. Multiple destinations around the world permit foreign nationals to enter without a visa, so you may well be off the hook!
Three important questions to research are:
Do I need a visa for my chosen destination?
If so, can I purchase a visa on arrival?
Or, do I need to apply for a visa in advance?
The starting place for finding out whether you need a visa often begins at the website of the embassy of your chosen destination. There, you should find information about the types of visa available.
Alternatively, you can visit a trustworthy travel visa website and use their free check visa requirements function.
How can I tell if a travel visa website is legitimate?
Unfortunately, the internet is rife with online visa scams which are extremely easy to fall for. If you decide to use an online agency, you need to know how to tell if a visa website is a scam or the real thing.
Let's look firstly at the three major signs that indicate a trustworthy visa agency.
Transparency: A legitimate, third party visa website should declare that they are not affiliated with any government. That's because all travel visa websites are independent entities.
Clear service fees: Visa websites generate profit by charging a modest service fee. Again, transparency is key. The fee should be clearly indicated before you are asked to part with any money. There should be no hidden costs in the process. For example, iVisa.com declares the service fee before asking for payment details. Furthermore, if your destination doesn't require a visa, a genuine website won't try and sell you one!
Customer feedback: A valid travel visa website wants to share any testimonials it has received from previous customers. One of the most reliable feedback sites that agencies link to is TrustPilot. If a TrustPilot widget isn't showing up, enter their name into the search tool and sift through the reviews. Alternatively, you can scout out reviews from travel bloggers.
A human element: Travel visa websites are set up with the intention of making travellers' lives easier. Ideally, the founders are travellers themselves! Look closely for that personal touch which tells you that the agency has empathy for travellers. Take iVisa.com for example. We were conceived after our founders, Sergio and David, went through the arduous process of acquiring visas for India. After that, all they wanted to do was make the lives of fellow travellers less hasslesome!
How to tell if a visa website is a scam?
Similarly, there are some common telltale signs suggesting a website sells fake visas. If you want to know how to tell if a visa website is a scam, consider the following questions.
Do they advertise guaranteed entry to a country? As visa websites are not affiliated with governments, they don't have the authority to guarantee entry. In fact, no visa guarantees entry to a destination. A visa is merely a conditional authorisation of your entry – the border official makes the final call.
Are there any unexpected fees? If you are asked to pay a fee to access an application form, this is an alarm bell. Legitimate visa services such as iVisa.com provide one flat fee based on the visa required.
Do they request a deposit? If a travel visa website requests a downpayment before you begin the application, this also suggests the agency is a scam.
Is there a refund policy? While this is a rare occurrence, your visa application could be denied. An honest visa company will return your payment and advise you to contact the embassy directly. On the other hand, a fake website will pocket your money.
Does the site list contact information? A professional visa service provider shares contact information. If you know you can get hold of an advisor via email, telephone or live chat – that's the sign the site is authentic. iVisa.com understands that travelling can also be stressful. That's why we have a 24-hour customer services team ready to pick up the phone and help address any worries you may have.
Do they claim to offer the cheapest visa? Governments don't offer sales on visa costs, so why would a visa agency? If you see prices that seem too good to be true, they probably are. If you know a visa costs $50 on arrival, but a site is offering to provide you one for $30 – it's likely a fake
Tips on how to avoid visa website scams
You still need to be alert to the difference between fake and legitimate travel visa websites. While browsing, you can avoid visa scams by implementing the following tips.
Beware of phishing and spam emails. If an unpromoted email arrives in your inbox inviting you to apply for a visa, consider it suspicious, especially if they ask you to surrender any money. Flag it as spam and delete.
Before you commit to placing an order, run a Google search to see if anyone has reported any issues with the site. Travellers like to talk, and if anyone encounters a problem, they are likely to share – such as on forums or travel blogs. Only choose a well-reviewed visa website.
Reputable web browsers like Chrome and Firefox have filters that can help you detect a fake website. To help them do their job, update your browser with the latest version.
All legitimate visa websites have booking terms and disclaimers clearly accessible from their home page. Read these carefully, and skip a site that doesn't have any.
Step away from an unsecured website. If there is a padlock icon and 'https' before the URL, the site is secured. However, if you see 'http' – the site is not secure, and you should steer clear. Do take additional precautions as per this list even if a site does appear to be secured.
And finally, if you still have any suspicions, find the relevant contact details for the website and get in touch. A swift, informed response via email or a chat over the phone should give you clarity on whether the website is fake or legit. There's nothing more reassuring than speaking with a real, live customer service rep.
Why use an online visa service?
As you can imagine, there is a lot of bureaucracy involved when applying for visas – and it can get confusing. Plus, isn't paperwork always a bore? Ultimately, this is why more and more explorers choose to use an online visa service.
At the end of the day, a legitimate third-party travel visa service is there to make things as simple as possible for you. Yes, it does mean spending a little more than if you apply for your visa at the consulate. But for many travellers, the small cost involved is worth it in place of the time and hassle of applying directly.
Benefits of using an online visa service
Once you know the difference between fake and legitimate travel visa websites, there are heaps of benefits to using an online visa service!
Fast turnaround: Asked the question 'do I need a visa' a little late in your planning stage? Then getting a visa independently is going to be challenging. One major perk of using an online visa service is that they can procure visas at very short notice.
Efficiency: Tourist visa requirements change frequently. A visa agency is on top of all the latest information and terms for each country, so you don't need to worry about missing an update.
Flawless administration: Visa services handle paperwork every day. It's virtually impossible that your administrator will make a single mistake on the documentation. If a visa application form is filled out incorrectly, this can result in a processing delay. Additionally, you may have to pay a fee for amending the paperwork. In the very worst case, you might not get your visa in time.
And of course, using an online visa service means more time for you to plan your incredible adventure!
DRAWBACKS OF USING AN ONLINE VISA SERVICE
Providing you use a genuine website, there is only really one drawback of using an online visa service: the fee. Once you've read our guide on how to tell if a visa website is a scam, you shouldn't have this problem. Plus, reputable sites like iVisa.com keep the cost as low as we can – we really do.
That's because, at the end of the day, iVisa.com was founded by travellers for travellers. All we want is to get as many people exploring the world as we can.
IN CONCLUSION: IS USING AN ONLINE VISA SERVICE FOR ME?
Now you have everything you need to know to spot the difference between fake and legitimate travel visa websites.
Ultimately, the decision of whether to use a third party is yours. There's no right or wrong answer; it all boils down to your budget and how much time you want to save.
"We love to travel, but we can't afford to waste time." This is the motto of iVisa.com, after all!