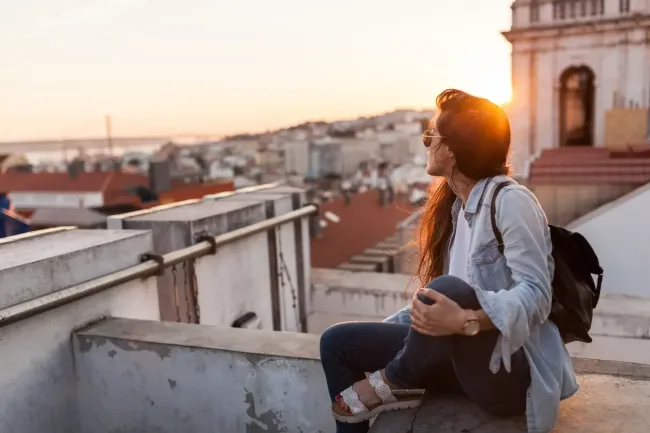 Europe is a destination for all types of travelers. The continent offers many reasons to visit, from stunning architecture and rich culture to world-renowned historical sites and vibrant cities. However, the price tag can make this trip a distant dream. Keep reading for our ultimate guide to traveling Europe on a budget!
This travel guide will provide you with the cheapest ways to see Europe, giving tips on how to save money for your dream trip. Let's find out how to make traveling around Europe affordable!
How much should I budget for a Europe trip?
Do you dream about visiting the Eiffel Tower and the Colosseum? Which European cities do you want to visit? These are all elements that will influence your travel budget.
While you can enjoy affordable cities in Eastern Europe for €40 to €70 per day, capital cities in Western Europe and Nordic countries are more expensive, costing €100 to €200 per day.
The main day-to-day costs of traveling in Europe include:
Accommodation

Food and drinks

Sightseeing and entertainment

Public transportation

Incidental costs (souvenirs and shopping)
Also, don't forget to include upfront costs:
Visas, passport renewals, and other travel documents. Count on iVisa services to get them quickly, affordably, and hassle-free.

Travel insurance

Getting there (flight tickets)
We prepared a sheet to help your with the budget plan! Sign up below to receive a free travel budget planner where you can add the general costs and get the total budget and a savings plan automatically.
Top tips for planning a trip to Europe on a budget
Traveling to Europe on a budget can be challenging, but with these top tips, you can make the most of your trip without breaking the bank.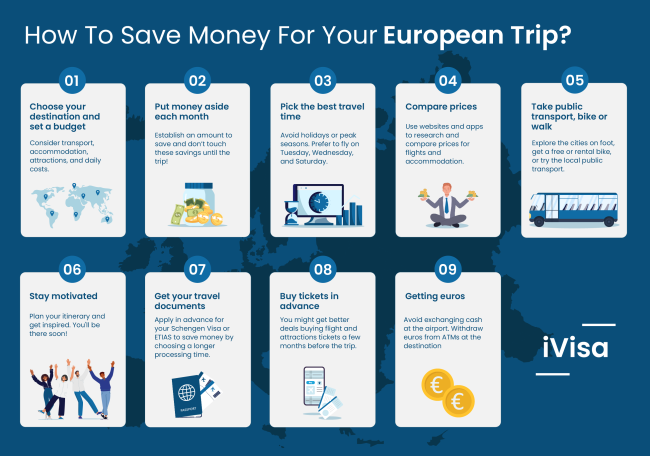 Get your Schengen Visa quickly and affordably
A good thing about Europe is that you don't need to apply for a separate visa for each country you visit. Most EU countries are also Schengen member states, which means you can travel freely between them with a Schengen Visa. This short-term visa allows travelers to stay up to 90 days in the Schengen Zone. Plenty of time to see all that Europe has to offer!
To apply for the Schengen Visa, you can count on iVisa services. Our visa expert's instructions and step-by-step manuals provide valuable assistance in avoiding mistakes and ensuring a successful visa outcome. You will have access to a simplified form, 24/7 support, and detailed guidelines for each step of the application process.
Decide how long you need to see the things you want
Some people like to visit as many countries as possible in a short time, while others prefer to spend more time in each city, visiting fewer destinations. It also depends on how much time you have available.
The general advice is to spend 4 to 5 nights in large cities and 2 to 3 nights in smaller ones. You won't be able to fully enjoy the arrival day because of the time you lose at the airport, traveling to the accommodation, and recovering from jet lag.
Essential packing tips to save money and space
A good rule of thumb when traveling on a budget is to pack less. In Europe, many companies offer cheap flights, but with high baggage fees. Save your euros by traveling with only carry-on luggage. Here are some valuable tips for packing light and having everything you need on your trip:
Plan your outfits: Wear multi-functional and versatile clothing to minimize the number of outfits needed.

It's not the time to be bold: You know that funky shirt you've never dared to wear? Well, you won't be comfortable wearing it in Europe either. Leave behind anything you are not sure you'll wear.

Wear layers on the plane: If you need a heavy coat or hiking boots for the destination, wear them to travel. You'll save a lot of space in your luggage by wearing heavy items during the flight.

Be ruthless: One pair of casual shoes and another slightly dressier pair is enough. One hat, one pair of sunglasses, one coat: leave the collections at home.

Use the packing hack: Rolling clothes and using air-compression bags will help you save space.
Plan ahead to get the best prices
Even to visit the cheapest cities, planning is a good way to save money. Regarding flight tickets, you will get the best flight deals by booking at least three months in advance. Also, you may find good discounts by booking accommodations ahead.
Plan your itinerary to decide what you'll visit and how much you'll spend. Book the most popular sights and attractions that you don't want to miss in advance.
The cheapest ways to get euros (€)
When you arrive in Europe, withdraw euros from an ATM to get the best exchange rate, instead of using a foreign exchange bureau. It's essential to inform your bank that you will be traveling to avoid a fraud block on your bank account when using your card abroad. Usually, standard ATMs do not charge fees, but your bank may, it's better to check with them to avoid surprises.
Exchanging money before departure or at the destination may result in high rates. Plus, if your cash is stolen, you lose everything. It's therefore advisable to travel with a small amount of cash for basic expenses, such as the train to the hotel or food at the airport.
Another option is to buy a prepaid travel card. Many companies offer cards with great promotions and favorable exchange rates. A multi-currency card locks in an exchange rate when depositing the funds, and some even offer insurance on the value loaded on the card in case it gets stolen.
Travel Insurance: Is it worth paying for?
Do I need travel insurance to visit Europe? Depending on your destination, it is not mandatory to have travel insurance. However, it is an investment that will pay itself back in case of an emergency (who knows when one might strike!).
Depending on the coverage and the terms of your specific policy, travel insurance is a big help when you need medical attention abroad, valuables get stolen, face a natural disaster, or run into another problem.
You can get a single-trip, multiple-trip, or even backpacker insurance if you plan to travel for long periods and multiple countries.
The best and most affordable time to visit Europe
Spring (March to May) and autumn (September to October) are the best seasons to save money and still enjoy outdoor activities in Europe. In this shoulder season, you can enjoy affordable prices for flights and accommodations, plus pleasant temperatures and colorful landscapes.
The winter months (December to February) can also offer good deals and fewer crowds. However, you'll have to deal with the cold weather, which may include snow and cold temperatures. This means you'll likely have to pack more clothes, too.
The peak summer season (June to August) coincides with the school holidays when many families travel. As a result, it's the most expensive time to visit Europe. If you want hot temperatures and beach days, travel in early June or early September to avoid the highest prices.
Cheapest countries to visit in Europe
Cities in Europe are not known for being budget-friendly. Most of that is crowd mentality - we all want to go where everyone else goes, and in the high season too! Many amazing European cities offer the same charm and beauty as Paris, Rome, and Amsterdam, at just a fraction of the cost, especially during the shoulder seasons.
Here are some of our favorite budget-friendly countries in Europe that you can visit with a Schengen Visa!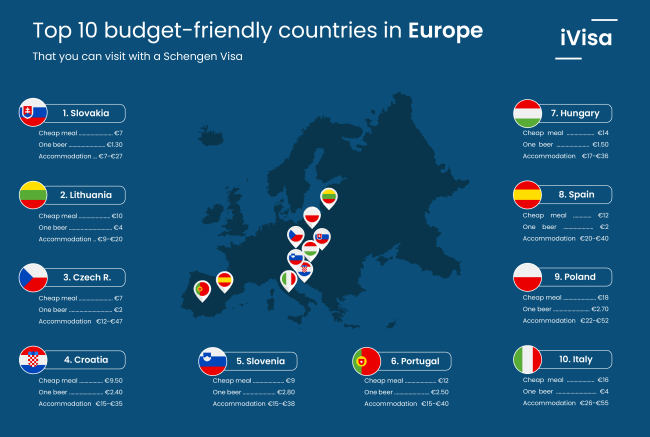 1. Slovakia
Visitors to Slovakia can enjoy numerous hiking trails, cycling routes, and cultural sites as well as unique traditions, magical castles, and lovely art museums. In addition, the country's capital, Bratislava, is only a short train ride from other awesome European destinations, such as Vienna.
This affordable destination offers yummy food, affordable drinks, and reasonable accommodation prices. It's also a perfect place to go wild camping (not allowed in national parks). Most hostels offer a basic kitchen.
Daily budget: €58-78
2. Lithuania
Lithuania is a true jewel of Eastern Europe and the Baltics. Known for its ancient history, fascinating pagan roots, and archaic language, it has much to offer budget travelers. You'll love the cheap city of Vilnius with its beautiful old town square. It has just the right amount of activity and excitement, without being too crowded.
And because this country is so undiscovered, prices are still low. Trains and buses are relatively cheap and provide great connectivity across the country.
Daily budget: €45-65
3. Czech Republic
The Czech Republic, in Central Europe, is a great place for travelers looking to enjoy charm, good prices, and the convenience of being in the middle of Europe. The capital city Prague is the country's most popular attraction, but it has much more to offer, including historic towns and natural beauty.
Prices in the Czech Republic have risen over the last few years, but the country still remains affordable for most visitors, especially when you get outside Prague.
Daily budget: €60-88
4. Croatia
There are some tourist hotspots and coasts in Croatia like Split and Dubrovnik that are more expensive than others. Once you arrive in Croatia though, it'll be surprisingly easy to travel around without spending too much. Even fresh seafood is super affordable!
The cheapest time to travel to Croatia is usually outside the high season when you'll have popular spots all to yourself.
Daily budget: €55-75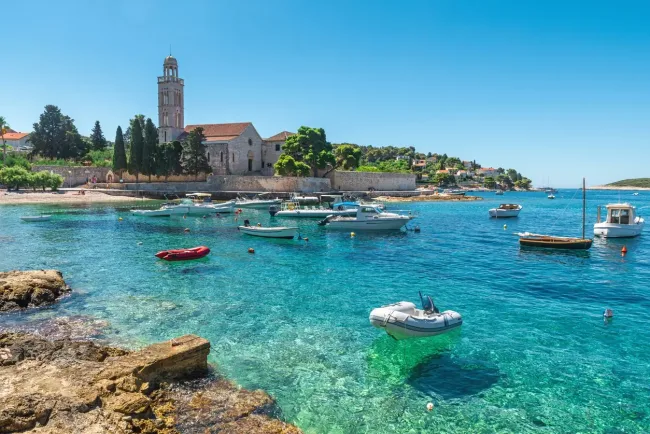 5. Slovenia
Known for its mountains, ski resorts, fabulous wine, cave systems, incredible food, and postcard-perfect lakes, Slovenia has all the beauty of Western Europe without the crowds - and costs.
Its rugged landscape and contentious history make this often-overlooked country a favorite among hikers and history buffs. And Slovenia's capital, Ljubljana, is one of the greenest and livable cities on the planet!
Daily budget: €50-70
6. Portugal
Portugal offers stunning beaches and delicious food, and is the cheapest country in Western Europe (though more expensive than its Balkan counterparts). Visiting during the off-season from January to February can also help cut costs on flights and hotels.
Portugal's parks and nature reserves are all free to visit, as are many museums. Starting the day with an espresso and a pastel de nata will save you a few euros.
Daily budget: €80-110
7. Hungary
Despite Hungary's affordable accommodation, transportation, and food, you will likely spend most of your money on activities. Even so, there are plenty of free activities to take advantage of, such as free walking tours and national parks.
The country also boasts gorgeous landscapes, fascinating history, delicious food, and affordable nightlife (the affordable city of Budapest boasts some of the best nightlife in Europe).
Daily budget: €68-88
8. Spain
There is something for everyone in Spain, whether you're a beach bum, culture buff, adventurer, foodie, or a bit of everything. You might think Spain won't fit your budget due to its immense popularity, diversity, and party lifestyle, but you'd be wrong.
Traveling to Spain can be surprisingly affordable. Generally, accommodation costs and food and drink prices are reasonable. The best and most affordable food and experiences are found outside the big Spanish cities.
Daily budget: €65-80
9. Poland
Poland has many incredible historical destinations, including 16 UNESCO World Heritage Sites! Poland is not expensive for tourists, and prices drop significantly in winter. A great opportunity to visit the charming Christmas markets, perhaps?
The quality of budget accommodation in this country is great, and taxis, trains, and buses in and between Polish cities are also super affordable. These factors make Poland one of the cheapest European countries.
Daily budget: €50-70
10. Italy
A must-visit for many reasons, you'll likely find Italy to be less expensive than other popular European destinations such as Scandinavia and France.
For cheaper options, Italy's regional trains are perfectly affordable to get you where you need to go. As accommodation costs are usually higher in a big bustling city like Rome, staying in a suburb with good rail connections can often be cheaper than staying in the city centers.
Daily budget: €70-100
Budget-friendly ways to get around Europe
Flights, high-speed trains, ferries - they all take a chunk out of your travel budget. However, with a bit of research, you'll find that there are many affordable transport options in Europe. Let's explore!
Low-cost flights
Budget airlines are one of the cheapest ways to travel long-distance in Europe. These airlines dominate the continent, so they're incredibly cheap. Typically, you can find flights for as little as €10! Use Skyscanner, Omio, or Google Flights to find the best deals.
However, these airlines are typically very strict about luggage weight and don't expect food service. Some of the budget airlines to check for cheaper flights in Europe are:
Ryanair

Wizz Air

Easyjet

Vueling

Eurowings
Buses
Buses are one of the cheapest ways to get around the continent. Eurolines and FlixBus are the main international bus companies, which have expanded their network a lot in recent years. Alsa is the main provider in Spain and neighboring countries.
Prices start as low as €5. Typically, buses include WiFi, electrical outlets, free luggage, and comfortable seats. Use BusRadar, Omio, or Get By Bus to find the quickest and cheapest options.
Trains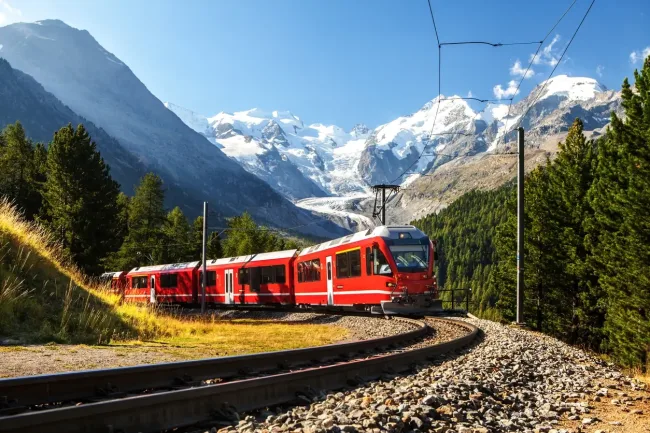 Train travel is more comfortable than bus travel, and much less stressful (and more sustainable) than air travel. The European rail system is one of the most extensive in the world.
Trains are hard to beat on price and convenience for short-distance travel. Overnight trains or journeys between countries and high-speed trains, such as Paris-Barcelona or Berlin-Munich, can get costly.
If you plan to travel around various European countries, getting a Eurail pass is your best bet for saving money. This will save you a lot of money compared to buying the tickets separately.
Hitchhiking and carpooling
BlaBlaCar is the king of the current sharing economy, where people can hitch a ride with locals heading in the direction you need to go. A driver sets the price to offset gas costs and vehicle wear and tear.
BlaBlaCar offers a more convenient option over actual hitchhiking, which is not illegal, but can be unpredictable and requires a bit of preparation. One important rule is that pedestrians are not allowed along the highways. Hitchwiki offers helpful tips to keep safe.
Camper vans or rental cars
A car or camper van might be worthwhile if you're traveling around a single country or small region of Europe and want flexibility - especially if you can split the costs. Renting a car can cost as little as €25 per day, but gas is expensive.
Camper vans are particularly popular in places like Norway, where there are many hiking and camping opportunities. When split with a travel partner, a camper van can cost as little as €60 EUR a day, not bad considering that it also includes accommodation.
Discover Cars is a favorite for finding the best deals for rental cars. Use the app "park4night" to find free or cheap overnight parking around Europe.
In the city: Walking and cycling
Our last tip for getting around cities cheaply: Walk (or cycle) everywhere! European cities are very pedestrian-friendly, and many offer walking routes or even cheap bicycle hire.
Also keep an eye out for cheap transport cards for 24, 49, or even 72 hours. These are specifically useful in large cities with a metro/tram system.
How to get the best prices for accommodation in Europe
Where can I find the cheapest accommodation in Europe? The most important advice is to stay outside the main tourist areas for better deals. Below are some more tips to stay in Europe on the cheap!
Hotels, hostels, and short-term renting in Europe
You book, you pay, you go. These types of accommodation are easy to organize in advance and guarantee a place to stay. Hostels are the cheapest option, where you can pay for a bed and share the space with other travelers.
In the past, hotels were relatively expensive, but these days they can be cheaper than some Airbnb rentals. On the other hand, when traveling in a group it is better to book an Airbnb and split the costs.
Find deals on hotels, hostels, and entire apartments/homes: Booking, Hotels.com, Airbnb, eDreams, Hostelworld, and Kayak.
Couchsurfing
This is a cheap and fun way to stay with locals in Europe. Couchsurfing is a global community of travelers and hosts, offering not only a place to stay but also a cultural exchange. The locals will welcome you in their homes and give tips to explore the city, all for free.
The disadvantage is that you depend on the host's schedule to receive you, and sometimes you'll literally get just a couch or an air mattress to sleep on.
Find a host: Couchsurfing
House and pet sitting
If you are a pet lover, why not enjoy free accommodation while caring for a cute cat or dog? There are many platforms to connect pet owners and available pet-loving travelers. Just don't forget your responsibilities during your stay!
Find a house sit: Trusted House Sitters, My Mind House, Nomador
Work in exchange for free accommodation
Sometimes, hostels or volunteer projects offer free accommodation in exchange for part-time work. In hostels, travelers usually clean, assist with tours or work at the reception for a free bed.
Volunteering jobs typically involve giving English lessons, gardening, or helping out at a local school or community project. Both can offer an awesome experience abroad but do require staying a minimum period, which means you'll have less time to travel around.
Work for accommodation: World Packers, HelpX, WWOOF, and Workaway.
Camping
Campsites are a cheap and fun option if you love the outdoors. There are plenty of camping spots for less than €10 per person in Europe. All you need is a sense of adventure!
You'll find great campsites in France, Italy, Spain, the Netherlands, Denmark, and numerous other European countries. In Sweden, Norway, and Finland it is also allowed to wild camp, completely free!
Find great campsites: Check out The Guardian's list of 20 campsites in Europe, or check out Camping.info and Pitch Up.
Cheapest ways to see and experience Europe
There are many affordable options for sightseeing in Europe. Here are a few ideas:
Take advantage of the many free attractions: You don't have to pay entry fees for many awesome activities and sights. Gorgeous bridges and architecture, hiking, relaxing on beaches, and outdoor concerts are just some ideas to experience local culture without paying a cent.

Free walking tours: Most major cities offer free walking tours where you can learn about the history and culture of the city in a few hours. You can find these tours online or through your hotel/hostel.

Public transportation: Many European cities have excellent public transportation systems, such as metros, buses, and trains, which can be a cheap and efficient way to get around and see the architecture and sights.

Museums and galleries: Most museums and galleries in Europe offer free admission on certain days or times or student/senior discounts. Check their websites for more info.

City passes: Popular cities offer day passes that provide discounted or free admission to many of the top attractions. These passes can save you money if you plan on visiting multiple sites.

Bike rentals: Renting a bike is a great way to see many sights that are near each other, and get some exercise at the same time. Many accommodations offer bike rentals that are affordable and you can find pre-made routes online to make the most out of your stay.
Where to eat and drink in Europe on the cheap
Europe is a paradise for foodies. From the freshest Italian pasta to Spanish tapas and French Michelin-star restaurants, you can find it all here. However, eating out every day is not cheap.
Check below for some tips to eat cheaply in Europe:
Avoid restaurants in tourist areas and opt for local eateries. Go where the locals go!

Eat street food or grab a sandwich for a quick and affordable meal on the go.

Look for affordable restaurants on TripAdvisor or Google. Both options allow you to read reviews and get an idea of prices.

If you can access a kitchen, shop at local markets and cook your own meals.

Take advantage of free breakfasts offered by some hostels or hotels.

Look online for discount deals and coupons for restaurants and cafes.

Choose set menus if available, they are usually cheaper than ordering the same dishes à la carte.

Check the prices before ordering. For example, a glass of wine in France is cheaper than a soda. It may be an opportunity to try something different!

Some food delivery apps offer exclusive deals or specials for first-time users, perfect for a night in.

Tap water is safe to drink in Europe. Carry your own water bottle and fill it up on the go. Most restaurants offer tap water for free with your meal.

Instead of eating out at restaurants, you can save money by having a picnic in a park or other scenic location.
Travel influencers to inspire your European adventures
You want to visit a popular destination, but you need to know where to find affordable accommodations, which cheap attractions to visit, or how to travel solo on a budget? Many influencers and travel bloggers already did the research for you!
Social media is a great place to learn about other people's experiences and plan your budget holiday in Europe. Here are some of our favorite Instagram and TikTok profiles to inspire you:
@travelwithjaro: Travel the world with Jaro and friends! The influencer shares cheap places to visit in Europe and Asia, breaks down costs in different cities, and offers tips for saving money on transport. (Instagram | Tiktok)
@bigworldsmallpockets: Stephanie Parker's infectious smile will make you want to visit every place she shows you. The influencer shares tips to travel smarter for less, with hacks to find cheap accommodations, attractions, and flight tickets. (Instagram | Tiktok)
@travellingtuesdays: Based in London, Abenat shares her experiences traveling the world on a budget. In addition to valuable tips for affordable travel, she'll tell you how to explore each destination as a solo traveler. (Instagram | Tiktok)
@thetraveltaurus: Alea Simone is a digital nomad who loves sharing travel tips in her videos about finding cheap flights, daily travel costs, and budget-friendly destinations. (Instagram | Tiktok)