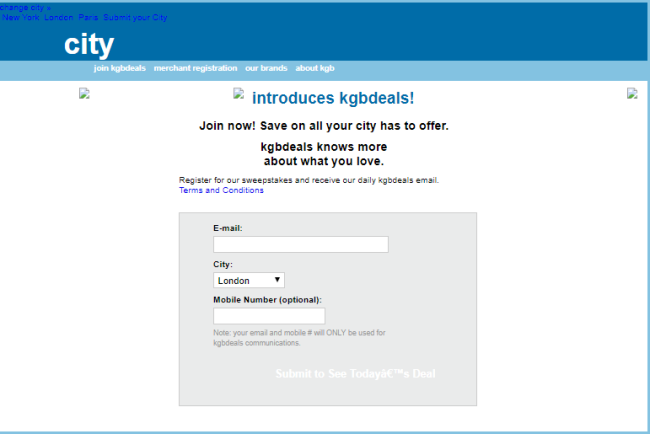 The website began in March of 2010 to provide information across many business platforms using smart directory and enhanced information brands in France and the UK.  It also provided independent wholesale directory assistance services in the US.
United States Text Service
In 2009, the website launched its text answer service in the United States using the prompt "America text your questions to 542542". The service professed to answering millions of user queries per month.  In 2010, the site launched 'kgb answers', a site that publishes a selection of its users' queries. That same year, the website launched 'kgb deals', an online collective buying service allowing customers to take advantage of various product and service discounts. kgb professes to create business opportunities in multiple categories with the goal of giving customers access to kgb knowledge and provided its customers with answers to their questions. kgb deals offered discounts on select products and services to markets in the United States, France, and the United Kingdom. Touting itself as "shopping 3.0", the site offered savings from 50 to 90% on hotel reservations, restaurants, individual products and services in major metropolitan areas in the countries in which it operated.
United Kingdom Directory Assistance
Launched in 2003, "The Number 118 118" was a directory assistance platform for the United Kingdom. It offered customers information by calling, text messaging, or using the web address www.118.com. kgb's 542542 text answering service answered customer queries 24 hours a day, 7 days a week by allowing customers to text questions to 542542 (kgbkgb) from their mobile devices
French Directory Assistance Program
118 218 Le Numero provided directory assistance services to its users in France. The brand was launched in late 2005 and was recognized for its high degree of accuracy. It offered a comprehensive range of enhanced information services, including domestic and international voice directory assistance. 118 218 Le Numero also launched a directory assistance websites usable on computers, mobile phones, and the iPhone's Safari browser
The company kgb was founded in 1992 as a privately held New York-based company serving as an independent provider of directory assistance and enhanced information services.  kgb developed a wide range of enhanced wholesale and retail information services using a multitude of platforms, including mobile and landline phones, SMS and the Internet to answer customer queries. The site ended in early 2014.