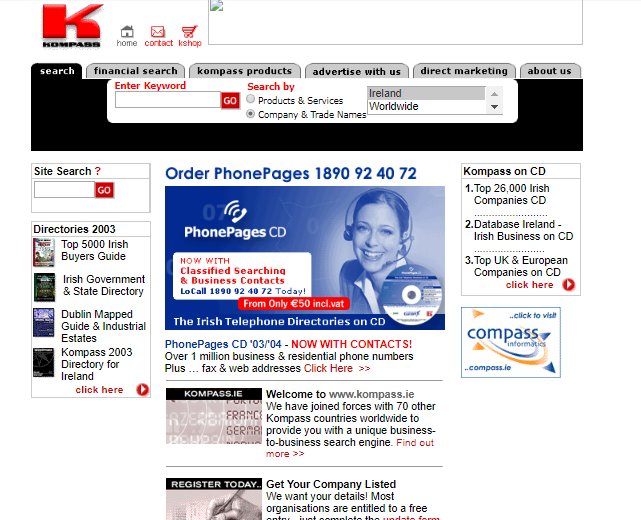 The Kompass System created a website in late 1996. It was a marketplace for business. Sellers could post their objects for sale and buyers find what they needed. It was a business based in Ireland by Kompass Ireland. Kompass Ireland was one of the more than 60 country franchises in the Kompass family. Kompass originated in Switzerland around 1955.
They published information and helped buyers and sellers with their goals on paper, CD-ROMs, or the internet.
The list of their products included:
Printed Directories
Directories on CD
Internet Directory
kompass.com subscriptions
Internet services
Their aim was to offer unique resources for the Irish commercial, financial, and industrial companies. They also offered consulting services for sales, distribution, purchasing, and marketing.
Examples of Printed Directories of Kompass included: "Register of Irish Industry and Commerce 2004"; "Dublin & Industrial Estates Directory 2003"; Irish State & Local Government Buyers Directory 2003"; "Top Irish Purchasers Directory 2003"; "Directory of Irish Financial Services"; and "International Directories."
Their CD-ROMs included tiered levels of Irish business information that covered company information, business sectors, executives, manufacturers, and web site addresses from over 60 countries around the world.
Their internet directory offered the following for their clients:
Potential customers now can contact directly from your site
Auto-registration on the big search engines
Listed website on Kompass's directory
Highlight the companies' updates and announcements
Push your web address through Kompass's literature
Kompass Ireland's main product for buyers were catalogues of Irish businesses and companies and the products they sold. Kompass's unique indexing system is what sets them apart and makes it more user-friendly. Listings are published annually.
Another source of income for Kompass was from the business owners who advertise through the listings. It was free to have your business listed, but you could purchase more information space for a yearly fee. Also, businesses could promote their products and sales directly on the Kompass Ireland page as an advertisement of sorts. Ads also came in business card style.
There was a Press Room page which held a list of press releases, logo information, personnel, and search tips. Essentially, the page held product information, background material on the products, and critical information about the Kompass corporation.
There were two offices for the Kompass Ireland extension:
Kompass Ireland, 1, Granby Row, Parnell Court, Dublin 1, Ireland
Kompass Ireland, 76 Holywood Road, Belfast BT4 1NT, Northern Ireland
If the public wanted access to financial data about a company, they could use the Kompass's services provided by Experian Ireland. You had to put the company name in the search bar above and click Go. You could order a financial report on an Irish company for either 12.5 EUR or 25 EUR. A list of thousands of financial records was on the website.
The website ran until 2019.