USAID in Serbia, Sustainable Local Development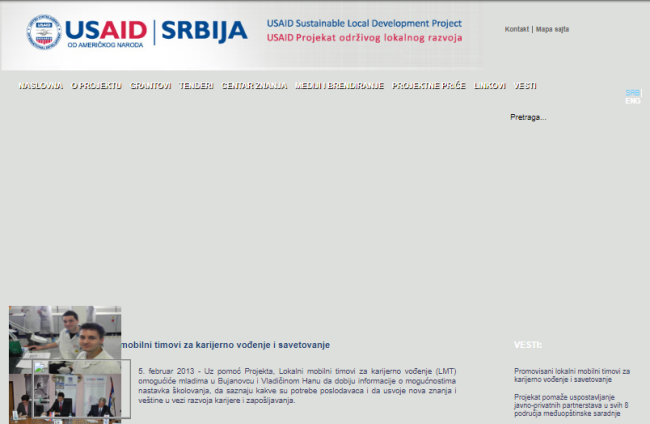 The domain was founded in July 2011 by VeratNet Internet Service Provider and was under construction. Soon, the site was restarted in November 2011 by USAID in SRBIJA, or USAID in Serbia.
The main goal was to promote the USAID Sustainable Local Development Project, a project by USAID to enhance long-term social development and economic prosperity for Serbian communities. They aided youth leadership development, citizen participation, budgetary management, business encouragement, and municipal inter-participation.
USAID Serbia Project Goals
Municipal Interdepartmental Cooperation

Bolster planning and management cooperation for participating municipalities wanting to improve economic and social status for the private and public sectors

Local Government Reform

Train municipal offices to increase quality and financial revenue through efficient management strategies

Public Participation

Bolster public participation in government affairs by providing information on the roles of bodies and officials as well as promoting NGOs to act as an ethics barometer for government action to protect the people from corruption

Youth Development

Increase education and employment knowledge and opportunities for youth through various programs and initiatives

Encouraging Business Development, Sustainability

Allow entrepreneurship to increase with affordable business opportunities, develop partnerships between businesses and public agents, invest in business environment which will increase employment opportunities for the citizens of Serbia
Offices were located in Belgrade covering Serbia, Novi Sad taking care of the Vojvodina region, and Nis which helped the southwestern and southern Serbian landscape. Any intermunicipal partnerships that were successfully initiated appeared.
USAID Serbia Information, Grants, Achievements
The front page included news on project updates, cooperation efforts between government and locals and businesses, and Serbia and Croatia information.
Government job openings were listed for both executive and regional positions like Regional Project Manager for regions such as Novi Pazar and Karljevo.
To increase participation by regional municipalities, USAID offered grants that would fund developmental research studies, infrastructure, and nonprofit organizations with goals similar to USAID. One could download the call for grants as well as any annexes that applied to that specific grant. Examples of grants offered:
Improving the Enabling Environment for Effective and Efficient Public Services in Serbia
Developing Voluntary Distance Learning Programs for Mid-Level Public Servants in Local Government Administration
A library of information, called the Knowledge Center, gave the public citizens of Serbia information on public participation missions and bodies like the European Institute for Public Participation and the Austrian Ministry of Environment. Published articles and books about participation were included from such authors as B. Milosavljevic, Lj Nedeljkovic and A. Pesikan.
Also, this specific page contained documents by the Council of Europe, the Official Gazette of the Republic of Serbia, and more about civil participation and the importance for developing it regionally.
USAID Serbia Communications and Media, Success
The Media and Branding page was for journalists, writers, and others who wanted to find out the legal way to use USAID Serbia branding, logos, or document and website information. A page for press releases concerning the USAID project was included.
Another page called Success Stories shared updates and successful projects completed by the USAID initiative.
The site was inactive starting in May 2014.